Watch Oscars Live Stream Online Free (Updated 2022)
Watch Oscars Live Stream Online Free (Updated 2022)
By Christine Margret No Comments 9 minutes
The 94th Academy awards will be televised on the 27th of March 2022. More than 225 countries worldwide will be broadcasting it. It will honor the brightest stars and the legends of the screen. If you are without cable and fear that you will be deprived of all the glamour and performers displaying different sets of talent, then worry no more. You can watch Oscars live stream on different platforms through different mediums. Rely on this guide to watch Oscars 2022 without cable without any hindrances or obstacles.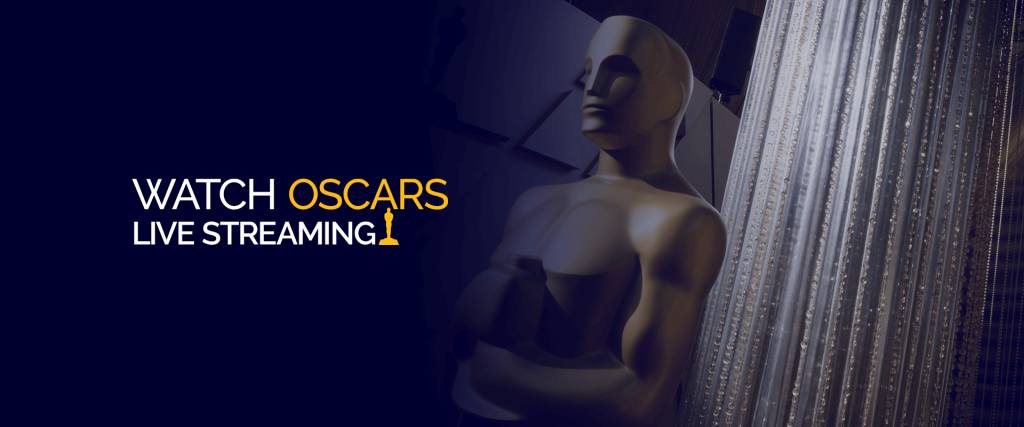 Catch the stars, the glamour and all that comes with it without cable. Enjoy Oscars live stream for free like a boss, in just a few steps.
When are The Oscars?
Oscars 2022 Date: Sunday, March 27, 2022
Oscars 2022 Time: 8:00 P.M. (ET)
Oscars 2022 Location: Dolby Theater, Los Angeles, California (As it has been since 2001)
Oscar Host 2022: Amy Schumer, Regina Hall, and Wanda Sykes
How to Watch Oscars Live Online for Free: A step by step guide to stream 94th Academy Awards live
Oscars has a fan following of millions. Of course, not everyone can go up to the gorgeous venue and experience it upfront. However, you can watch it live and have a VIP experience by watching it online smoothly.
A way to do this is through the ABC Go app which is the official live streaming app for Oscars. The app does require subscription though. Another obstacle for some users may be that it is geo-restricted, which means it is only available in a few regions of the United States.
Let this not stop you though since you can still watch Oscars live for free online from anywhere around the globe even if you are outside the United States and without a cable subscription. The process is simple:
Download FastestVPN app that is compatible with your device
Select the protocol you want to use (PPTP, L2TP, IKEv2, Xsec, OpenConnect, OpenVPN)
Search Country and select Australia, Sydney. You are now connected to an Australian IP address
Go to 9Now website and create a free account there. If asked for the postal code, you can submit any Australian code such as 3333.
You can also 9Now live streaming app on your device
Watch Oscars live stream for free!
Fortunately for all the people without cable, 9Now facilitates Watch Oscars live online for free. For this, you need to be present in Australia to access it. But even though it is only available in Australia, the audience outside Australia can watch it too with FastestVPN. Unblock the live streaming channel and have access to Oscars 2022 from anywhere around the world. FastestVPN masks your IP address with that of an Australian IP which makes it easy for you to enjoy Oscars live stream.
Enjoy seamless streaming at high speed with FastestVPN. Get the buffer-free experience of a lifetime!
How to Watch Oscars on Kodi
Existing Kodi users can watch Oscars on Kodi for free. Those who don't have it, can download it now and have the luxury of streaming Oscars on too. All that is required is to download Kodi and install any one of the Kodi add-ons for Oscars. This lets them enjoy the great 93rd Academy Awards without any hiccups.
This does require a trusted Kodi VPN – which FastestVPN is known for. You can easily set up FastestVPN and enjoy the much-awaited Awards of 2022. If you want a step by step guide on how to install add-ons for Kodi.
How to Watch Oscars on Roku
Roku users can enjoy Oscar Awards live on Roku for free. To get the taste of glamour that Oscars 2022 brings, it is always advised to use a VPN for Roku to get a better Oscar experience.
To watch it on Roku, you must configure FastestVPN with the router. The established connection must be via an Australian IP address. After that, open the POPRISM Roku browser and visit Nine Network website. This lets you stream Oscars 2022 live. Once you have found that, you are sorted to watch Oscars live stream on Roku for free.
How to Watch Oscars on Apple TV
If you own an Apple TV, then this is the medium through with you can have the luxury of watching Oscars live stream on.
The 9Now app works perfectly well when paired with Apple TV. So, to enjoy live streaming of Oscars 2022, search for the 9Now app on App Store and download it. After that, you need to activate it by visiting the 9Now website and punching in the four-digit postal code.
FastestVPN has your back. Enjoy smooth, buffer-free streaming within the convenience of your home. A note to remember is that before configuring FastestVPN on Apple TV, you should establish a router connection. Once that is done, you are free to enjoy uninterrupted access to Oscars live Online, right from the comfort of your home!
Watch Oscars on Apple TV with 9Now app. FastestVPN has got you covered!
How to Stream Oscars on PS4
Your PS4 console is more than just a gaming platform. Watch Oscars on PS4 without a single hiccup via FastestVPN. You can achieve this in a few simple steps:
Establish a router connection with an Australian IP
Open browser and go to Nine Network Website
Search for the 9Now app
Stream Oscars on PS4 for free!
Get the best Oscars 2022 live streaming on PS4 with FastestVPN. FastestVPN unblocks geo-blocked websites and content. So you are a free bird to entertain yourself with Oscars 2022 on PS4. Stream Oscars instantly on PS4 from anywhere globally.
How to Stream Oscars on XBOX
Xbox is one of the most popularly used gaming consoles worldwide. Not only that, it is a platform to watch on-demand videos and TV shows that you are interested in. And with Oscars being the topic of discussion at hand, you can definitely watch that too. You can watch them on Xbox with ease with FastestVPN connection. Again, the steps to be followed are simple:
Establish a router connection on your Xbox with an Australian IP
Open Xbox browser and go to Nine Network Website
Search for the 9Now app
Stream Oscars on Xbox for free and get an experience of a lifetime!
FastestVPN gets you unrestricted access to Oscar Awards 2022 live stream. Enjoy Oscars with utmost convenience and complete peace on Xbox paired with FastestVPN.
How to Watch Oscars on iOS
Loud shout out to iOS lovers to get ready to enjoy Oscars live stream on their iOS device. All you need to do is open App Store and search for the 9NOW app on your iOS device. Once that is installed, you can have the fascinating experience of watching Oscars 2022 on your iPad or iPhone without any glitches.
Smoothly stream the Oscars Awards 2022 with FastestVPN. FastestVPN is reliable and just the one you want to opt for to get an amazing buffer-free streaming.
How to Watch Oscars on Android
Watch Oscars live stream and enjoy the experience on Android device. Just download the 9Now app for the Android device from Google Play Store. Once that is downloaded and installed, you can watch Oscars live stream with ease.
For that though, you need to be present in Australia and 9Now restricts its streaming. Fortunately, there is a workaround to overcome the restriction. Download FastestVPN app and connect an Australian IP before using the 9Now app and you are set! Enjoy Oscars on Android like never before.
How to Watch Oscars in Canada, UK, and Australia without Cable
For Canadian viewers:
Canadian viewers can watch Oscars online on CTV Network. They will broadcast the event live and you can watch it for free.
For Viewers in the United Kingdom:
The British entertainment noobs can stream Oscars live on Sky Go and NowTV.
For Australian Viewers:
Australian citizens can watch Oscars live stream on the popular Nine Network. It is the official broadcaster of Oscars. To watch Oscars online, there is also a 9Now app available where you can watch on-demand videos for free.
Though all of these are geo-restricted. So if you are not in Canada, UK or Australia; you can still watch Oscars live stream without any fuss. All you have to do is get a FastestVPN subscription, download the app to your desired device and connect to an Australian IP. You can then stream the biggest award show of the year contentedly at home.
Channels that will be airing the Oscars live
Wondering what channel is the Oscars on? The ABC channel (American Broadcasting Company) is the official channel that will broadcast the Oscars in specific regions of the United States. It caters only to the local audience. Though if you don't have a cable, you can still watch Oscars live online for free anyway.
There are other channels than ABC that facilitate Oscars live online. The most notable one is Nine Network, which we have mentioned quite a few times above. This is an Australian channel that is everyone's go-to choice. Just activate this app on any of the above-mentioned devices and enjoy Oscars live stream without spending a penny.
FastestVPN facilitates in getting you access to any live streaming channel and enjoy watching the 94th Academy Awards online from any location, with ease.
Oscar Nominations 2022
Here is the list of Oscars Nominations 2022 starring your favorite actors, actresses, and the people behind their success.
Conclusion – Oscars Awards Live Online
Oscars are once a year, but it remains the talk of the town for the rest of the months to follow until next year. It is a mesmerizing experience for sure and thus a memorable one too. Don't let the opportunity go just because you don't have cable or are in a region where there are no free online broadcasts. FastestVPN has got you covered by giving you control of your internet. Don't be in despair and say hello to an awesome glam night experience with Oscars live stream for free via FastestVPN; on any platform you prefer. Grab some popcorn and get ready to be glued to the screen.
Take Control of Your Privacy Today!
Unblock websites, access streaming platforms, and bypass ISP monitoring.
Get FastestVPN