Watch Conor McGregor vs Dustin Poirier 3 on Kodi
Watch Conor McGregor vs Dustin Poirier 3 on Kodi
By Johan Curtis No Comments 6 minutes
UFC brings you yet another mind-blowing match; Conor McGregor vs Dustin Poirier in UFC 264! Are you ready to witness these long-term rivals fight it out in the octagon once again? Coming your way this July 10th in the United States.
Conor McGregor and Dustin Poirier have been rivals previously back in 2014, where Conor beat Dustin in UFC 178, and he promises to do that once again. McGregor is sure that he will outperform Poirier and beat in 60 seconds after his extraordinary win against Donald Cerrone in 40 seconds.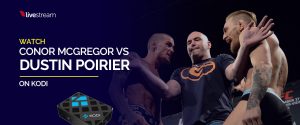 McGregor tweeted, "I promise a masterpiece" after predicting that he will beat Poirier within 60 seconds. Moreover, McGregor's manager, Audie Attar, said, "This is the best Conor I've seen ever, and I've been with him almost a decade now. I've never Conor like this."
However, experts believe that Dustin Poirier has improved considerably as compared to him in 2014, they say that Dustin now would definitely outperform and defeat Dustin in 2014.

What Chael Sonnen Has to Say About Poirier
UFC's favorite, Chael Sonnen strongly believes that Dustin Poirier has a good chance against Conor. He says, "If you go back and look at it, the pure boxing of that night versus today, Dustin today would get rid of that Dustin faster than Conor did. So, I think it is a very different match. Conor does have a speed advantage on opponents, so it might be good for Dustin to mix it up a little bit, particularly early, and get his hands on him… not just trade with him. But even if we are left with the trade-in, I will at least maintain for you that Dustin is much better today than he was then."
So far, they are mixed reviews and predictions for the fight, while the odds are largely in Conor McGregor's favor- Dustin Poirier has been surprising us with one spectacular performance after another. One can only wait and watch, you can now stream the match live online on your Kodi device.
Keep reading to find out how.
Conor McGregor vs Dustin Poirier Date, Time, and Venue
Date: 10th July 2021
Time: 10 A.M. UK
Venue: T-Mobile Arena in Las Vegas, Nevada.

How to Watch Conor McGregor vs Dustin Poirier on Kodi
Ever since Yas Island in Abu Dhabi has been cleared as a 'safe zone', UFC has released a statement announcing that majority of the fights will be held there. The McGregor vs Poirier match will be one of UFC's first fights which will allow a restricted number of fans into the arena ever since the pandemic.
With tickets are ranging from £105 up to over £1,100.
Although, if you cannot watch the fight live from the venue, you can always opt to choose it live online. The match will be officially broadcasted live online from ESPN+ and BT Sports. Both of which are incredible options for all you sports fanatics.
With their unlimited content library, all you have to do is subscribe and enjoy! To watch Conor McGregor vs Dustin Poirier, once you've subscribed, all you need to do is pay for the Pay Per View and begin streaming!
You can subscribe to ESPN+ for $5.99 per month or choose their annual Plan at $59.99 per year. You can also bundle ESPN+ with Disney+ and Hulu for $12.99 per month.
Moreover, you can easily subscribe to BT Sports by visiting their website and clicking on the get monthly plan option, only for £25.
However, the problem with both streaming options is that they are geo-restricted applications and are only available within their selected regions. If you are accessing from outside the UK and USA, there is a high chance that you will not be granted access and shown an error message.
To unblock all geo-restrictions, you need a VPN! An efficient and effective VPN like FastestVPN will unblock all or any geo-restrictions for you by providing you with a temporary IP address and keeping your identity anonymous by providing you with an additional layer of security and privacy.
Here's a step-by-step guide on how to watch Conor McGregor vs Dustin Poirier on Kodi:
Find Kodi for your device
Get FastestVPN
Connect FastestVPN with your Router using US/UK IP address
Open Kodi
Click on the small gear icon at the top-left corner to open the Settings menu
Click on File Manager then double-click on Add Source
Enter this repository link in the URL field: http://repo.rubyjewelwizard.com/
Now, click OK
Go back to the Settings menu and click on Add-ons
Pick Install from Zip File
Select Fusion > Repositories > English > Repository.leopold
Get back to Add-ons and select Install from Repository
Now pick Leopold
Go to Video Add-ons and search for ESPN+ or BT Sports
Click on Install
Once installed, the add-on will appear on your Kodi application.
Fight Records
Conor McGregor
Full Name: Conor Anthony McGregor
Born: 14 July 1988 (age 32) Crumlin, Dublin, Ireland
Nickname(s): Notorious
Height: 5 ft 9 in (175 cm)
Weight: 170 lb. (77 kg; 12 st 2 lb.)
Division: Featherweight (2008–2015), Lightweight (2008–2012, 2016–2018), Welterweight (2016, 2020)
Reach: 74 in (188 cm)
Style: Boxing
Stance: Southpaw
Team: SBG Ireland
Years active: 2008–present
Professional boxing record
Total: 1
Wins: 0
Losses: 1
By knockout: 1
Mixed martial arts record
Total: 26
Wins: 22
By knockout: 19
Submission: 1
Decision: 2
Losses: 4
By submission: 4
Dustin Poirier
Full Name: Dustin Glenn Poirier
Born: January 19, 1989 (age 31) Lafayette, Louisiana, United States
Nickname(s): The Diamond
Nationality: American
Height: 5 ft 9 in (1.75 m)
Weight: 155 lb. (70 kg; 11.1 st), Division Lightweight (2009–2010, 2015–present), Featherweight (2011–2014)
Reach: 72 in (183 cm)
Fighting out of: Coconut Creek, Florida, United States
Team: American Top Team
Years active: 2009–present
Mixed martial arts record
Total: 33
Wins: 26
Knockout: 12
By submission: 7
Decision: 7
Losses: 6
By knockout: 2
Submission: 2
Decision: 2
No contests: 1
Conclusion – Watch McGregor vs Poirier 3 on Kodi
We can already tell that this fight is going to keep us on our toes, both players are highly unpredictable and have proved to be quite the boxers in their recent brawls.
Will Conor McGregor repeat history and defeat Dustin Poirier, or will Dustin prove that he has improved and put his new skills to use by beating McGregor? Make sure to tune into Conor McGregor vs Dustin Poirier on Kodi to find out!
Subscribe to FastestVPN to get immediate access to ESPN+ and/or BT Sports.

Take Control of Your Privacy Today!
Unblock websites, access streaming platforms, and bypass ISP monitoring.
Get FastestVPN