Watch Conor McGregor vs Dustin Poirier on Firestick
Watch Conor McGregor vs Dustin Poirier on Firestick
By Johan Curtis No Comments 6 minutes
Start your 2021 with the most thrilling UFC fights ever! Bringing you the best and only the best, UFC 257 has been announced and the main card features none other than, Conor McGregor vs Dustin Poirier! The winner of which, could be the next lightweight title challenger!
This is not the first time Conor and Dustin will be up against each other, which makes the match even more interesting. McGregor was Poirier was held way back in 2014 where Conor won in the first-round through a TKO victory in UFC 178.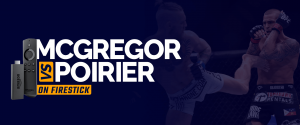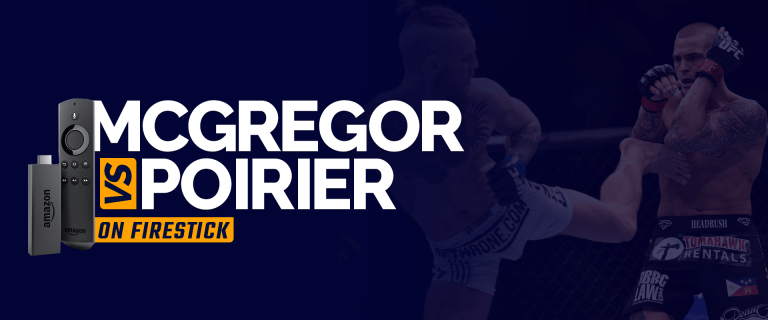 Moreover, this will be McGregor's first fight since a year due to the pandemic, ESPN's Ariel Helwani, speculated that this match will bring forward an unsatisfied and irritated Conor since he didn't get to perform as well and as much as he wanted. However, he was pleasantly surprised to see Conor so calm and confident for 2021.
He says, "He was happy to be back. Excited about the training camp that appears to have him in great shape. And most surprisingly, he wasn't irritated at all."

McGregor's Thoughts on His Gap Year and Starting Again
Moreover, upon interviewing, McGregor opened about how he felt during his year-long break and what he plans on bringing to the octagon in 2021.
"I had a great 2020, I had a great performance," McGregor said. "I opened the show, highest pay-per-view, highest gate, fastest main event knockout, and an extravagant blockbuster event that set the UFC off on a trailblazing run. And I'm very happy about that, very proud of that. As you said, I was satisfied, but not overly satisfied. I was ready to continue, and it didn't go that way. I still have that inside me. I'm still ready to go. I've kept up my preparations and I'm back, and I'm very happy to be back in 2021. We're going to replicate this. I'm starting the year, first pay-per-view of the year. And I'm really excited about that."
His opponent, Dustin Poirier, also has been on a winning streak with 10 victories in his bag ever since his defeat to Conor, Dustin has surely grown as a player and is way better now than he was before. Victory for Conor may just be not as easy this time.
Now you can witness all the greatness right with your Firestick! If you want to know how to watch Conor McGregor vs Dustin Poirier on your Firestick, keep reading!
Conor McGregor vs Dustin Poirier Date, Time, and Venue
Date: 23rd January 2021
Time: 10 p.m. ET
Venue: Etihad Arena Yas Island, Fight Island, Abu Dhabi, UAE.
How to Watch Conor McGregor vs Dustin Poirier on Firestick
Ever since Yas Island in Abu Dhabi has been cleared as a 'safe zone', UFC then announced that they plan on hosting three major events at the venue. UFC 257's McGregor vs Poirier match will be the first fight of this decision and UFC's first fight that will allow a limited number of fans to enter the venue and watch the match. Due to the pandemic, all fights were being held behind closed doors, until now! With tickets are ranging from £105 up to over £1,100.
For those of you who are not in Abu Dhabi or cannot make it to the event physically, it's okay, you can always stream it live online. The match will be officially broadcasted live online from ESPN+ and BT Sports.
To watch Conor McGregor vs Dustin Poirier all you need to do is subscribe and pay for the Pay Per View to begin streaming!
You can subscribe to ESPN+ for $5.99 per month or choose their annual Plan at $59.99 per year. You can also bundle ESPN+ with Disney+ and Hulu for $12.99 per month.
Moreover, you can easily subscribe to BT Sports by visiting their website and clicking on the get monthly plan option, only for £25.
Alternative to streaming channels..
However, the problem with both streaming platforms is that they are geo-restricted applications and are only available within certain regions or locations. If you happen to be accessing them from outside the UK and USA, there is a high chance that you will not be granted access.
No need to worry though, to unblock such geo-restrictions, all you need is a VPN! FastestVPN is probably the best choice out there, with its incredible speed and security services; it will unblock all or any geo-restrictions for you by giving you a temporary IP address and keeping your identity anonymous by providing you with an additional layer of security and privacy.
Make sure to subscribe to FastestVPN for immediate access.
Here's a step-by-step guide on how to watch Conor McGregor vs Dustin Poirier on Firestick
On BT Sports
Subscribe FastestVPN
Install FastestVPN app for Firestick
Open FastestVPN and get connected to the UK server
Go to https://www.bt.com/sport
Click on the Subscribe button
Once subscribed to service, stream Conor McGregor vs Dustin Poirier
On ESPN+
Subscribe FastestVPN
Install FastestVPN app for Firestick
Open FastestVPN and get connected to the US server
Go to https://plus.espn.com/
Click on the Subscribe button
Once subscribed to service, stream Conor McGregor vs Dustin Poirier
Fight Records
Conor McGregor
Full Name: Conor Anthony McGregor
Born: 14 July 1988 (age 32) Crumlin, Dublin, Ireland
Nickname(s): Notorious
Height: 5 ft 9 in (175 cm)
Weight: 170 lb. (77 kg; 12 st 2 lb.)
Division: Featherweight (2008–2015), Lightweight (2008–2012, 2016–2018), Welterweight (2016, 2020)
Reach: 74 in (188 cm)
Style: Boxing
Stance: Southpaw
Team: SBG Ireland
Years active: 2008–present
Professional boxing record
Total: 1
Wins: 0
Losses: 1
By knockout: 1
Mixed martial arts record
Total: 26
Wins: 22
Knockout: 19
By submission: 1
Decision: 2
Losses: 4
By submission: 4
Dustin Poirier
Full Name: Dustin Glenn Poirier
Born: January 19, 1989 (age 31) Lafayette, Louisiana, United States
Nickname(s): The Diamond
Nationality: American
Height: 5 ft 9 in (1.75 m)
Weight: 155 lb. (70 kg; 11.1 st), Division Lightweight (2009–2010, 2015–present), Featherweight (2011–2014)
Reach: 72 in (183 cm)
Fighting out of Coconut Creek, Florida, United States
Team: American Top Team
Years active: 2009–present
Mixed martial arts record
Total: 33
Wins: 26
Knockout: 12
By submission: 7
Decision: 7
Losses: 6
Knockout: 2
By submission: 2
Decision: 2
No contests: 1
Conclusion
This is going to be one thrilling night! We cannot wait to see these two long-term rivals collide and battle it out in the octagon. Especially with the rumors that if McGregor wins this fight, we may get to watch a Khabib vs Conor very soon.
Now all we need to see is whether McGregor is able to defeat Dustin once again or will Dustin prove everyone wrong and defeat Conor with his newfound record and skills?
Make sure to tune into Conor McGregor vs Dustin Poirier on Firestick to get all the details and subscribe to FastestVPN to get immediate access to ESPN+ and/or BT Sports.

Take Control of Your Privacy Today!
Unblock websites, access streaming platforms, and bypass ISP monitoring.
Get FastestVPN