How to Watch McGregor vs Donald Cerrone on FireStick
How to Watch McGregor vs Donald Cerrone on FireStick
By admin No Comments 5 minutes
The public simply cannot wait to witness Conor McGregor return to the Octagon on Saturday night against Donald 'Cowboy' Cerrone at UFC 246 for the Welterweight title. The match is all set to take place in Las Vegas at the T-Mobile Arena. For those of you, who won't be able to make it, watch the match live on FireStick.
The Notorious has not bagged a fight since November 2016 when he knocked out Eddie Alvarez and only fought once since then, tapping out to Khabib Nurmagomedov in October 2018. The buildup is real; fans are excited to see what results this match brings and whether McGregor is able to withhold the same rankings as the Lightweight rankings.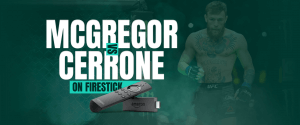 MMA fans have had a great start to the year, with the return of The Notorious. Not only have that but a match in celebration of his return against Cerrone! However, Cerrone is a dangerous opponent for the Irishman as he holds the most wins in the UFC with 23 victories. It is debatable whether McGregor's return would be appreciated immensely even after the match or not, or will Cerrone's experience play to his advantage and jeopardize McGregor's return?
The audience is widely in favor of McGregor and has clearly not forgotten him, with McGregor's coach, Owen Roddy, quoting that Donald Cerrone will "crumble under the pressure of fighting The Notorious – as he has seen it all before." He thinks McGregor is exceptional and is a fan favorite for a reason.
On the other hand, even though Cowboy has lost a total of 13 fights, and is yet to win any belts, he has also participated in many more fights, giving him the upper hand. Cerrone puts up a great fight and has an incredibly impressive ground game, which happens to be McGregor's weakness. His absence from the field since 2018 may be a cause of hindrance however, many beg to differ.
However, with round betting in full swing- the bookies are still on McGregor's side saying that there is a possible chance he may win in the first or second round or through points. Although there is also high betting on which round Cowboy will dominate the ring.
If Cerrone proves the McGregor bookies wrong and manages to survive the first few rounds, his impressive boxing skills can bring the advantage to his side. He has lost 4 fights in the Welterweight division but has also had the experience of putting up a few of the most exciting fights, regardless of the losses. Roddy, McGregor's coach is adamant that the best Cerrone can still not beat the best McGregor.
He further reminds the fans to remember the power of McGregor's left hand and even though Cerrone may put up a good fight, it is only a matter of time until Connor beats him.
McGregor vs Cowboy Date, Time and Venue
Date: Saturday, January 18, 2020
Time: 3 a.m.
Venue: T-Mobile Arena in Las Vegas, U.S.A
Stream McGregor vs Cowboy on Firestick
Not everyone has access to go watch the match live, which is why most of us chose to stream it online. The match will be available to watch online. The quickest way to gain access is to register yourself with a paid online streaming service which provides you with access to all UFC matches.
The fight pass will be available through either ESPN cable or ESPN+ for live streaming on the internet. However, both these services require a paid active subscription limited to the region of United States only, not available internationally.
Another option is to use UFC's own service which is either the UFC PPV or UFC Pass Fight. The UFC PPV enables you to pay for a specific fight that you are interested in, whereas a UFC Pass Fight is an all access card allowing you to watch whatever you like. The UFC Pass costs $9.99 per month and the PPV is charged at $34.99 per fight.
Although, the geo-restriction still remains whether you opt for ESPN or UFC since UFC's content filtration differs from region to region and which means that some fights in particular may not be available to you in your specific region. Similarly, ESPN is limited to USA only.
Want a fix for that problem? Let FastestVPN solve that for you! Just connect to any US server and immediately acquire access to ESPN+ or any apps regardless of your location.
How to Watch McGregor vs Cowboy
Subscribe to FastestVPN.
Download and install the FastestVPN app from App Store/Play Store
Head to App Store/Play Store, look up the UFC app, and now download it.
Launch FastestVPN on the device then chose and connect to any US server.
Launch the app.
Sign-in with your credentials or subscribe if you still have not.
Now you can begin streaming the fight.
Conor McGregor vs Donald Cerrone Fight Records
Conor McGregor prior stats
Nationality: Irish
Height: 5 ft 9 in (175.26 cm)
Reach: 74 in (188 cm)
Stance: Southpaw
Total fights: 25
Wins: 21
Wins by Knockout: 18
Losses: 4
Donald Cerrone prior stats
Nationality: American
Height: 6 ft 1 in (183 cm)
Reach: 73 in (185.4 cm)
Stance: Orthodox
Total fights: 50
Wins: 36
Wins by Knockout: 10
Losses: 13
Conclusion
Both McGregor and Cerrone are popular but fans love entirely different things about them. They have both got strong game but their widely liked techniques are very different and so are their strength areas. While Cerrone has more experience fighting, McGregor has a higher winning streak. It is a fight that can prove to be very important for both of their careers. We're very excited to see them compete. Whether you stream on UFC Pass or ESPN, FastestVPN will let you enjoy McGregor vs Cowboy on Firestick!
Take Control of Your Privacy Today!
Unblock websites, access streaming platforms, and bypass ISP monitoring.
Get FastestVPN