Watch Erislandy Lara vs Greg Vendetti Live Online
Watch Erislandy Lara vs Greg Vendetti Live Online
By Johan Curtis No Comments 7 minutes
Get ready to witness yet another title match; this time between Erislandy Lara and Greg Vendetti! Lara has finally decided to defend his WBA regular junior middleweight world title against the 11th contender; Vendetti.
The 37 year old has finally come to the realization that there is no time to loose, it is now or never. Especially since his last victory which was a huge boost for his career as he won against Ramon Alvarez last year, who is also the elder brother of the boxing star Canelo Alvarez.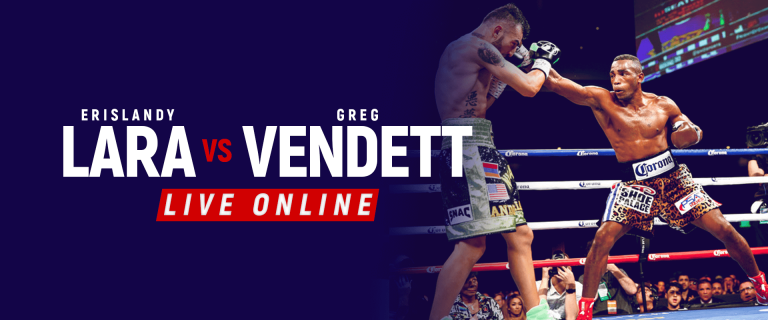 With much confidence from his previous victory, he is completely ready for another one and can't wait to step into the octagon against Vendetti.
Vendetti on the other hand, will be definitely upping his game a notch by fighting against Lara; even though he has some impressive names in his resume; he still somehow does not fall in the same category as Lara, they are both boxers in two different leagues.
Even though Vendetti won his last match against Michael Anderson by unanimous decision, there is still quite a lot of speculation of his performance in the octagon; especially against Lara. Lara is a great puncher, his technical skills and punches have an early knockout written all over them.
Experts have also predicted that Vendetti was chosen only to boost Lara's morale further and provide him with an easy win so he can then move onto the bigger names once again, such as Canelo, Castano etc.
We can't wait to see Lara and Vendetti perform in the octagon, want to learn how you can watch Erislandy Lara vs Greg Vendetti live online? Keep reading.
Date, Time and Venue
Date: 29th August, 2020
Time: 8:00 pm E.T
Venue: Microsoft Theatre, Los Angeles, California, USA.
How to Watch Erislandy Lara vs Greg Vendetti Live Online
The date is set and the arena is ready, however, since the pandemic situation has not improved or anything the fight are still being held behind closed doors which means that you won't probably get to witness the action live from the arena this time.
When you come to think of it, there's not much you'd be missing out; you can still stream the match live online from the comfort of your very home. It is probably even likely to cost you less, so that's a plus!
PBC has provided broadcasting rights to Fox Sports, so you can go over to Fox Sport's website and stream the match live. However, in order to gain access to Fox Sports you will need to be subscribed to their services; which honestly is a bargain for the content you get in return!
A Fox Sports subscription normally charges $4.99 per month, or $49 per year. You could choose whatever deal you prefer and can also cancel any time you'd like.
All of this seems great, however, the only problem with Fox Sports is that it is geo-restricted and only available to users in selected regions or locations and cannot be viewed worldwide. Due to which most of you may not be able to subscribe to Fox, no need to worry though, we've got you covered!
In order to bypass location blocks all you need is a VPN! An efficient VPN such as FastestVPN guarantees to provide you with the anonymity you require, and mask your IP address so that it matches the particular website or application's requirement- granting you with immediate access while also keeping you protected online.
Here are a few solutions to where you can watch Erislandy Lara vs Greg Vendetti live online:
How to Watch Erislandy Lara vs Greg Vendetti on Fox
Select your favorite pricing plan and subscribe to FastestVPN
Download FastestVPN app that supports your device or configure VPN in router
Select US server location
Go to official Fox website or the Fox Sports App and click at watch Erislandy Lara vs Greg Vendetti Live
Now you can watch the show.
How to Watch Erislandy Lara vs Greg Vendetti on Smart TV
Subscribe to FastestVPN
Download FastestVPN app (for Android TV only) or setup FastestVPN with your Router using USA IP address
Connect your Smart TV to Router
Open browser and search for your desired website or open an installed app for your Smart TV. Search and click at live Erislandy Lara vs Greg Vendetti, and watch the show.
How to Watch Erislandy Lara vs Greg Vendetti on Firestick
Subscribe FastestVPN
Install FastestVPN app for Firestick
Open FastestVPN and get connected to the USA server
Go to Fox Sports
Open the subscription plans
Subscribe to the service and watch Erislandy Lara vs Greg Vendetti
How to Erislandy Lara vs Greg Vendetti on Kodi
Find Kodi for your device
Get FastestVPN
Connect FastestVPN with your Router using US IP address
Open Kodi
Click on the small gear icon at the top-left corner to open Settings menu
Click on File Manager then double-click on Add Source
Enter this repository link in the URL field: http://fusion.tvaddons.co
Now, click OK
Go back to the Settings menu and click on Add-ons
Pick Install from Zip File
Select Fusion > Repositories > English > Repository.leopold
Get back to Add-ons and select Install from Repository
Now pick Leopold
Go to Video Add-ons and search for Fox
Click on Install
Once done, the add-on will be available in Add-ons at the Home Page.
How to Watch Erislandy Lara vs Greg Vendetti on IOS/Android
Download FastestVPN app for Android or IOS
Connect to USA server location
Go to Play Store and search for Fox Sports or visit the Fox Sports website
Download the app
Open app after installation
Subscribe and stream Erislandy Lara vs Greg Vendetti live.
How to Watch Erislandy Lara vs Greg Vendetti on Apple TV
Subscribe to FastestVPN
Launch Apple TV browser and access Fox Sports
Once the fight goes live, access the streaming channel and screen Erislandy Lara vs Greg Vendetti on Apple TV.
How to Watch Erislandy Lara vs Greg Vendetti on Ps4/Xbox
Setup FastestVPN with router using US IP address
Now plug in PS4/Xbox with the router
Head to PlayStation Store/Xbox Store, and download Fox Sports
Open app and subscribe to Fox Sports
Now you can watch the full match live online.
Fight Records
Erislandy Lara
Real name: Erislandy Lara Santoya
Nickname(s): El Oro de Guantanamo, The American Dream
Weight(s): Light middleweight
Height: 5 ft 9 in (175 cm)
Reach: 75 1⁄2 in (192 cm)
Nationality: Cuban, American
Born: 11 April 1983 (age 37) Guantanamo, Cuba
Stance: Southpaw
Total fights: 32
Wins: 26
Wins by KO: 15
Losses: 3
Draws: 3
Greg Vendetti
Name: Greg Vendetti
Pro Boxing Record
Total Fights: 26
Wins: 22
Loss: 3
Draws: 1
Nickname: The Villain
Current Streak: N/A
Age: 30
Date of Birth: 1990.05.22 USA
Weight(s): N/A
Height: 5'6″ (168cm)
Reach: N/A
Conclusion
This may seem like an easy fight, but let's not get ahead of ourselves; anything can happen!
Even though experts and critics have bet that Lara will win by either early knockout or through technical decision with almost 83% of the sample agreeing, we can only find out by tuning into Fox Sports and watching the match.
It surely will be an exciting fight, don't forget to tune in to watch Erislandy Lara and Greg Vendetti battle it out in the octagon on the 29th of August.
Make sure to subscribe to FastestVPN to avoid any location blocks!
Take Control of Your Privacy Today!
Unblock websites, access streaming platforms, and bypass ISP monitoring.
Get FastestVPN