Watch Jake Paul vs Ben Askren on Kodi
Watch Jake Paul vs Ben Askren on Kodi
By Nancy William No Comments 6 minutes
The wait is over: Paul and Askren are going to rock the ring on Saturday, April 17th 2021. The event will be aired on popular sports channels and USA audiences would be able to stream it live on the same day. If you want to watch Jake Paul vs Ben Askren on Kodi, here is a rundown of the main event plus, a quick guide on how you can stream the fight securely and privately over the internet.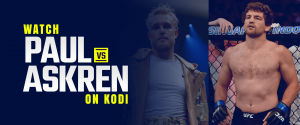 Who doesn't love to watch someone overcome adversity and emerge triumphantly? It gives people hope for themselves and renews their faith that if it's possible for someone else, then it's possible for them as well. Whether it's movies or sports, people love a true story, and it doesn't get any more real than boxing. Even though boxing is mainly two people fighting and hurting each other, but the fans are lured, hoping to see fighters stay resilient and stay on course to reach success. The men involved in this sport hanker on even when punches are doled out, and we look on to these men seeing our true self reflected in their victories. On this Saturday, you can watch Jake Paul vs Ben Askren on Kodi for similar reasons and witness history in the making.
Jake Paul vs Ben Askren: What, When and Where
Date: April 17th, 2021
Day: Saturday
Venue: Mercedes-Benz Stadium in Atlanta, Georgia
Jake Paul vs Ben Askren: Background
Recently Triller announced its full lineup for its boxing event that has Jake Paul and Ben Askren as their main event. In addition to this heavily hyped match, there are several bouts, including former UFC heavyweight champion Frank Mir who is making his professional boxing debut against veteran Steve Cunningham and many other matches with experienced boxers have been officially added to the round card.
The YouTuber's venture into the world of professional boxing has expanded the audience of this particular sport, making this event the highlight of this year. Originally a Disney star and now a YouTube personality, Jake Paul started boxing as a casual side deal but has since improved his professional record 2-0 in November after the former NBA star Nate Robinson's stupendous knockout. Since then, he has been attempting to land a fight with the UFC superstar Conon McGregor. His efforts paid off, and now he's up against Ben Askren.
Ben Askren is an undefeated fighter and one of the most effective wrestlers, that is until Jorge Masvidal violently knocked him out in five seconds. Since then, Ben Askren has become a world champion in two organizations, One FC and Bellator. His venture into UFC did not pan out due to his chronic long-term injuries, and he has now retired due to those injuries.
Jake Paul has taken on Ben Askren to silence his critics who feel that he does not deserve this level of recognition in such a short time since he did not put in the time or follow the trodden path as most athletes do. Paul has shown true commitment to the sport even though he has a career to fall back on, and finding motivation can be challenging for someone whose entire focus isn't on the sport. Nevertheless, Paul shows promise with his full-hearted approach and has managed to impress his head coach, BJ Flores, who is a former championship-level boxer. He is not creating unrealistic expectations about Paul but says that he will shock the world at what he does with gloves on despite popular belief.
Flore says hard work can beat talent, and after 16 months of training, Paul is starting to get a good rhythm.  Temptations are plenty for the 24-year-old, but he claims that he has made boxing his priority. Only time will tell what comes of Paul's efforts on April 17th at 9 p.m. EDT at Mercedes-Benz Stadium in Atlanta.
What will the fight look like?
To make this a complete show, several A-listers are performing at the event, including The Black Keys, Justin Bieber, Snoop Dog, and many more. The event has the recipe for success, so here's hoping you can watch Jake Paul vs Ben Askren on Kodi to satiate your inner boxing enthusiast.
Some surprising names in the undercard are Regis Prograis, former UFC heavyweight champion, and Frank Mir, a Colombian reggaeton musician.
Here are the Paul vs Askren odds
Jake Paul: -256
Ben Askren: + 205
How to Watch Jake Paul vs Ben Askren on Kodi
The bout is happening under the Triller banner and is available for viewing by either pay-per-view or cable TV subscriptions. The issue is that although fans from all over the world wish to watch the event, it will be aired in specific countries on specific channels. To make things more complex, these channels are geo-blocked, which means if you're not in the specified country, then you're out of luck.
But why should you miss any of the action when you can watch this event on Kodi? After downloading Kodi, you need to pair it with FastestPN and gain access to geo-censored channels and content without being actually in any of those countries.
Follow these steps to get started:
Kodi can be used on any device such as Windows, Mac, Android, and Linux. It offers incredible flexibility and freedom, making sure that you're never far from your content, even on the go. It has several add-ons (GOTO, Fight Club),  to play media but make sure that you're protected by a VPN while using Kodi so that third-party hackers cannot gain access to your sensitive information and online data. VPN services also eliminate ISP throttling, which is usually practiced to save bandwidth or influence content consumption patterns. Several ISPs do monitor their users' online activity, but with a strong encryption of FastestVPN, your ISP cannot justify speed throttling since it cannot identify where the data is coming from or going to.
Watch Jake Paul vs Ben Askren on Kodi by following the steps mentioned above and stay protected while enjoying the most entertaining sporting event of the year. The prevalent conditions, riddled by the pandemic have made watching live sports a far-off dream, but that doesn't mean letting your inner sportsman die. With the internet at your disposal worldwide, there is always a way to enjoy what you want and remain safe both in real life and in the digital world.

Take Control of Your Privacy Today!
Unblock websites, access streaming platforms, and bypass ISP monitoring.
Get FastestVPN