Watch Jake Paul vs Ben Askren on Firestick
Watch Jake Paul vs Ben Askren on Firestick
By Nancy William No Comments 5 minutes
A YouTube personality invading the world of professional boxing is nothing short of bizarre, but what began as a sideshow has transcended into something more than just a phase. Hard-core fans of the game may not take Jake Paul seriously, but all signs point to a legitimate commitment to professional boxing. Most people know Jake Paul from his Disney days or YouTube, and he's using this polarizing celebrity status into a fighting career. Many fans may have a love or hate relationship with him, but to confess, Paul is far from unsuccessful.  So for all of those who are anxiously awaiting his next match, you can watch Jake Paul vs Ben Askren on Firestick. And FastestVPN will tell you how!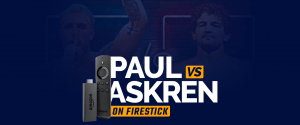 Jake Paul vs Ben Askren: Date, Day and Venue
Date: April 17th, 2021
Day: Saturday
Venue: Mercedes-Benz Stadium, Atlanta
Jake Paul vs Ben Askren: Background
Paul's boxing career began as a fluke where a fellow YouTuber called him for a bout in January 2020, which he won pretty easily.  Paul's next trial is on April 17th, where he will face former MMA champion and retired UFC veteran Ben Askren. As mentioned, this event will take place at Mercedes-Benz Stadium in Atlanta and will be aired on pay-per-view. Paul had been criticized for choosing neophytes as his opponents, so he signed the dotted line to take on Ben Askren—former Bellator Welterweight Champion.
Before taking off his gloves officially in November 2019, Ben Askren held a record of 19-2. Ben has taken on lethal strikers like Douglas Lima in Bellator and uses his American freestyle wrestling to intimidate his opponents.
How is taking on Ben Askren tough for Jake Paul?
The 'funky' style of wrestling, the signature of Ben Askren has been his most effective weapon in his arsenal. Due to this fact, he faced a huge bout of criticism on accepting the boxing match with Jake Paul.
Unlike Jake Paul, Ben Askren is not seen as an elite striker.
Ben admits that he does not have the power to knock his opponents out, and his only strategy is to wear out Jake Paul until he yields to the relentless and unwavering pressure.
The feud has been heating up between the two combatants as they take jabs at each other on social media.
Watching a live boxing match may have lost its magic since the worldwide pandemic, but there are ways in which you can do so from the comfort of your house. The Triller page says that the fight is all set to take place on April 17, 2021, around 9 pm EDT.
 How to Watch Jake Paul vs Ben Askren on Firestick
With the UFC about to explode with some of the biggest names, Paul vs Askren will come together on April 17th to fight. If you're an MMA fan, then you must be biting your nails and turning your hair grey, figuring out how to watch these fights. There are many ways to do it but read on to find out how you can do so with a FireStick.
You must be aware that all popular streaming channels are paid and essentially geo-restricted, which makes them inaccessible simply from everywhere.  You are required to be in the same country as the broadcaster to enjoy the fight on cable or online. So the task of subscribing to a paid streaming service plus bypassing geo-restrictions can really be taxing unless you have a VPN. A VPN is the only way in which you can watch UFC on FireStick from anywhere in the world.
You can connect to FastestVPN and gain access to a list of servers to access streaming channels of other countries, and live stream the boxing match on FireStick.
Subscribe to FastestVPN.
Download the FireStick TV app.
Open the app and enter your credentials.
Connect. Now you have an IP address from the USA.
Once you have unblocked your internet access using a VPN, here's what you need to do:
Subscribe to FITE TV if you haven't already.
Buy the PPV of Jake Paul vs Ben Askren.
Stream the match live through the FITE TV website on your FireStick.
A VPN protects you by hiding your activities from ISP through encryption. After encrypting your traffic, no one, including your ISP can see what you are accessing while connected to the VPN. The VPN also changes your IP address so that no one can trace any online activity via your ISP and then to you.
None of the events are broadcasted for free by the UFC, however, there are ways some fans manage to stream these matches for free.
Jake Paul vs Ben Askren: Full Fight Card Details
Some of the other names on the fight card are:
Steve Cunningham vs Frank Mir
Joe Fournier vs Andres Felipe Robledo Lodono
Regis Prograis vs Ivan Redkac
Junior Younan vs Jeyson Minda
Lorenzo Simpson vs Francisco Torres
Quinton Randall vs William Jackson
Performances
There's plenty of entertainment happening outside of the box: A-listers such as Diplo, Justin Bieber, The Black Keys, Major Lazer, Doja Cat, while Ice Cube and Snoop Dog are also expected to make an appearance.
For all those who wish to watch Jake Paul vs Ben Askren on Firestick, get your gears set up for the 17th of April so that you don't miss a second of the fight. A YouTuber challenging a former champion—things don't get any weirder than this. This is a fight that will go down in the books as what, that you'll just have to watch for yourself.

Take Control of Your Privacy Today!
Unblock websites, access streaming platforms, and bypass ISP monitoring.
Get FastestVPN