How to Watch Hulu in Sweden
How to Watch Hulu in Sweden
By Christine Margret No Comments 5 minutes
How to watch Hulu in Sweden? If this is your search term, then this guide is tailor-made for you.
Just like Netflix, Disney Plus, and other video-on-demand streaming services, Hulu also blocks access for the viewers who live outside the US.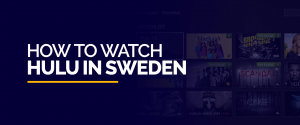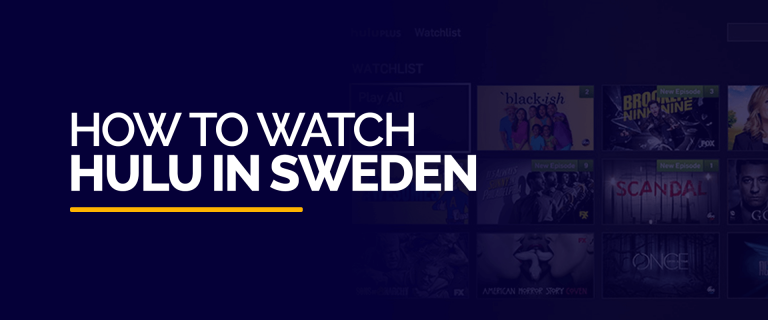 Luckily, there are some ways to watch Hulu in Sweden, and this blog is all about it. Keep reading to catch up on all your favorite shows and movies.

What Is Hulu?
Just like Amazon Prime and Netflix, Hulu is also one of the biggest household names of American streaming services.
What Can I Watch on Hulu?
Hulu is home to some of the best channels, including ABC, CBS, FOX, NBC, and much more. Besides the widest collection of live TV channels, Swedish people can also stream trending TV shows, documentaries, movies, and lots of Hulu's original content.
Why Is Hulu Inaccessible in Sweden?
Hulu uses geo-blocking technology, so viewers who attempt to access Hulu outside the USA will be blocked. Hulu blocks access of users who are not living in the USA. Only streamers in the USA are eligible to access Hulu mainly due to content copyright concerns.
How to Watch Hulu in Sweden?
The best solution to watch Hulu in Sweden is through a Sweden VPN. It is the only tool that will hide your Swedish IP address and assign a US IP address. With the help of a US IP address, it's easy to spoof Hulu and unblock it from Sweden.
Moreover, using a VPN also encrypts traffic, meaning you can unblock Hulu in Sweden with complete anonymity.
Which Is The Best VPN To Watch Hulu In Sweden?
FastestVPN is the best choice to access Hulu in Sweden. It offers an enormous range of dedicated, super-fast USA servers that let you stream buffer-free. In addition to the flawless Hulu streaming, FastestVPN has no bandwidth caps, which is a great thing for streaming movies and TV shows. What's more? You can enjoy watching Hulu on the big screen with FastestVPN's app for Smart TV.
How to Connect to FastestVPN to Unblock Hulu in Sweden?
Connecting to FastestVPN is easier than you think. Simply follow the steps below to watch Hulu without restrictions:
Subscribe to FastestVPN
Log in
Connect to US server
Head to Hulu.com
Now, you can stream anything available on Hulu.
Can I watch Hulu for Free?
Unfortunately, the streaming service has stopped its free, ad-supported version. Now, you have to get a Hulu subscription to continue streaming.
How to Get Hulu Subscription in Sweden?
To get a Hulu subscription in Sweden, you'll need to follow entirely different processes; one is for the Android device, and the other is for iOS.
How to Create Hulu Account in Sweden – For Apple Devices
Log out of your iCloud account.
Set up a new iCloud account with US location.
Install the Hulu App.
Use your phone to sign up for Hulu.
Note: New iCloud account is required if you don't already have an iCloud account. Changing the current location may delete all your data; therefore, it is suggested to form a new iCloud account to watch Hulu in Sweden.
Create a Hulu Account in Sweden- Android Devices
The Android process is just exactly the opposite of what you've done for Apple devices. To create a Hulu account in Sweden using an android, you have to make changes in your current account. Here's how to do it:
Log in to FastestVPN.
Select US server.
Head to Play Store.
Tap the three-dot menu appearing on the top left corner.
Click where you find "Account".
Find the option to switch location and select the US as your new location.
Install the Hulu app.
Sign up, and that's it!
How to Pay for Hulu Subscription in Sweden?
If you're living in Sweden, then accessing Hulu with a VPN will be easy. However, paying for a Hulu subscription will require you to use PayPal to make transactions.
Are There Other Ways to Unblock Hulu in Sweden?
There are more ways to access Hulu out of the USA, including free VPNs, browser extensions, and Smart DNS. However, Hulu uses smart technologies to detect browser extensions and free VPNs. Moreover, smart DNS doesn't encrypt traffic, which means you cannot securely browse Hulu. Only a paid VPN service like FastestVPN is the best solution to bypass Hulu restrictions anonymously.
Is It Legal to Use a VPN in Sweden?
Using VPNs in Sweden is absolutely legal for streaming.
How to Watch Hulu on Smart TV?
You can simply watch Hulu on the big screen using the FastestVPN app. FastestVPN offers app for smart TV. Check the complete list of FastestVPN supported devices here. If the device you own is not mentioned in the list, you can set up FastestVPN on a router to enjoy binge-watching shows on any of your preferred devices.
Why is VPN Not Working With Hulu?
Try disconnecting your VPN and then reconnect to another US server and now open Hulu.
If you're still experiencing the same issue, then make sure to check your IP address that might be restricted. Also, try clearing your DNS cache to access Hulu with a VPN smoothly.
On How Many Devices Can I Stream Hulu Using FastestVPN?
FastestVPN supports 10 simultaneous connections. Meaning that you can stream Hulu on 10 devices using a single FastestVPN account subscription.
When Will Hulu Arrive In Sweden?
Hulu doesn't have plans to expand its streaming services outside of the United States as of yet.
Conclusion
Hulu is one of the top streaming platforms. It's a mix of amazing original content, informative documentaries, and live channels. We can't say when Hulu will be available in Sweden, but rest assured, FastestVPN will let you access the service from anywhere in the world.

Take Control of Your Privacy Today!
Unblock websites, access streaming platforms, and bypass ISP monitoring.
Get FastestVPN