Watch Gennady Golovkin vs Kamil Szeremeta on Firestick
Watch Gennady Golovkin vs Kamil Szeremeta on Firestick
By Johan Curtis No Comments 5 minutes
Are you ready to see Golovkin back in action again? A new date for the much-awaited middleweight clash between Gennady Golovkin vs Kamil Szeremeta has been announced! Golovkin will be defending his middleweight titles on the 18th of December in Florida.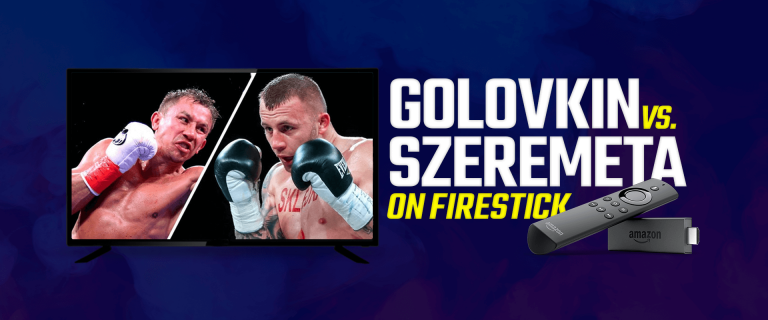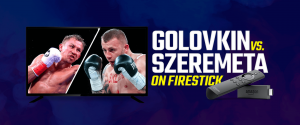 The bout is said to be a 12-round unification fight against the two boxers, with all of Golovkin's titles on the line. Originally, Gennady Golovkin vs Kamil Szeremeta was scheduled for February 2020 but had to be shifted to April due to the corona outbreak, however, since conditions did not get any better the fight was put on hold indefinitely, until now!
Both players haven't fought since October 2019, where Golovkin won against Sergiy Derevyanchenko and Kamil Szeremeta won against Oscar Cortes on the same card. Now they will be facing each other on Friday.
This is an important fight for Golovkin, he recently won his IBF and IBO titles against Derevyanchenko via unanimous decision, and this will be his first defense for his titles. A win against Kamil would mark his 21st middleweight title defense.
The strategically planned fight between Golovkin and Szeremeta will happen one day before the highly anticipated bout between Callum Smith and Canelo Alvarez. It is said that the winners of both matches will be required to fight against one another in 2021.
If Canelo is to win the fight against Smith, this would lead to a trilogy between Gennady and Canelo! In their first fight Golovkin manager to end the fight as a draw. However, by the second match, Canelo emerged victorious which ended Golovkin's first reign for the middleweight title.

Golovkin's Opponent: Kamil Szeremeta
On the other hand, Gennady Golovkin's opponent, Kamil Szeremeta, has a stellar match record with all 21 wins and 0 losses, he has been going strong. The Polish fighter is looking forward to outperforming Golovkin and take a run at his middleweight titles.
Even though Kamil lacks the knockout proficiency that Golovkin has, since he has only won by knockout 5 times in his career while Golovkin has an 88% knockout rate. Kamil is confident that he is prepared to face Gennady Golovkin and will outshine for sure.
We can already tell that this will be one exciting match, you can now watch Gennady Golovkin vs Kamil Szeremeta on Firestick! Here's how:
Gennady Golovkin vs Kamil Szeremeta Date, Time, and Venue
Date: 18th December 2020
Time: 8 p.m. ET
Venue: Seminole Hard Rock Hotel, Hollywood, Florida, USA.
How to Watch Gennady Golovkin vs Kamil Szeremeta on Firestick
Due to the global pandemic and the second wave in full swing, most matches are still being held behind closed doors or are allowing fans to watch the match live physically but with limited seats available to follow the social distancing rules.
Gennady Golovkin vs Kamil Szeremeta will be, unfortunately, held behind closed doors and streamed live exclusively on DAZN for users in the USA and Canada. You can easily watch the match online from your home on DAZN.
All you have to do is subscribe to DAZN and get cracking. DAZN is a sports streaming website or application that allows you to stream whatever sports-related content you'd like. It has a wide media library which is regularly updated, and it also hosts live shows often, so you won't ever miss a thing!
You can subscribe to DAZN for $19.99 per month or you could opt to subscribe for $99 per year. Both of which are great deals.
However, there is a slight setback with DAZN, it is only available to users in the USA and Canada otherwise its content is geo-restricted and cannot be accessed worldwide. To access DAZN from anywhere in the world, you will need a VPN.
A VPN is also known as a Virtual Private Network will mask your identity by disguising your IP address and providing you with a temporary one that matches the webpage's requirements, it will alter your location and make you seem like you are in the USA! Try FastestVPN for the most efficient and quick results.
FastestVPN will not only provide you with immediate access to DAZN but it will also keep you secure and protected while you browse the internet and the application, keeping you anonymous while online and your activity and data completely untraceable.
Steps to watch Golovkin vs Szeremeta on Firestick:
Subscribe to FastestVPN
Install FastestVPN app for Firestick
Open FastestVPN and get connected to the USA server
Go to DAZN.com
Click on the Subscribe button
Once subscribed to the service, you can watch Gennady Golovkin vs Kamil Szeremeta live on Firestick.
Fight Records
Gennady Golovkin
Real name: Gennady Gennadyevich Golovkin
Nickname(s): GGG ("Triple G")
Weight(s): Middleweight
Height: 5 ft 10 1⁄2 in (179 cm)
Reach: 178 cm (70 in)
Nationality: Kazakhstani
Born: 8 April 1982 (age 38) Karaganda, Kazakh SSR, Soviet Union
Stance: Orthodox
Boxing record
Total fights: 42
Wins: 40
Wins by KO: 35
Losses: 1
Draws: 1
Kamil Szeremeta
Weight(s): Middleweight
Height: 5 ft 9 1⁄2 in (177 cm)
Nationality: Polish
Born: 11 October 1989 (age 31) Bialystok, Poland
Stance: Orthodox
Boxing record
Total fights: 21
Wins: 21
Wins by KO: 5
Losses: 0
Conclusion
Gennady Golovkin vs Kamil Szeremeta is going to be one power-packed performance, and we can't wait to see how this unfolds!
Even though experts say that the odds are in Golovkin's favor given his knockout rate and amazing boxing skills. While Szeremeta is the undefeated champion, they fear that he is not strong enough for Golovkin and he will lose by technical knockout by Gennady.
However, guess we'll have to tune into Gennady Golovkin vs Kamil Szeremeta to be completely sure! Don't forget to watch the fight live on Firestick and make sure to subscribe to FastestVPN to get immediate access to DAZN!

Take Control of Your Privacy Today!
Unblock websites, access streaming platforms, and bypass ISP monitoring.
Get FastestVPN