Watch Mikey Garcia vs Jessie Vargas on Roku
Watch Mikey Garcia vs Jessie Vargas on Roku
By Johan Curtis No Comments 6 minutes
Mikey Garcia and Jessie Vargas are ready to compete against one another in one of the most anticipated matches of the season!
Garcia who is originally a 135 pounder, managed to jump two weight divisions into 147 lbs. However, his pay-per-view debut went quite unsuccessfully against Spence. Yet he still managed to bag a deal from Matchroom Boxing that will pay Garcia (39-1, 30 KOs) around $7 million for a fight on Feb. 29 against Jessie Vargas (29-2-2, 11 KOs) at the Ford Center in Frisco, Texas.
Garcia is set to make a debut with DAZN and a new promoter, Eddie Hearn, in the same state as his last match. He says: "I'm very happy to announce my next fight against Jessie on February 29th in Texas, live on DAZN." "I believe our styles are going to make for a battle and the fans are going to be in for a real treat. Tune in and don't miss it!"
However, his rival, previous two-weight ruler Vargas has already achieved victory at Welterweight and is aiming for more starting with his clash against Garcia. The 30 year old, who held the WBO strap at 147lbs in 2016 after moving up from Super-Lightweight where he held the WBA crown, believes that the timing is perfect for him to come out on top of what he promises will be a fan-friendly showdown.
Vargas further states "it's a big fight for the fans, its one people have wanted for a long time now. We are giving them what they want to see, it's going to be a great showdown."
It is evident that this is match is one you'll definitely remember, fight fans are bowling with anticipation and joy. Don't forget to watch the match live on Roku. A setup tutorial will be provided below.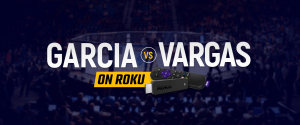 Mikey Garcia vs Jessie Vargas Date, Time and Venue
Date: 29th February, 2020.
Time: 5:00 pm GMT
Venue: Ford Center at the Star in Frisco, Texas.
Stream Mikey Garcia vs Jessie Vargas
When the time of the match approaches, the question that comes forward is where can we catch the fight online? We understand that not everyone has the opportunity to go watch the match live, which is why we bring to you many solutions to view it live online.
You can view the match through the Fox NOW App or the Fox Sports App; The Fox NOW app gives you access to streaming shows, movies, sports. You can view live sports or on demand TV shows as well. Since the fight is sponsored by FOX, so obviously, you'll be able to watch it on the app also. If you do not have the app, you may have access to Fox Sports on which you can gain access to the match. The Fox Sports app will allow you to watch the fight from any device that has a live streaming option on it. You can visit Amazon to get the app for this network, or you can also go to your phone's app store to download it.
Similarly, DAZN is also offering live streaming at a low price of $19.99 per month or $99.99 per year, where you get access to on-demand streaming. Whatever you want to watch, you can just look it up and get immediate access to it. However, the catch is that DAZN is currently only available in nine countries and not all are able to access it.
Sky Sports, also presents the option to live stream only at the price of £23 per month and it is an 18 month contract. Where you can watch any sport events of your choice at any time including live streaming. Sky Sports is only available to UK residents though.
The problem that surfaces is that the routes mentioned above have certain geo-restrictions which means that not everyone will be able to access them until they are in the supported region. Which is why in order to be able to watch the match from anywhere in the world, you will need to be subscribed to a VPN. There is no better option than FastestVPN with our several international servers; you can choose to connect to any and just watch the fight live without any restrictions. Here's how you can get Fastest VPN:
How to watch Mikey Garcia vs Jessie Vargas on Roku
Subscribe to FastestVPN
Download and install FastestVPN app for your device
Configure FastestVPN via router connection on Roku
Connect to the USA or UK Server
Open POPRISM web browser on Roku device
On your browser open Fox Sports and watch Mikey Garcia vs Jessie Vargas live on Roku
How to Configure FastestVPN on Router
TP-Link Router
This is a step by step guide to connect your TP-Link router to FastestVPN using the L2TP protocol.
Firstly, access web configuration panel of your router opening as http://192.168.1.1 or http://192.168.0.1 in your browser. Username and password are in your router's manual.
Connect a TP-Link router to FastestVPN via L2TP protocol
Go to "Network" a "WAN". If you do not find it there, you can find it in "Internet" s "Basic" instead.
Set "WAN Connection Type" as "L2TP/Russia L2TP".
Enter "Username" and "Password" as given by FastestVPN.
Activate "Dynamic IP".
In "Service IP Address/Name" field enter the address of the server you want to connect to. Please click here to get the complete list of server addresses.
Set "WAN Connection Mode" as "Connect on demand".
Click on "Save" button to save your settings and hit "Connect".
The status of the connection should now be "Connected!"
D-Link Router
This guide explains how to connect your D-Link router to FastestVPN using the L2TP protocol.
Connect a D-Link router to FastestVPN via L2TP protocol
Go to "Internet" a "Setup"
Select "My Internet Connection is" as "L2TP".
Into the "L2TP Server, IP Address" field enter the server address of the server that you want to connect to.
Enter your FastestVPN "Username" and "Password".
Set "Reconnect Mode" to "On Demand"
Select your "Address Mode" to "Dynamic IP".
Enter our DNS servers as "8.8.8" and "208.67.220.220".
Click Save settingsand then connect to VPN.
On some D-Link models, the router may reboot, and you might need to navigate to the "Status" page and click the "Connect" button.
Fight Records
Mikey Garcia
Weight(s): Featherweight, Super featherweight, Lightweight, Light welterweight, Welterweight
Height: 5 ft 6 in (168 cm)
 Reach: 68 in (173 cm)
Nationality: American
Born: December 15, 1987 (age 32) Oxnard, California, U.S.
Stance: Orthodox
Total fights: 40
Wins: 39
Wins by KO: 30
Losses: 1
Jessie Vargas
Weight(s): Light welterweight, Welterweight, Light middleweight
Height: 5 ft 11 in (180 cm)
Reach: 70 in (178 cm)
Nationality: American
Born: May 10, 1989 (age 30) Los Angeles, California, U.S.
Stance: Orthodox
Total fights: 33
Wins: 29
Wins by KO: 11
Losses: 2
Draws: 2
Conclusion
The Jessie Vargas versus Mikey Garcia brawl will be one that you can't miss. The two boxers fighting and from various weight classes is going to make this energizing to witness without a doubt. No one can tell how it will end, however we are expecting an incredible match and possibly a couple of surprises. So remember to tune in through FastestVPN on Roku and catch the boxing blockbuster live!
Take Control of Your Privacy Today!
Unblock websites, access streaming platforms, and bypass ISP monitoring.
Get FastestVPN