Watch Mikey Garcia vs Jessie Vargas on PS4
Watch Mikey Garcia vs Jessie Vargas on PS4
By Johan Curtis 1 Comment 6 minutes
Get ready for one of the most intense matches of the season! Mikey Garcia and Jessie Vargas are all prepared to battle it out in a boxing match on the 29th of February in Texas.
Things couldn't be better for Mikey Garcia right now. Just this week, he celebrated his birthday with his kids and then announced he would sign a short-term deal with Eddie Hearn of Matchroom Boxing USA that will begin with this very fight on Feb. 29 on DAZN against former two-division world champion Jessie Vargas at the Ford Center at The Star in Frisco, Texas.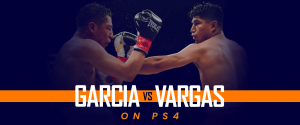 "I've been on a good run," Garcia told DAZN News. "Good news after good news and closing this deal and closing that deal. Things are going so well. I'm very excited. I just turned 32 on Sunday. I'm in my prime, baby. I feel great. I feel terrific. I'm hungry. I'm motivated. I got that fire in me again."
A lot is on the line for the four-division champion. Who won his first world title at 126 pounds, a victory over Vargas would keep Garcia on track toward his goal for marquee fights at 135, 140 or 147 pounds, even though he'd like to remain at welterweight. Another defeat and the California native would be facing a long road back and an uncertain future.
However, his opponent, previous two-weight ruler Vargas has already gained victory at Welterweight and is aiming for more glory starting with his clash against Garcia. The 30 year old, who held the WBO strap at 147lbs in 2016 after moving up from Super-Lightweight where he held the WBA crown, believes that the timing is perfect for him to stand out of what he promises will be a fan-friendly showdown.
We know, this sounds like a match you wouldn't want to miss! From all the information we've collected; if you're not going to watch the fight live you can always view it online even from your PS4- here's a detailed tutorial on how.

Mikey Garcia vs Jessie Vargas Date, Time and Venue
Date: 29th February, 2020.
Time: 5:00 pm GMT
Venue: Ford Center at the Star in Frisco, Texas.
Stream Mikey Garcia vs Jessie Vargas
As the clock ticks for this spectacular showdown, it all comes down to one main concern: where is it being broadcasted? The match will originally air on DAZN for USA residents and Sky Sports for UK residents.
If you're on a budget or just simply cannot get your hands on the tickets to watch the match live, no need to stress, you can always opt to stream Mikey Garcia vs Jessie Vargas live online or if you have access to cable TV, FOX Sports will be airing the event, so will Sky Sports and DAZN.
DAZN also offers live streaming at a low price of $19.99 per month or $99.99 per year, where you get access to on-demand streaming. Whatever you want to watch, you can just look it up and get immediate access to it. However, the catch is that DAZN is currently only available in nine countries and not all are able to access it.
Furthermore, if you can also download the Fox Now or Fox Sports app or visit their websites since they will also be playing the live stream.
Similarly, Sky Sports also presents the option to live stream only at the price of £23 per month and it is an 18 month contract. Where you can watch any sport events of your choice at any time including live streaming. Sky Sports is only available to UK residents though. UK residents also have the option to subscribe to Now TV and watch the fight; it is a much cheaper alternative especially with their sale going on where you can avail one month's subscription at a low cost of £4.99 or 3 months at £24.99. Even after the sale period ends, Sky Cinema Pass auto renews at £11.99 and Entertainment Pass at £8.99 a month with the option to cancel anytime.
These all seem like pretty promising options, however, due to the geo-restrictions applied to each channel, people who do not come under the specified regions cannot gain access. Which is why you need an efficient VPN like FastestVPN in order to be able to the live stream from anywhere in the world just by connecting to one of our multiple international servers.
Watch Mikey Garcia vs Jessie Vargas on PS4
To live stream fight on PS4, you need to follow the steps below:
Subscribe to FastestVPN
Configure FastestVPN on the router and connect it to your PS4 console
Select the USA or UK VPN server
From Play Station Store, download the official Fox or Now TV app for PS4
Launch the app and live stream Mikey Garcia vs Jessie Vargas on PS4
And you are done to Watch Garcia vs Vargas on ps4.
How to Configure FastestVPN on Router
DD-WRT Router
Access web configuration panel of your router opening http://192.168.1.1 or http://192.168.0.1 in your browser. The default IP, username and password are already given in your router's User Manual.
Connect a TP-Link router to FastestVPN via L2TP protocol
Go to "Setup" -> "Basic Setup"
Set "L2TP" as your "Connection Type"
Into the Gateway (L2TP Server) field enter a FastestVPN server address.
Enter your FastestVPN "Username" and "Password"
Enable the "Use DHCP" option
Under "Optional Settings" change "MTU" to "Manual" and put in the value of "1460"
Scroll down to "Network Address Server Settings (DHCP)"
Select "DHCP Type" to "DHCP Server" and also select "Enable"
Into Static DNS 1 and 2 fields enter these DNS addresses: "8.8.8.8" and "208.67.220.220"
Disable "Use DNS Mask for DHCP and DNS"
Click "Save" and "Apply Settings" at the bottom of the screen to connect to VPN
Now click on "Connect" button and your status will change to connected
Fight Records
Mikey Garcia
Weight(s): Featherweight, Super featherweight, Lightweight, Light welterweight, Welterweight
Height: 5 ft 6 in (168 cm)
 Reach: 68 in (173 cm)
Nationality: American
Born: December 15, 1987 (age 32) Oxnard, California, U.S.
Stance: Orthodox
Total fights: 40
Wins: 39
Wins by KO: 30
Losses: 1
Jessie Vargas
Weight(s): Light welterweight, Welterweight, Light middleweight
Height: 5 ft 11 in (180 cm)
Reach: 70 in (178 cm)
Nationality: American
Born: May 10, 1989 (age 30) Los Angeles, California, U.S.
Stance: Orthodox
Total fights: 33
Wins: 29
Wins by KO: 11
Losses: 2
Draws: 2
Conclusion – Garcia vs Vargas on PS4
There is no doubt that this match is going to be one of the most fascinating matches of the season! Fans and others have already started making their assumptions and placing their bets on the respective players judging by their fight records. You don't want to miss out on this, don't forget to tune into the match and watch it live on PS4 through FastestVPN!

Take Control of Your Privacy Today!
Unblock websites, access streaming platforms, and bypass ISP monitoring.
Get FastestVPN