Watch Ryan Garcia vs Luke Campbell on Kodi
Watch Ryan Garcia vs Luke Campbell on Kodi
By Johan Curtis No Comments 6 minutes
Start your 2021 with a bang, watch this season's most exhilarating match on the 2nd of January in Dallas! WBC has finally announced a new date for Ryan Garcia vs Luke Campbell for the WBC interim lightweight championship!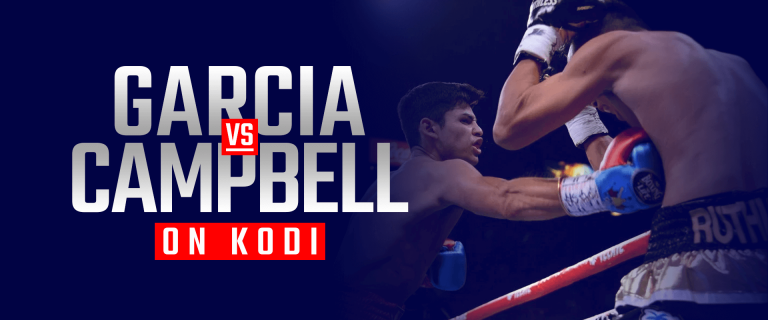 The fight that was originally planned to take place on the 5th of December, it had to be moved forward due to Luke Campbell contracting the coronavirus back in November. Now that the player has regained his health and tested negative, management has finally announced a new date.
Both opponents seem too confident that they'll outperform one another, so much so that Luke Campbell expressed his lack of amusement over Garcia's career, he further went onto say that he will single-handedly give Garcia his first professional defeat.
Moreover, Campbell insinuated that Garcia is just some player with a huge fan following doing it for the media. "It all looks good on video, but there's plenty of kids out there who can hit the pads quickly — but not look good in the ring. You can throw 1,000 uppercuts in 5 seconds on the pads. But it's not real. There's no one in front of you trying to take your head [off], just someone holding the pads." Campbell told ESPN.

Ryan Garcia Fires Back at Campbell
Whereas Luke Campbell's opponent, Ryan Garcia, feels highly offended by his comments and believes he is being nothing but petty and disrespectful.
"I feel very disrespected by Luke," Garcia said. "All that disrespect, all that hate, and all that envy is going to blind him. Luke is just the first one. I feel bad for Luke. He's just the first one of my opponents that's going to get it bad. I'm older, stronger, and coming into myself. I already felt I was coming into myself for the Fonseca fight. I was on a roll and ready to takeover. God said how it was supposed to be. I cannot wait to punish Luke Campbell. I want to break his eye, I want to break his bones, I want to break everything off him."
He believes that Campbell's experience is not going to affect his performance, Garcia is ready to shine and will make sure to deliver.
"I'm going to prove to everybody that Luke Campbell doesn't have it. It's my time. It's my era. I'm ready to show the world who I really am. I am not here to play games. I'm tired of hearing all the misconceptions about me on Instagram and whatnot. They don't know the work I put in. This is my time. This is my moment, and I'm ready to show the world."
The players seem to have quite the rivalry going on, this is going to be one exciting match and now you can stream Ryan Garcia vs Luke Campbell on Kodi! Keep reading to find out how.
Ryan Garcia vs Luke Campbell Date, Time, and Venue
Date: 2nd January 2021
Time: 6 p.m. ET
Venue: American Airlines Center in Dallas, Texas, United States of America.
How to Watch Ryan Garcia vs Luke Campbell on Kodi
The reason why Ryan Garcia vs Luke Campbell was moved to the American Airlines Center in Dallas because fans will be allowed to enter the arena and view the match but in limited quantity. In recent news, Dallas has been allowing people to reenter venues while keeping in mind the COVID-19 SOPs and maintenance of social distancing.
For those of you who cannot go watch Ryan Garcia vs Luke Campbell live from the venue, there's no need to worry. You can always stream the fight live online on DAZN! All you have to do is subscribe to DAZN and it will automatically give updates and live stream for almost all live sports events.
Subscribing to DAZN is easy, and relatively inexpensive compared to the amount of content they provide you with. In the United States, a monthly subscription costs $19.99, and an annual subscription costs $99.99.
Moreover, DAZN is also available in Canada, and a monthly subscription costs $20 CAD, and an annual subscription costs $150 CAD, and Canadian users can also avail a 30-day free trial.
Alternatives to Watch Garica vs Campbell
However, the only problem with streaming websites or applications like DAZN is that they are usually geo-restricted which means that DAZN is only available in selected regions and cannot be accessed worldwide. If you wish to surpass such geo-blocks to watch Garcia vs Campbell, you will need to download and subscribe to an efficient VPN.
If not DAZN, you have alternative solutions and can watch Ryan Garcia vs Luke Campbell on Kodi.
An effective VPN like FastestVPN will not only unblock all location restricted websites for you, but it will also provide you with expert quality services such as additional security and privacy; ensuring that you remain anonymous throughout your time online and no one is able to trace or keep a record of your data. Watch Ryan Garcia vs Luke Campbell on Kodi anonymously with a VPN!
Here's a tutorial on how to stream the fight, Ryan Garcia vs Luke Campbell on Kodi:
Find Kodi for your device
Get FastestVPN
Connect FastestVPN with your Router using US IP address
Open Kodi
Click on the small gear icon at the top-left corner to open the Settings menu
Click on File Manager then double-click on Add Source
Enter this repository link in the URL field: http://fusion.tvaddons.co
Now, click OK
Go back to the Settings menu and click on Add-ons
Pick Install from Zip File
Select Fusion > Repositories > English > Repository.leopold
Get back to Add-ons and select Install from Repository
Now pick Leopold
Go to Video Add-ons and search for DAZN
Click on Install
Once done, the add-on will be available in Add-ons on the Home Page.
Fight Records
Ryan Garcia
Nickname(s): The Flash, KingRy
Weight(s): Super featherweight, Lightweight
Height: 5 ft 10 in (178 cm)
Reach: 70 in (178 cm)
Nationality: American
Born: August 8, 1998 (age 22) Victorville, California, U.S.
Stance: Orthodox
Boxing record
Total fights: 20
Wins: 20
Wins by KO: 17
Losses: 0
Luke Campbell
Nickname(s): Cool Hand
Weight(s): Lightweight
Height: 5 ft 9 in (175 cm)
Reach: 71 in (180 cm)
Nationality: British
Born: 27 September 1987 (age 33) Hull, East Yorkshire, England
Stance: Southpaw
Boxing record
Total fights: 23
Wins: 20
Wins by KO: 16
Losses: 3
Conclusion
The clocks are ticking, we can't wait to see the two boxers battle it out in the octagon! The rivalry between Garcia and Campbell is intense- they're both extremely good players, it's tough to predict who'll win.
Will Garcia maintain his winning streak and remain the undefeated champion or will Campbell prove that experience does matter and finally break Garcia's undefeated record?
Make sure to find out by watching Ryan Garcia vs Luke Campbell on Kodi and subscribe to FastestVPN to gain immediate access to DAZN!

Take Control of Your Privacy Today!
Unblock websites, access streaming platforms, and bypass ISP monitoring.
Get FastestVPN