Watch Ryan Garcia vs Luke Campbell on Firestick
Watch Ryan Garcia vs Luke Campbell on Firestick
By Johan Curtis No Comments 6 minutes
Start your 2021 with some action, are you ready to witness one of the most important and exciting matches of the season? Tune into Ryan Garcia vs Luke Campbell for the WBC interim lightweight championship! The players are set to clash on the 2nd of January in Dallas.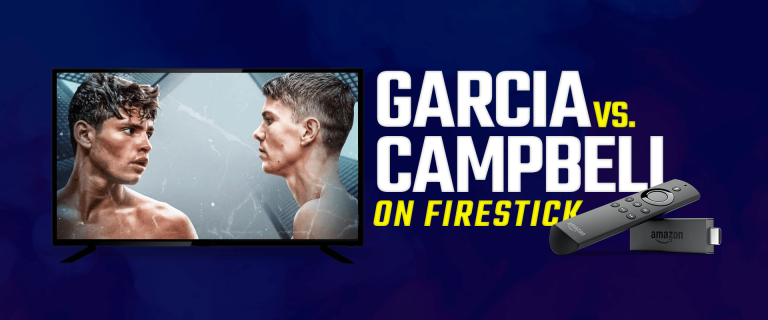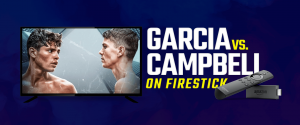 While the match was originally scheduled to take place on the 5th December, it had to pushed forward to 2nd January because Luke Campbell tested positive for corona in November.
However, now that Campbell is up and well, he is set to face Garcia, being a gold medalist, Campbell is determined to bring back his winning streak after his recent loss to Vasiliy Lomachenko in August 2019.
Whereas his opponent, Ryan Garcia, has truly proven himself as an outstanding fighter. The 22-year-old is probably the best contender out there, he has been delivering knockout after knockout. Due to such remarkable performances, Garcia has been receiving plenty of fame and his social media presence has also significantly risen.
Moreover, Ryan further went onto say, "I feel bad for Luke, he's just the first one of my opponents that's going to get it bad. I'm older, stronger, and coming into myself. I already felt I was coming into myself for the Fonseca fight. I was on a roll and ready to takeover. God said how it was supposed to be."

What Eddie Hearns Thinks About Garcia vs Campbell
However, Matchroom Boxing's Eddie Hearn seems to disagree with Ryan Garcia. According to him, Luke Campbell is the more predictable winner. While talking to people at DAZN, Hearn said:
"I don't think he beats Luke Campbell. I think this is a terrible, terrible decision by them. But maybe it's a genius decision. We'll find out. It's a brilliant fight and I'm excited for it, because I really want Luke to win that fight. He's probably the lightweight that's been thrown into the toughest challenges to try and win a world title, this one, of course, for the interim title. He had to go to Los Angeles and fight Jorge Linares. I felt he could've nicked that fight, even with a knockdown. His father passed away, like, two weeks before that fight. Then he boxed Vasiliy Lomachenko, and now he's fighting Ryan Garcia in LA. So, you have to give Luke Campbell a huge amount of credit and respect."
This is as promising as it gets, make sure to tune into the fight. You can now stream the match live online on DAZN from your Firestick, keep reading to find out how:
Ryan Garcia vs Luke Campbell Date, Time, and Venue
Date: 2nd January 2021
Time: 6 p.m. ET
Venue: American Airlines Center in Dallas, Texas, United States of America.
How to Watch Ryan Garcia vs Luke Campbell on Firestick
Ryan Garcia and Luke Campbell are ready to fight on the 2nd of January at the American Airlines Center in Dallas- the fight was moved to Dallas because Dallas has begun to permit limited number of people inside the arenas.
Even though arenas are not yet allowing full capacity, people are being placed into restricted pods to maintain social distancing, so, if you happen to be in the area, you can view the match live!
However, if you can't go to view the match live physically, there's no need to stress you can always stream it live from DAZN! DAZN will be broadcasting the entire event from their website and application live.
All you have to do is subscribe to DAZN and download the application or add the channel to your Firestick, if you haven't already! Buying DAZN is easy, and relatively inexpensive compared to the amount of content they provide you with. In the United States, a monthly subscription costs $19.99, and an annual subscription costs $99.99.
DAZN is also available in Canada, and a monthly subscription costs $20 CAD, and an annual subscription costs $150 CAD, and Canadian users can also avail a 30-day free trial.
Get Access To DAZN Easily With a VPN!
One slight setback, however, is that if you are trying to access DAZN from anywhere other than these locations then you will probably not be able to do so because of its geo-restrictions. Such location blocks make the app and its content available only within selected regions.
To be able to view DAZN from anywhere in the world, you will need a VPN. An efficient VPN like FastestVPN will help you unblock such webpages by masking your IP address and providing you with a temporary IP which matches the website's requirements granting you with immediate access.
Additionally, FastestVPN also provides you with an additional layer of security and privacy making sure you are anonymous online, and your activity is untraceable.
Here's how you can stream the match online on Firestick:
Subscribe to FastestVPN
Install FastestVPN app for Firestick
Open FastestVPN and get connected to the USA server
Go to DAZN.com
Click on the Subscribe button
Once subscribed to the service, watch Ryan Garcia vs Luke Campbell live on Firestick.
Fight Records
Ryan Garcia
Nickname(s): The Flash, KingRy
Weight(s): Super featherweight, Lightweight
Height: 5 ft 10 in (178 cm)
Reach: 70 in (178 cm)
Nationality: American
Born: August 8, 1998 (age 22) Victorville, California, U.S.
Stance: Orthodox
Boxing record
Total fights: 20
Wins: 20
Wins by KO: 17
Losses: 0
Luke Campbell
Nickname(s): Cool Hand
Weight(s): Lightweight
Height: 5 ft 9 in (175 cm)
Reach: 71 in (180 cm)
Nationality: British
Born: 27 September 1987 (age 33) Hull, East Yorkshire, England
Stance: Southpaw
Boxing record
Total fights: 23
Wins: 20
Wins by KO: 16
Losses: 3
Conclusion
This is going to be a tough match, with both exceptional players it's hard to determine who will outperform who. While Ryan Garcia is confident that he will maintain his undefeated record and beat Luke Campbell on the 2nd, Campbell is determined to make a comeback and emerge victorious!
We can't wait to see what this match unfolds, make sure to tune into Ryan Garcia vs Luke Campbell on Firestick and don't forget to subscribe to FastestVPN to gain immediate access to DAZN!

Take Control of Your Privacy Today!
Unblock websites, access streaming platforms, and bypass ISP monitoring.
Get FastestVPN