How to Watch Game of Thrones on Firestick
How to Watch Game of Thrones on Firestick
By Johan Curtis No Comments 5 minutes
Here you can also watch Game of thrones Finale.
Game of Thrones fans were left devastated when HBO announced that it would take two years before the show returns on TV. A lot of time has passed since then, and to the fans' joy, the next season of Game of Thrones is almost here. So here's our guide on how you can watch Games of Thrones on FireStick easily.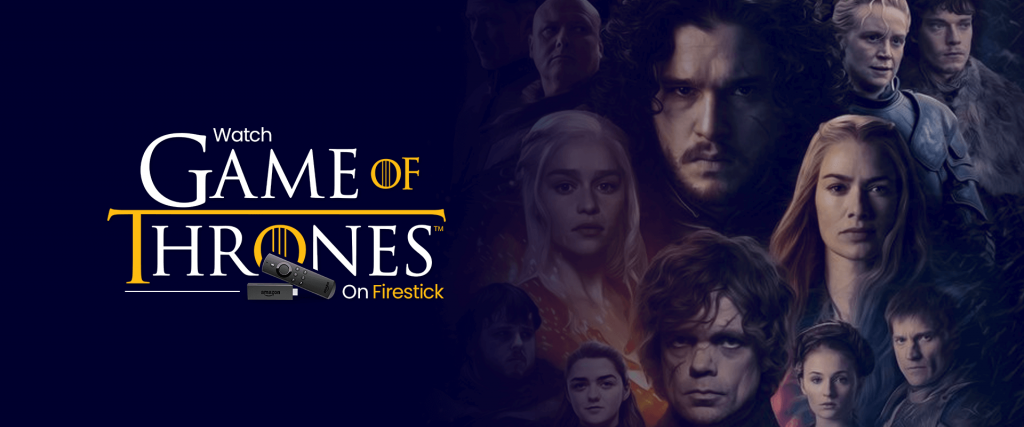 This is a very exciting season for two reasons. The first reason being that it will continue where the last season left off. And secondly, it will mark the end of the series. Game of Thrones will conclude its eight-year run when the show resumes this April.
---
---
The trailer for season 8 was released earlier and it has everyone hyped. The trailer gives away what we have been expecting, the great battle against the undead White Walkers is at hand, and it's going to be bigger than anything the series has shown so far. You'll be able to catch the latest episodes as soon as they're available on HBO.
Wondering how to watch the latest season of Game of Thrones on FireStick? The process is easy, we'll show you how.
---
Watch Game of Thrones on FireStick from Anywhere in the World
Game of Thrones is produced by HBO. It is one of their premier original TV series offering through which they attract new users to the HBO platform.
HBO will broadcast the eight season of Game of Thrones on April 14 on cable network, as well as through its digital streaming service HBO Now. If you're planning to watch the latest episodes with the convenience of pause and rewind, keep on reading and we'll explain how to watch Game of Thrones on FireStick.
HBO Now is available only in select countries. If you access it from an unsupported country then it will appear inaccessible. The key to this is VPN. Simply connect to FastestVPN's US server and mask your location with a private IP address. Get access to not just Game of Thrones on FireStick but the entire library of HBO, and many other digital streaming services.
---
Watch Game of Thrones on FireStick
FireStick is Amazon's prime offering for living room entertainment. It's part of the Fire TV family that was introduced back in 2014. Since then, Fire TV has solidified itself as one of the top digital streaming platforms in the market, competing with Google's Chromecast and Roku.
Fire TV began as a single device but is now a family of devices that caters to different price points and feature set. FireStick is a small and easy-to-use solution for those looking to transform their TV into an entertainment hub. As the name suggests, FireStick is a no bigger than an average-sized USB thumb-drive that plugs directly in the HDMI port of your display.
FireStick features an app store that's filled with hundreds of add-ons. Because Fire TV is one of the top digital media streaming devices in the market, HBO Now app is available directly off the store.
But before you think that's all you need to watch Game of Thrones on FireStick, keep on reading. As we discussed before, HBO Now is accessible only in certain regions. It is geo-restricted for people living outside the regions. But VPN lets you connect with other region servers via a private IP address and enable you to watch shows like Game of Thrones on FireStick.
Follow these steps to watch Game of Thrones on FireStick:
Launch FastestVPN and connect to US server
Download HBO Now app from your FireStick app store
Launch the app and subscribe to HBO Now
Start watching Game of Thrones on FireStick from anywhere in the world
Keep in mind that HBO Now is a paid service and access to the latest of Game of Thrones on FireStick requires an active subscription. The good news is that once you've subscribed to HBO Now, you can catch-up on previous seasons. There are many other shows as well on the service for your viewing pleasure.
---
---
What to Expect from Game of Thrones Season 8:
The eighth season of the Game of Thrones will bid farewell to the massively-popular fantasy TV series. The show will pick up from where it left off in Season 7.
John Snow and Daenerys Targareyn will travel to Winterfell, finally meeting with Arya and Sansa after a long while. The highlight of this season will be the battle that has been building up since the first season. Jon Snow and the armies he has allied with the clash with the threat of White Walkers who now see a clear path to enter the walls of Winterfell.
It is going to be the biggest season that will send the show on a high note. As a Game of Thrones fan, you don't want to miss it. If you have never watched Game of Thrones before or left it mid-way, now is a good time to catch up on old episodes before the final season arrives on April 14. This Game of Thrones on FireStick guide will serve everything you need to know.