Watch Floyd Mayweather vs Logan Paul on Smart TV
Watch Floyd Mayweather vs Logan Paul on Smart TV
By Johan Curtis No Comments 5 minutes
This season's biggest exhibition fight is on its way! Are you ready to witness the retired boxing veteran make a comeback? That's right, Floyd Mayweather is coming back this June 6th in an exhibition bout against the newbie boxer and famous YouTuber, Logan Paul!
The match was supposedly planned to take place somewhere in February 2021, however, due to some circumstances it was pushed forward to June and is now finalized!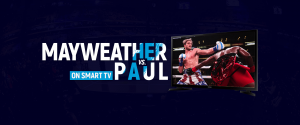 While many have questioned why Logan Paul would want to take on someone like Floyd Mayweather, who has a stellar boxing record of 50-0, Logan is determined that it's the right decision. He says, "People ask the question 'why would I fight Floyd Mayweather?' It's because my kids' kids will talk about this. Generations to come will talk about this moment in history and when I accepted this fight I understood the magnitude of what a special event this was."
Logan may have a weight and height advantage or Floyd, nonetheless, Mayweather has always managed to defeat whatever opponent given to him. His last exhibition against Tenshin Nasukawa in 2018 was a sweeping victory as well.
We're excited to see how this fight will play out and who will emerge as champion. Want to know how to watch Floyd Mayweather vs Logan Paul on your Smart TV? Keep reading to find out!
Floyd Mayweather vs Logan Paul Date, Time, and Venue
Date: 6th June 2021
Time: 8 p.m. ET
Venue: Hard Rock Stadium, Miami, Florida, United States of America.
How to Watch Floyd Mayweather vs Logan Paul on Smart TV
Due to the ongoing pandemic in the world, all matches have been decided to be done behind closed doors until announced otherwise. Following these orders, the Floyd Mayweather vs Logan Paul exhibition bout will take place in the Hard Rock Stadium in Miami, however, it will not be entertaining any fans physically.
If you wish to watch the match live- the other option is to stream it live online. Mayweather vs Paul will be officially broadcasted by Showtime USA for residents within the USA and will also be streamed live on Fanmio for people all over the world!
If you're considering streaming it on Showtime, you will need to first subscribe to the service, pay for PPV and then begin. Whereas if you're watching on Fanmio, all you have to is register, pay $49.99 for PPV and get streaming!
There are two major concerns with both solutions;
If you're planning on streaming on Showtime from outside of the USA, there is a high chance that it will deny access. Websites like Showtime use geo-restrictions which makes their content exclusively available within a set region.
Secondly, while Fanmio is free to use, the problem with such online streaming platforms is that they are usually not the safest to use. With cybercrimes peaking, there is a high chance that your security and privacy could be at risk.
The best way to solve the mentioned issues is through a VPN. A VPN tackles both geo-restriction and security problems. Basically, it acts like a wall or a private network which encrypts your connection within your public network and makes your activity online untraceable while simultaneously disguising your original IP address with another temporary one that matches the host website's restriction requirements.
It is essential that you chose an efficient and appropriate VPN for these tasks (since free VPN versions tend to provide you with very little security). The best VPN when it comes to surpassing geo-restrictions and extreme privacy and security is FastestVPN! FastestVPN ensures to keep your data safe while you're browsing and also guarantees to unblock all restricted webpages.
Here's how you can watch the match on your Smart TV:
How to Watch Floyd Mayweather vs Logan Paul on Smart TV on Showtime
Subscribe to FastestVPN
Download FastestVPN app (for Android TV only)
Setup FastestVPN with your Router using US IP address
Connect your Smart TV to Router
Open browser and search for the Showtime website
Or open an installed app for your Smart TV.
Pay for the PPV and subscribe to the service
Search and click at live Floyd Mayweather vs Logan Paul and watch the show.
How to Watch Floyd Mayweather vs Logan Paul on Smart TV on Fanmio
Subscribe to FastestVPN
Setup FastestVPN and connect to a server of choice
Go to https://fanmio.com/
Click on Floyd Mayweather vs Logan Paul in the 'Featured Events'
Press 'Buy Now'
Fill in your details
Once you've purchased PPV, you can begin streaming!
Fight Records
Floyd Mayweather
Nickname(s): Pretty Boy, Money, TBE ("The Best Ever")
Weight(s): Super featherweight, Lightweight, Light welterweight, Welterweight, Light middleweight
Height: 5 ft. 8 in (173 cm)
Reach: 72 in (183 cm)
Nationality: American
Born: Floyd Joy Sinclair, February 24, 1977 (age 44) Grand Rapids, Michigan, U.S.
Stance: Orthodox
Boxing record
Total fights: 50
Wins: 50
Wins by KO: 27
Losses: 0
Logan Paul
Born: Logan Alexander Paul, April 1, 1995 (age 26) Westlake, Ohio, U.S.
Nationality: American
Nickname(s): The Maverick
Weight(s): Cruiserweight
Height: 6 ft. 2 in (188 cm)
Reach: 76 in (193 cm)
Stance: Orthodox
Boxing record
Total fights: 1
Wins: 0
Wins by KO: 0
Losses: 1
Conclusion
This is going to be a match worth watching, we can feel it! With the entertaining rivalry going on between Logan Paul and Floyd Mayweather, it will be interesting to see who wins this.
Will Logan Paul be able to redeem himself from his previous loss in 2019? Or will Floyd Mayweather reign as the undefeated boxing champion with a new record of 51-0?
Make sure to find out by tuning into Floyd Mayweather vs Logan Paul on your Smart TV and don't forget to subscribe to FastestVPN to stay safe while online!

Take Control of Your Privacy Today!
Unblock websites, access streaming platforms, and bypass ISP monitoring.
Get FastestVPN