Watch Floyd Mayweather vs Logan Paul on Ps4
Watch Floyd Mayweather vs Logan Paul on Ps4
By Johan Curtis No Comments 5 minutes
The champ is back! Boxing veteran, Floyd Mayweather has announced to make a comeback to the ring this June 6th in a PPV match against with famous YouTuber Logan Paul in Miami!
While the match was originally planned to take place around February, it was postponed to a later date. Now that it is rescheduled for 6th June, the fight is creating a considerable amount of hype within the audience.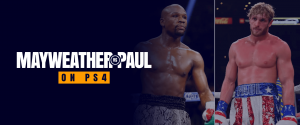 Floyd was last seen in the ring somewhere around 2018, where he landed a victory against Japanese boxer Tenshin Nasukawa in an exhibition. Given his stellar record, it is no secret that he has the upper hand in this fight with his undefeated record of 50-0.
Whereas, his opponent, Logan Paul barely has any boxing experience. With only two matches under his belt, that too, a draw and a loss.
Logan is majorly known as a famous YouTuber who competed against a fellow YouTuber, KSI, in 2018 in an exhibition match which was announced as a majority draw. A year later, the two met in a professional boxing match for a rematch which was won by KSI.
According to fans and experts, the fight is not really a challenge for Floyd Mayweather, the most probable reason he's so eager to take Paul on is because of the paycheck the fight will bring.
With the odd majorly in Mayweather's favor, we're excited to see how Logan Paul takes him on! Stay tuned to find out how you can watch Floyd Mayweather vs Logan Paul on Ps4!
Floyd Mayweather vs Logan Paul Date, Time, and Venue
Date: 6th June 2021
Time: 8 p.m. ET
Venue: Hard Rock Stadium, Miami, Florida, United States of America.
How to Watch Floyd Mayweather vs Logan Paul on Ps4
As the world battles with the third wave of the coronavirus, stadiums are yet to open their gates to fans. Which means that the Logan Paul vs Floyd Mayweather exhibition will be taking places behind closed doors.
However, the exhibition is a PPV event and will be streamed live online on Showtime and Fanmio. While the PPV price for Showtime is yet to be disclosed, people outside the USA can pay $49.99 on Fanmio to stream the match.
If you want to watch Mayweather vs Paul, you will probably have to subscribe to Showtime to access the fight or pay for PPV on Fanmio. The problem with streaming channels such as Showtime is that they tend to use location blocks or geo-restrictions which makes their content only available within a given region. So, if you're trying to access Showtime from outside the USA, there is a high chance that you will be unable to do so.
Geo-restrictions can be such a hassle, the only way to get through such location blocks is with a VPN! A VPN will safely encrypt your connection and mask your IP address, making it match the host website's requirements and enabling immediate access.
Moreover, even though Fanmio is free for all and all you need to do is visit their website, pay for PPV, and begin streaming, cybercrimes are at an all-time high. Your information and activity online can easily be tracked and mishandled.
An easily solution to both problems mentioned above is a VPN. To effectively unblock restricted websites, you will need an efficient VPN such as FastestVPN! FastestVPN not only ensures to surpass all geo-restrictions but it also guarantees to provide its users with the utmost security and privacy while streaming online, that too, for a very little price!
Here's how you can watch the match on your PS4:
How to Watch Floyd Mayweather vs Logan Paul on Ps4 on Showtime
Subscribe to FastestVPN
Setup FastestVPN with the router using US IP address
Now plug in PS4 with the router
Head to PlayStation Store
Download Showtime+
Open app and subscribe to Showtime+
Pay for PPV
Now you can watch the full match live online
How to Watch Floyd Mayweather vs Logan Paul on Ps4 on Fanmio
Subscribe to FastestVPN
Setup FastestVPN and connect to a server of choice
Go to https://fanmio.com/
Click on Floyd Mayweather vs Logan Paul in the 'Featured Events'
Press 'Buy Now'
Fill in your details
Once you've purchased PPV, you can begin streaming!
Fight Records
Floyd Mayweather
Nickname(s): Pretty Boy, Money, TBE ("The Best Ever")
Weight(s): Super featherweight, Lightweight, Light welterweight, Welterweight, Light middleweight
Height: 5 ft. 8 in (173 cm)
Reach: 72 in (183 cm)
Nationality: American
Born: Floyd Joy Sinclair, February 24, 1977 (age 44) Grand Rapids, Michigan, U.S.
Stance: Orthodox
Boxing record
Total fights: 50
Wins: 50
Wins by KO: 27
Losses: 0
Logan Paul
Born: Logan Alexander Paul, April 1, 1995 (age 26) Westlake, Ohio, U.S.
Nationality: American
Nickname(s): The Maverick
Weight(s): Cruiserweight
Height: 6 ft. 2 in (188 cm)
Reach: 76 in (193 cm)
Stance: Orthodox
Boxing record
Total fights: 1
Wins: 0
Wins by KO: 0
Losses: 1
Conclusion
While the match may not be very promising given the odd pairing of players, we're excited to see how this goes! Both, Logan and Floyd, have been hyping up this fight and seem pumped to take on each other.
By winning this fight, Logan will be able to redeem himself for the loss against KSI in 2019. Whereas Mayweather will manage to make an outstanding comeback!
The thrill is on! Don't forget to tune into Floyd Mayweather vs Logan Paul on PS4 devices this 6th June! Also, make sure to subscribe to FastestVPN to stay safe while online and unblock any or all geo-restrictions.

Take Control of Your Privacy Today!
Unblock websites, access streaming platforms, and bypass ISP monitoring.
Get FastestVPN