Watch FIFA World CUP 2022 on TBS
Watch FIFA World CUP 2022 on TBS
By Christine Margret No Comments 4 minutes
The FIFA World Cup 2022 is scheduled to be held in Qatar from 20th November to 18 December 2022. Football fans who wish to watch FIFA World Cup 2022 on TBS can take this blog as their go-to guide.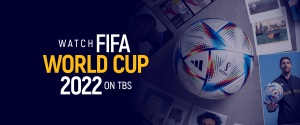 The best method to watch FIFA online on TBS from anywhere without facing any geographical or other copyright issues is to use a VPN. This blog will explain to you how to watch FIFA matches using FastestVPN from any location.
Watch FIFA World Cup 2022 on TBS – Quick Steps
TBS is one of the official broadcasters of the FIFA 2022 matches in the USA. If you live in the USA, it's quite an easy task to access and watches it. Therefore you can access the channel hassle-free without any interruptions. Here's how you can watch FIFA 2022 on TBS in the USA:
The only drawback is that TBS is a paid streaming service that is only available to watch in the US. It means you cannot access it anywhere outside of its approved region. Even if you already have your account and travel outside, you won't be able to access it. Nevertheless, you can change your IP address and virtual location in the USA, then access TBS from anywhere to watch FIFA 2022. To change your IP address, you can use FastestVPN.
How to Watch FIFA World Cup 2022 on TBS from Anywhere using FastestVPN
In case, you're traveling or visiting abroad. You cannot watch the FIFA 2022 World Cup on TBS. You will need a VPN to access the channel from any other country or outside the USA. As mentioned above, a VPN will hide your original IP address and assign you a new US IP address when you connect to its US servers. Here's how to watch FIFA 2022 on TBS from anywhere with FastestVPN:
Alternatives to watch FIFA World Cup 2022 with FastestVPN (FREE)
As you know, TBS is a paid service and you have to get its active subscription if you want to access it from the US or outside. If you don't want a paid channel to watch FIFA 2022 World Cup, then you can also stream the live matches on free channels.
These free channels to watch the FIFA 2022 World Cup are geo-restricted, hence, ensure connecting with the FastestVPN first to get access from anywhere. These FIFA 2022 free streaming channels are SBS, and Match TV.
How to watch FIFA World Cup 2022 via MatchTV.ru for free:
 How to watch FIFA World Cup 2022 via SBS for free:
Conclusion
Football buffs can completely rely on this blog that describes how to watch FIFA World Cup 2022 on TBS. There are so many free and paid streaming services worldwide that will host the event.
However, all the channels are country-specific, and you may experience annoying restrictions while accessing FIFA 2022 online. Hence, your best bet is to connect with FastestVPN to pretend like you're in that country and watch FIFA World Cup 2022 from anywhere hassle-free.
Take Control of Your Privacy Today!
Unblock websites, access streaming platforms, and bypass ISP monitoring.
Get FastestVPN