Watch FIFA World Cup 2022 On Roku
Watch FIFA World Cup 2022 On Roku
By Johan Curtis No Comments 6 minutes
The FIFA World Cup is the most exciting event on the planet in every kind of sport. The whole world is on its toes waiting for it to start as most teams have already finalized their squads. Fans worldwide can not afford to miss even a match that's filled with excitement, passion, determination, and emotions. For most fans, Roku is usually preferred for online streaming, and if you've got one, this guide will show you how to watch FIFA World Cup 2022 on Roku. Surely you are in the right spot, because this perfect guide will help you stream every match online on your Roku device.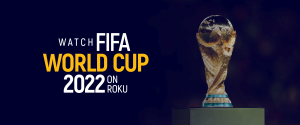 The FIFA World Cup is by far the greatest football competition in the world. Millions of fans globally watch it with excitement that cannot be described in words. Watching all the star players performing for their countries, fighting till the end, and keeping the fans thrilled. Considering that this World Cup will most probably be the last for Messi and Ronaldo, the fans will ensure not to miss any of their games.
Keeping this in mind, the fans have been planning for the FIFA World Cup and getting all that they need. This also includes the fans that have Roku and are looking for ways to stream the whole tournament live on it. To make it easier for them, we have shown how to watch FIFA World Cup 2022 on Roku quite easily.
Stream the FIFA World Cup on Roku
Streaming the FIFA World Cup on Roku is quite easy. Here you will see the best way to watch World Cup matches on Roku. Roku is one of the most popular choices for online streaming in the world. It has made all streaming available to people in such an effortless way. Especially those who are not a fan of cable subscriptions will love Roku.
It is a brand that includes digital media streaming devices created by Roku Inc. These devices can be connected to your Smart TV and can also exist as software. It enables you to watch your desired content in high-quality, which multiplies your streaming experience. Here we will help you with how to watch FIFA World Cup 2022 on Roku.
Before we go further, let us get one thing straight. You can stream multiple channels on your Roku device, but not all of them can be accessed because of geo-restrictions. If you want to bypass these geo-restrictions, then a subscription to a top-notch VPN service becomes essential. FastestVPN allows you to pave off any geo-restriction by virtually connecting to the server in the country where the specific streaming service is accessible.
How to stream FIFA World Cup 2022 on Roku with FastestVPN
This is how you can use FastestVPN to access FIFA World Cup 2022 live stream by being anywhere in the world:
There will be various streaming services that will be broadcasting the FIFA World Cup live matches, such as iTV, MatchTV, and SBS. However, all the mentioned streaming services are only available in their country of origin.
Anyone living outside these countries will have to use a VPN in order to stream them easily. FastestVPN will help you access these online streaming services on your Roku device, and you can watch every match without interruption.
How to Watch FIFA World Cup 2022 on Roku with MatchTV (Free)
MatchTV is a popular online streaming service based in Russia. It will also be broadcasting FIFA World Cup matches in 2022. By using a VPN, you can connect to the Russian server and easily access MatchTV. Here's how:
How to Watch FIFA World Cup 2022 on Roku with SBS (Free)
SBS is a famous Australian TV network that also offers its online streaming services to its citizens. Now, if you reside in another country than Australia and wish to stream FIFA World Cup matches on SBS, you will need a VPN connection. Below it is mentioned how you can connect to FastestVPN and stream SBS on Roku by connecting to an Australian server. Here's how to get started:
Subscribe to FastestVPN.
Now configure FastestVPN on your router.
Find the Australian location address from this list and connect to our fast Australian server.
Open the Roku browser.
Access SBS and then sign up.
Enjoy watching FIFA World Cup 2022 on Roku with SBS for free.
How to Watch FIFA World Cup 2022 on Roku with iTV (Free)
iTV is one of the most popular UK streaming networks that provides multiple channels, including sports. Moreover, it will also be broadcasting the FIFA tournament live to all the fans residing in the UK. If you are someone who lives outside the UK and wishes to access iTV on your Roku device, there is a way. Simply use a VPN and stream iTV to watch the FIFA World Cup 2022 without any interruptions by connecting to the UK server. Here's how to get started:
Sign up for the FastestVPN subscription.
Configure FastestVPN on your router.
Now open the Roku browser.
Access the iTV website and sign up.
Enjoy FIFA on your iTV without paying anything.
The FIFA World Cup 2022 Schedule:
As soon as you are ready with your VPN connection and Roku device, you will be able to watch the matches quite easily. Here is all that you need to know about the beginning matches of the FIA World Cup 2022.
Date: 20th November 2022
Venue: Al Bayt Stadium
First Match: Qatar vs. Ecuador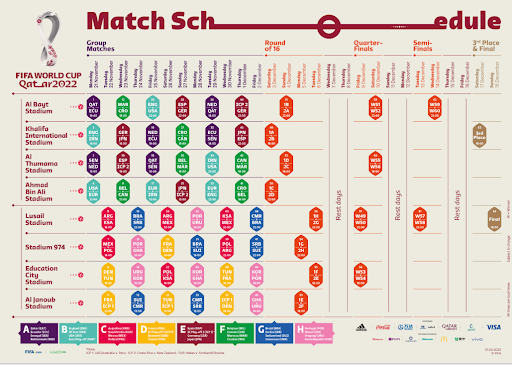 Wrapping Up!
Fans have been on their toes as the greatest football tournament in the world is gradually making it here. The players are finalized, and the teams are ready to meet each other on the fields.
The streaming services have been finalized to stream the whole World Cup live for the fans worldwide. Are you ready for it, though? We hope with this guide, we have helped you with how to watch FIFA World Cup 2022 on Roku without any blockages. Get the FastestVPN subscription today and be ready when the time comes.
Take Control of Your Privacy Today!
Unblock websites, access streaming platforms, and bypass ISP monitoring.
Get FastestVPN