Watch FIFA World Cup 2022 On PS4
Watch FIFA World Cup 2022 On PS4
By Janne Smith No Comments 7 minutes
FIFA fans, it's time for football season once again after four long-standing years! FIFA is one of the most anticipated events for football admirers around the globe. Enthusiastic for the 22nd edition of the FIFA World Cup 2022, fans are counting the days till November 18th, 2022. If you're planning on streaming the match on your PlayStation and don't know how to get started, we've got you covered. This guide is curated to provide you with all the essential details on how to watch FIFA World Cup 2022 on PS4 since it's fun to watch sports on your favorite gaming consoles. We've listed free and paid channels to watch the match on your PS4.
The FIFA World Cup 2022 will be held in Doha, Qatar. The quadrennial international men's association team of FIFA proudly organizes the modernizing global football-playing event with dynamic potential. The grand event will happen in eight stadiums in Qatar, in five different cities; Al Khor, Lusall, Al Rayyan, Al Wakrah, and Doha.  Several media channels are providing the live stream of the FIFA World Cup 2022 matches. Unfortunately, these channels arrive with geo-blocks. Therefore, to circumvent the content restrictions and watch FIFA World Cup 2022 on PS4 from anywhere in the world, you need a FastestVPN subscription with a robust IP address.
Therefore, preparing everything before time for the most-admirable sports event is essential if you don't want to miss out on a single kick. Continue reading to learn more on how to watch FIFA World Cup 2022 on PS4 with FastestVPN.
How to Watch FIFA World Cup 2022 on PS4 via Fox Sports (Paid channel)
PS4 lovers enjoy watching their favorite media shows and spectacular sporting events such as FIFA 2022 on PS4. This quick guide will lead you to the desired destination to cherish the much-anticipated football event and watch FIFA World Cup 2022 on PS4 without hassle.
However, even though Fox Sports is the official channel, it's a paid service. If you're looking for a free option, we recommend going with MatchTV.ru. Get the tutorial below.
How to Watch FIFA World Cup 2022 on PS4 via MatchTV.ru (Free channel)
Configure FastestVPN on your router.
While configuring a router, connect to a Russian server (for matchtv.ru). Additionally, there are other free channels like BBC iPlayer or ITV that you can stream on. Get them with a UK server. Find the complete FIFA Channel list here.
Open matchtv.ru or BBC iPlayer on your PS4's built-in browser.
Watch FIFA World Cup 2022 on PS4 conveniently for FREE!
Just in case you need to learn to configure FastestVPN on your router to get VPN access on your PS4, get the tutorial below.
How to Configure FastestVPN on Router (L2TP):
Please access the web configuration panel of your router in your browser with URL http://192.168.1.1 or http://192.168.0.1.
Go to "Network" à "WAN"
Set "WAN Connection Type" as "PPTP or "L2TP."
Enter your FastestVPN "Username" and "Password"
Enable the "Dynamic IP" option
In "Service IP Address/Name" field enter the address of the server you want to connect to. Please get the complete list of server addresses here.
Set "WAN Connection Mode" as "Connect on demand"
Click on "Save" button to save your settings and hit "Connect"
Now connection status should be "Connected!"
That's all! You can now watch FIFA World Cup 2022 on PS4 using FastestVPN. We've given you the option of choosing between paid and free services. However, if you're outside the location where the channels are broadcast, connect to FastestVPN to get past the geo-restrictions.
What are the Dates of the FIFA World Cup 2022?
FIFA has announced the mega football tournament's official dates. FIFA World Cup 2022 is scheduled to run from Monday 20st November till Sunday 18th December 2022 in Doha, Qatar.
The 2022 FIFA World Cup Schedule
As soon as you are done configuring your device with FastestVPN, you will be all set to watch FIFA World Cup 2022 on Apple TV quite easily. Here you can find all the schedules of the matches that will be taking place in the FIFA World Cup 2022. You can track which teams will be clashing with each other right here.
Date: 20th November 2022
Venue: Al Bayt Stadium
First Match: Qatar vs. Ecuador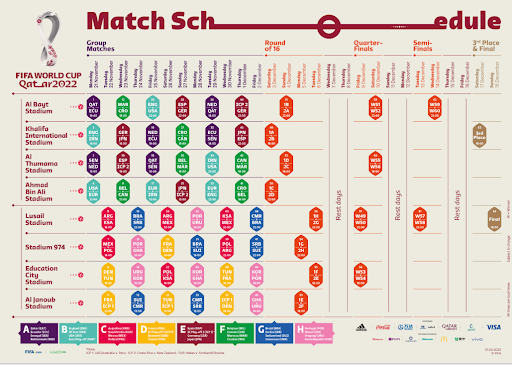 Which Countries have Participated in FIFA World Cup 2022
This list of countries that have participated in the FIFA World Cup 2022 will give you an insight into the massive football ceremony of 2022.
| | | | | | | | |
| --- | --- | --- | --- | --- | --- | --- | --- |
| Group A | Group B | Group C | Group D | Group E | Group F | Group G | Group H |
| Qatar | England | Argentina | France | Spain | Belgium | Brazil | Portugal |
| Ecuador | Iran | Saudi Arabia | Denmark | Germany | Canada | Serbia | Ghana |
| Senegal | USA | Mexico | Tunisia | Japan | Morocco | Switzerland | Uruguay |
| Netherlands | Wales | Poland | ICP 1 | ICP 2 | Croatia | Cameroon | Korea |
Official Broadcasting Channels to Watch FIFA World Cup 2022 on PS4
Major sports streaming channels are broadcasting the FIFA World Cup 2022 event in many countries. You can choose your media channel from this provided list according to your residential country.
FOX Sports
Matchtv.ru
SBS
Sling TV
YouTube TV
BBC
ITV
BBC iPlayer
BBC News
BBC Sports
Telemundo
Fubo
Sony Six
Sony ESPN
Sony TEN 1
Sony TEN 2
Sony 3
Antenna TV
Hulu+ Live TV
AT&T
TV Now
beIN Sports
SuperSports
SuperSports pay-TV
Why do you need a VPN to Watch FIFA World Cup 2022?
FIFA World Cup 2022 is a long-awaited event for football fans. People worldwide are gathering to stream the match live online from Doha, Qatar. However, for those who cannot leave for the FIFA World Cup 2022, advanced media has made it easier to stream it from the comfort of your home. But what about geo-restrictions that are linked to broadcasting channels? For this case in point, FastestVPN has you covered.
Several media streaming channels are broadcasting the FIFA World Cup 2022 event live from Qatar in numerous countries, including the USA, UK, Canada, Australia, Germany, Russia, and Spain.
However, unfortunately, these media streaming sites are geo-blocked following several content restriction laws and copyright censorship. Bypassing such geo-blocks is possible using a VPN.
FIFA World Cup 2022 is an awe-inspiring event, and no one wants to rule out the happiest sports moments in their life. FastestVPN will allow you to connect to its blazing VPN servers and download and access the broadcasting channels without regional restrictions.
You can get access to official media streaming sites such as FOX Sports, and Telemundo. Besides, you can watch the FIFA World Cup 2022 on PS4 free with matchtv.ru, BBC, and SBS. Purchase a subscription and connect to a server of your choice depending on the country you want to stream the sports channel.
Conclusion
Football fans must constantly be hearing the ticking of the clock and tearing pages from their calendars to reach 18th November 2022, the grand day for the heart-pumping FIFA World Cup 2022. Hopefully, by reading this guide now you are acquainted with how to watch FIFA World Cup 2022 on PS4 from anywhere with paid and free streaming channels with a FastestVPN subscription.
To watch it worldwide without any geo-restrictions, you can take your ultimate rescue partner FastestVPN, with you. Its unlimited bandwidth and AES-256-Bit military-grade encryption will facilitate you with complete privacy and anonymity to watch FIFA World Cup 2022 on PS4 and other devices while invigorating seeing all your favorite footballers on one screen. Get a FastestVPN subscription to stream the matches before they begin!
Take Control of Your Privacy Today!
Unblock websites, access streaming platforms, and bypass ISP monitoring.
Get FastestVPN