How to Watch FIFA World Cup 2018 on DAZN
How to Watch FIFA World Cup 2018 on DAZN
By Johan Curtis No Comments 4 minutes
Watch FIFA Club World Cup from 12 to 22 December
People worldwide are anticipating the 2018 World Cup with great passion and enthusiasm like never before. Only one month left for the 2018 FIFA World Cup to kick off and fans around the world are eagerly waiting to see their national team perform well in the tournament. Various channels are going to broadcast the World Cup online, one of which is DAZN. So if you're hoping to catch all FIFA World Cup moment on DAZN, here is a guide that will let you watch FIFA World Cup 2018 on DAZN in Canada, Austria, Germany, and elsewhere instantly.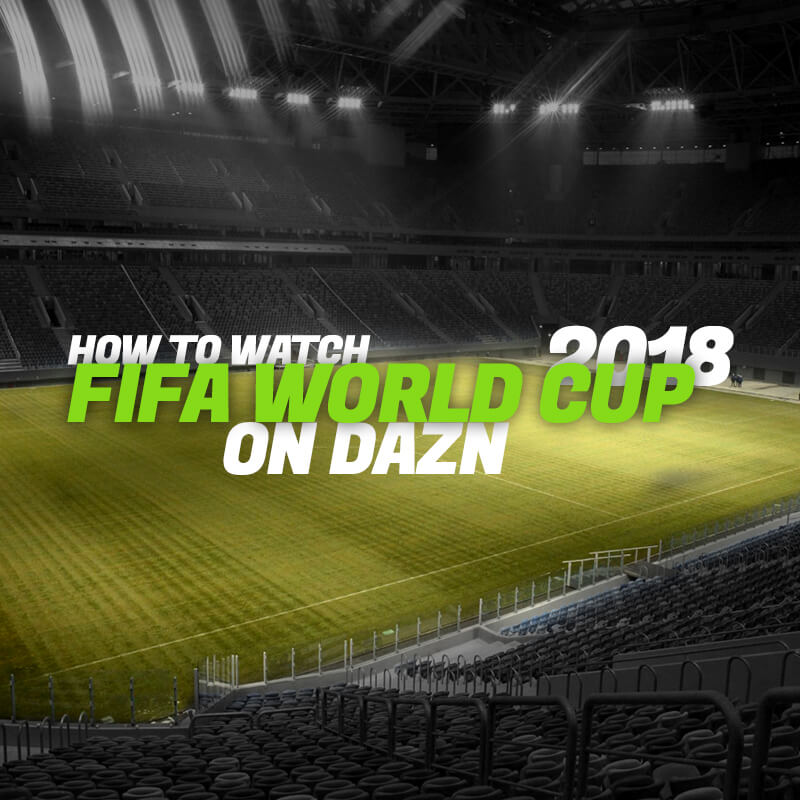 ---
---
Please note that Dazn will only be streaming FIFA Highlights in Germany and will not be streaming the event live. So if you are looking to watch FIFA live, please read the solution given as alternative to DAZN.
How to Watch FIFA World Cup 2018 on DAZN From Anywhere
As we know, DAZN is a renowned online broadcasters in Canada, Germany, Austria and Switzerland, and accessing them from elsewhere may be impossible, but not really. However, using proxy server (as many do) would be foolish. Proxy servers are not safe and doesn't guarantee access to the website you are trying to visit. To be able to access DAZN outside its designated regions, you have to be available in those regions or at least appear as if you're. All of this can only be possible if you have a VPN. Using a VPN is the only solution for you to access DAZN from anywhere and watch FIFA World Cup 2018 on DAZN instantly.
A VPN will not only grant you access to DAZN, but also keep you safe over the web. To be able to access DAZN, you need a VPN service that has its servers in Germany, Canada, Austria, and Switzerland or at least in any one of these countries. When you connect to any of these server locations i.e. Germany, you are assigned a German IP address that makes you appear as if you're accessing from within Germany. Thus allowing you to stream your favorite sports content on DAZN including the FIFA World Cup. So if you want to watch FIFA World Cup 2018 on DAZN, here are the steps you need to follow:
Subscribe to FastestVPN
Get FastestVPN app OR Configure FastestVPN manually
Launch the App and Connect to Germany or Canada Server
Access www.dazn.com & Sign up
That it! Enjoy FIFA World Cup live streaming Highlights on your devices from anywhere instantly
Cheap alternative to watching FIFA on DAZN from anywhere
Subscribe to FastestVPN (costs just $10)

Install the app on your preferred device (will hardly take a min)

Connect to

UK 

using the App
Now go to

BBC iPlayer

or

ITV

website and create an account for free

Start streaming FIFA live for free
---
Watch FIFA World Cup 2018 with DAZN
DAZN is one of the most famous online broadcasting networks in the world. It offers a wide range of sports live events to its online audience. DAZN is available in countries such as Canada, Austria, Germany, Switzerland, Japan as well as the US and fans residing in these countries can log into and watch their favorite sports live. Since DAZN is going to broadcast live coverage of the FIFA World Cup 2018, if you are in countries we have mentioned earlier, you can watch FIFA World Cup 2018 on DAZN easily. All you need to do is to sign up for an account and that's. They also offer a free trial so you can rest assured the streaming to be high-quality.
Here is how you can watch FIFA World Cup 2018 on DAZN in Canada, Austria, Switzerland, Germany, and Japan instantly!
Access www.dazn.com and Sign up
Watch Highlights of FIFA World Cup 2018 on DAZN with ease.
DAZN offers HD quality live streaming that you can enjoy on a variety of devices including PCs, smartphone, tablets, gaming consoles, set-top boxes, and smart TVs on the DAZN website. In addition, you can also install DAZN app on your iOS and android devices as well as connected devices like Fire TV, Fire Stick and Android TV.
---
---
Conclusion
DAZN offers HD and smooth streaming quality. That means watching FIFA World Cup on DAZN would be a hell of an experience. Whether you live in Germany, Canada, or Austria, or you're traveling abroad or perhaps you live somewhere else, to live stream FIFA World Cup on DAZN, you only need a VPN and that it. You don't have to look for proxy servers and other hacks to stream the tournament. With our guide above, you can instantly watch FIFA World Cup 2018 on DAZN on the Go.