How to Watch FIFA World Cup 2018 on beIN Sports
How to Watch FIFA World Cup 2018 on beIN Sports
By Johan Curtis No Comments 3 minutes
Watch FIFA Club World Cup from 12 to 22 December
In a couple of weeks' time, the biggest football competition will return to your home screens as its time for the FIFA World Cup 2018 that will be taking place in Russia, starting from June 14th. Some 160 channels will be broadcasting the World Cup live worldwide, including beIN Sports which is available in more than 12 countries from around the world including the States, Canada, Australia, France, Middle-East, Hong Kong, etc. So, if you've decided to watch FIFA World Cup 2018 on beIN sports, then this guide will help you to stream on beIN Sports in locations where it is available and also where it is not. So keep reading to find out how you can do that easily and without any restrictions.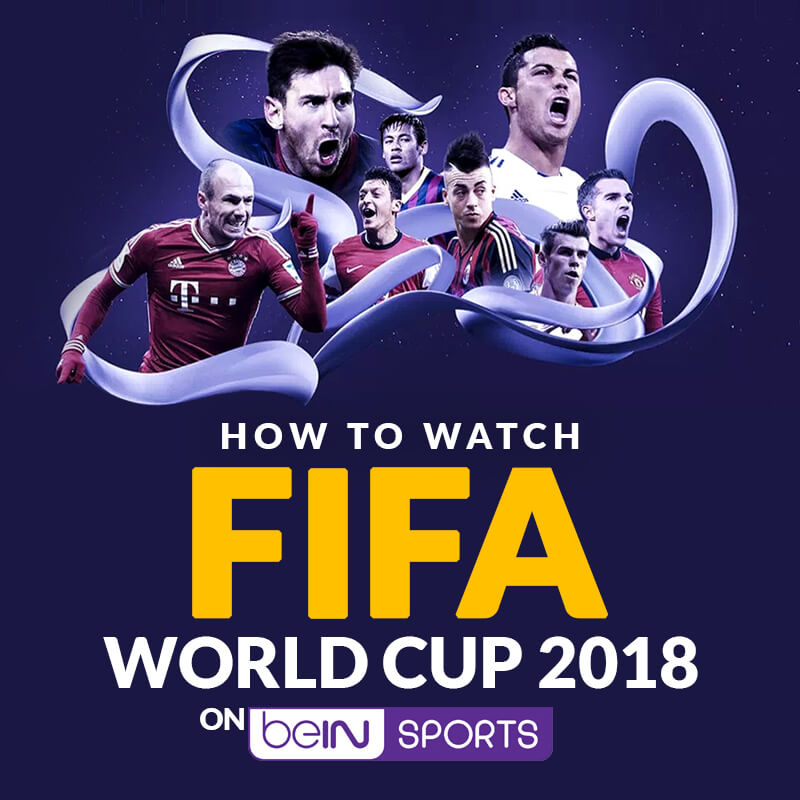 ---
---
How to Watch FIFA World Cup 2018 on beIN Sports From Anywhere
beIN Sports has become a major sports TV network and now football fans can watch FIFA World Cup 2018 on beIN Sports online from different places. But what if its coverage is not available in your region? For that, a VPN comes to the rescue. A VPN is something that lets you access and stream online content that is restricted or not available in your region. So, you need a VPN to connect from a region where beIN sports offer subscriptions (not cable subscriptions), in this case: FastestVPN is one of the best when it comes to unrestricted access to geo-blocked content.
Here is a simple guide on how to access beIN Sports Connect using a VPN.
Subscribe to FastestVPN
Get FastestVPN app OR Configure FastestVPN manually
Launch the App and Connect to France Server
Access beIN Sports France & Subscribe
Download beIN Connect app on your preferred device and login.
Done!
Now you can watch FIFA World Cup 2018 on beIN Sports from anywhere instantly and without any restrictions.
---
Watch FIFA World Cup 2018 with beIN Sports
beIN Sports is a Qatar-based global network of sports channels and offers a wide range of sports coverage including football, rugby, golf, motorsports, boxing, etc. beIN also offer its streaming services through its online platform called beIN sports Connect which is available in various locations such as the US, Australia, France, Spain, Hong Kong, Middle-East, Spain, Singapore and many others.
Apart from TV coverage, it also offers online coverage for users to watch sports live online on different devices including Windows, Android, iPhone, gaming consoles, Smart TV, and more. beIN sports connect offers multiple subscription packages and you can choose from monthly or yearly packages to satisfy your needs. This means you can use your favorite devices to watch FIFA World Cup 2018 on beIN Sports anytime. So, if you're living in the US, Middle-East or any other country where beIN sports is available, then use our following guide to get started with beIN Sports Connect and watch the World Cup 2018 on your preferred device instantly.
Access beIN Sports website and subscribe
Install beIN Connect app on eligible devices
Watch FIFA World Cup 2018 on beIN Sports with ease.
---
---
Conclusion
So there you go, our above guide will help you watch FIFA World Cup 2018 on beIN Sports if you want to have a complete World Cup experience at home or anywhere. beIN Sports is available in different regions and you can catch all the action of the FIFA World Cup Russia on your preferred devices instantly. Fans who don't have access to beIN Sports in their region can get a VPN through our guide above and enjoy FIFA World Cup live streaming from anywhere.