How to Watch FIFA 2018 World Cup In Spain
How to Watch FIFA 2018 World Cup In Spain
By Johan Curtis No Comments 4 minutes
Watch FIFA Club World Cup from 12 to 22 December
Its FIFA time, people! But, who am I kidding? FIFA fans already know and have hooked themselves a solution, while few are still left looking for a permanent fix to watch all 64 matches of the tournament with ease. It is a worldwide sensation for sure of course fans settled in Spain too.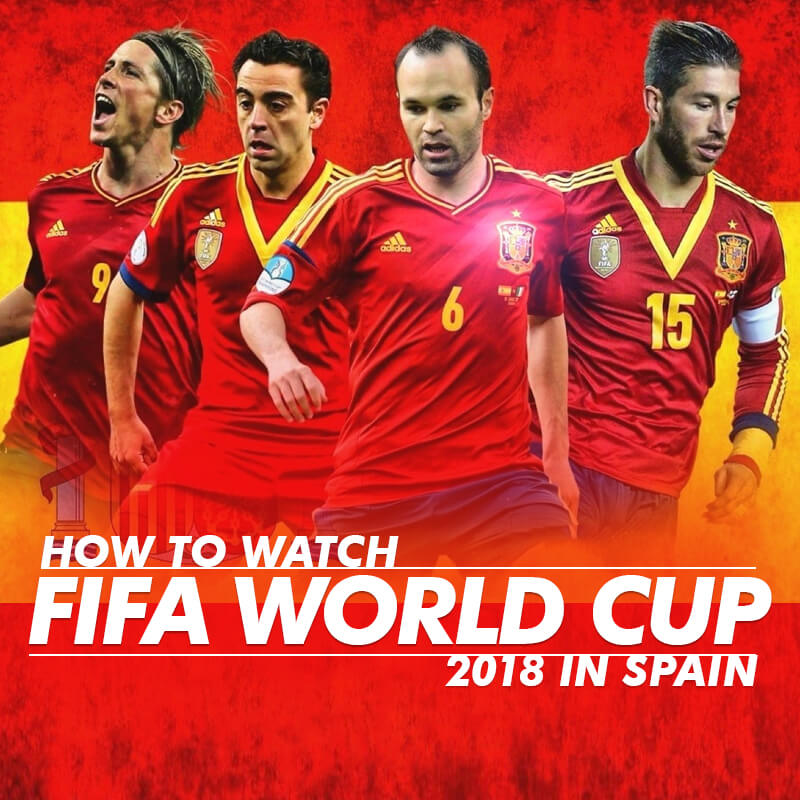 Wondering how to watch FIFA 2018 world cup in Spain? Look no further and just read below to find answers to all your questions.
---
---
Official FIFA 2018 Channel in Spain
Viewers with cable connections can tune in to all the sports action via Mediaset España. It is the official FIFA channel broadcasting the tournament live in Spain with exclusive rights.
Spain residents on the go can also watch it on the channel with FastestVPN connection. VPN connection is required as the channel is geo-restricted otherwise.
For those who don't have any cable subscriptions, can benefit from the step by step solution given next.
---
Watch FIFA in Spain
Spain is one of the 32 countries participating in the world cup this year. While the team definitely has fans from its own country, there are people around the world supporting it too. For those living in Spain, or those who are not, can easily watch FIFA in Spain with the following solution. However, key point to remember is that the channel is geo-restricted and being connected to FastestVPN is necessary if you want to watch the FIFA 2018 live stream for free in Spain!
All you have to do is:
Get yourself a subscription of FastestVPN
Download and install the FastestVPN app on your device
If there is no designated app for the device you are using, configure FastestVPN to a router
Connect FastestVPN to Russian server (for the solution to work in this case)
On device's browser, go to www.matchtv.ru
Now, enjoy FIFA 2018 live stream for free via the Russian channel!
Keep in mind that the Russian channel is geo-blocked and so won't work outside of Russia, which is why it is necessary to be connected to a reliable and paid VPN for FIFA.
---
---
Alternatives to Watch FIFA 2018
Being a part of this 21st century means never running out of solutions for anything. Other than watching it on the above platforms, there are other alternatives as well. However, they are subscription based and paid which makes the Russian channel so much more attractive and convenient to watch FIFA on. Though we will still list down a few of the alternatives.
YouTube TV
Growing in the streaming market is YouTube Live TV. It is subscription-based service that offers over 50 channels. The subscription comes at $35. YouTube has rights for FIFA 2018 live stream and will allow access to fans to watch their favorite teams fight to the top.
DirecTV Now
Another great option to watch FIFA 2018 live stream is DirecTV Now. However, it is subscription based and that too an expensive one as compared to the others. The number of channels accessible depending on the subscription package you choose ranging from $35 to $70. The 7-day free trial is also available.
Fox Sports
Fox Sports has exclusive rights in the United States. It is subscription based and geo-restricted too. So if you reside outside the US, you need to be connected to FastestVPN to catch the live stream of FIFA 2018 world cup. If you are not regular at watching sports, you can get the first 3-month service at $10 each after which if you decide to continue, it is $19.99 for a monthly pass. Free trial is available for you to test it out too.
---
---
FIFA 2018 Live Stream in Spain for Free
With FIFA just around the corner, get your spirits high and ready. With a FastestVPN connection, enjoy watching FIFA 2018 in Spain without paying a dime – no cable, no channel subscriptions.
If your enthusiasm for sports is not limited to FIFA and are a regular sports lover with subscriptions to different streaming services, then the alternatives provided to you should work equally just as good for you. Happy FIFA watching online free! May the best team win!