Watch Errol Spence vs Danny Garcia on Smart TV
Watch Errol Spence vs Danny Garcia on Smart TV
By Johan Curtis No Comments 5 minutes
Buckle up and get ready, the champ is back! Errol Spence is up and all set to bring his A-game to his latest match on 5th December against Danny Garcia at the AT&T Stadium!
The unification bout was originally planned to take place on November 21st but was moved to the 5th of December. Since the world is getting used to the pandemic and things have slowly been going back to normal under certain restrictions, the fight was moved so that fans could be allowed into the arena within the following of strict SOPs.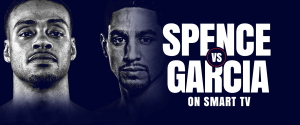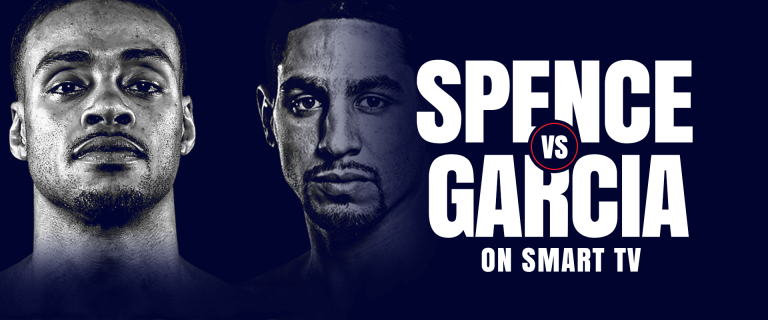 Errol Spence, being the undefeated welterweight champion, will make his fourth defense against his title and will also be making his debut to the octagon after his terrible car accident in 2019. Spence was convicted of drunk driving in Texas, he managed to escape the car with no broken bones but severe facial injuries that landed him in the ICU.
Luckily, he managed to avoid jail time and was released on probation. After which, he dedicated his entire time to training and getting himself back on his feet to get back to the octagon! He's in great shape and believes that fighting in his hometown will give him an edge over Garcia.

Tom Brown Excited for Spence Fighting in Texas
Moreover, Tom Brown expresses how he feels about Errol Spence performing in his hometown, "Every time Spence fights in front of his hometown fans, it is an unforgettable and energetic evening," president of TGB Promotions Tom Brown told ESPN's Steve Kim. "We're excited to be able to bring those fans this great matchup."
Whereas Danny Garcia is confident that he'll outperform Spence, he believes that this is a good opportunity for him to regain his title as champion again. "After the Mikey fight and the Porter fight, I saw some holes in his game, and I felt like it is a good opportunity for me to become champion again." Garcia says.
Now you can stream Danny Garcia vs Errol Spence from your Smart TV! To find out how, keep reading.
Errol Spence vs Danny Garcia Date, Time, and Venue
Date: 5th December 2020
Time: 9 p.m. ET
Venue: AT&T Way, Arlington, Texas, United States
How to Watch Errol Spence vs Danny Garcia on Smart TV
As previously mentioned, since this match will not be held behind closed doors- fans will be allowed into the stadium, while following strict SOPs. According to the management, the audience will be seated in separate pods instead of regular seats to ensure social distancing.
Errol Spence vs Danny Garcia will be a welterweight unification bout that will be hosted and aired by Fox PPV. Fans who wish to watch the match from the arena will have to buy the tickets from https://seatgeek.com/spence-jr-vs-garcia-tickets/boxing/2020-12-05-4-pm/5335188
However, if you cannot go watch the match live, you don't need to stress out! You can always stream it live online on Fox PPV or Fox Sports. All you need is a subscription to Fox and pay for the Pay Per View and to begin streaming!
Fox is an amazing app overall, you can watch your favorite tv shows and movies, while also watch sports from the sports app; especially with its vast media library, we're sure you won't miss a thing! You can subscribe to Fox Sports for $4.99 per month or $49 per year, with the option to cancel anytime you want. We believe they are both great options as for such a low price you get access to Fox Sports entire media library.
Although, the problem with Fox is that it is only available in the USA or selected regions, if you are trying to access it from elsewhere it will probably display an error message or block you from entering. To get through location blocks you will need a VPN.
An efficient VPN like FastestVPN will unblock all geo-restrictions for you while also providing you with complete anonymity keeping you secure and private while you surf the internet.
Steps to Watch Errol Spence vs Danny Garcia on Smart TV
Subscribe to FastestVPN
Download FastestVPN app (for Android TV only)
Or setup FastestVPN with your Router using USA IP address
Connect your Smart TV to Router
Open browser
Search for Fox Sports or open an installed app for your Smart TV.
Subscribe to Fox
Search and click at live Errol Spence vs Danny Garcia
Pay for PPV and watch the show.
Fight Records
Errol Spence
Real name: Errol Spence Jr.
Nickname(s): The Truth
Weight(s): Welterweight
Height: 5 ft 9 1⁄2 in (177 cm)
Reach: 72 in (183 cm)
Nationality: American
Born: March 3, 1990 (age 30) Long Island, New York, U.S.
Stance: Southpaw
Boxing record
Total fights: 26
Wins: 26
Wins by KO: 21
Losses: 0
Danny Garcia
Real name: Danny Óscar García
Nickname(s): Swift
Weight(s): Light welterweight, Welterweight
Height: 5 ft 8 in (173 cm)
Reach: 68 1⁄2 in (174 cm)
Nationality: American
Born: March 20, 1988 (age 32) Philadelphia, Pennsylvania, U.S.
Stance: Orthodox
Boxing record
Total fights: 38
Wins: 36
Wins by KO: 21
Losses: 2
Conclusion: Spence vs Garcia on Smart TV
This is going to be a night to remember, it is surely one of the best matches of the season! We cannot wait to see the two champions collide, both with stellar boxing records.
Will Errol Spence be able to maintain his undefeated champion title? Or will Danny Garcia be able to claim his title and finally become champion after his loss to Keith?
Guess we'll just have to wait and watch! Make sure to tune into Danny Garcia vs Errol Spence on Smart TV and don't forget to subscribe to FastestVPN to unblock Fox PPV.

Take Control of Your Privacy Today!
Unblock websites, access streaming platforms, and bypass ISP monitoring.
Get FastestVPN