Watch Errol Spence vs Danny Garcia on Firestick
Watch Errol Spence vs Danny Garcia on Firestick
By Johan Curtis No Comments 6 minutes
PBC has finally rescheduled the long-awaited brawl between the two champions Errol Spence and Danny Garcia! The fight is set to be a unification welterweight bout and shall take place on the 5th December at the AT&T Stadium in Texas!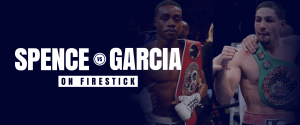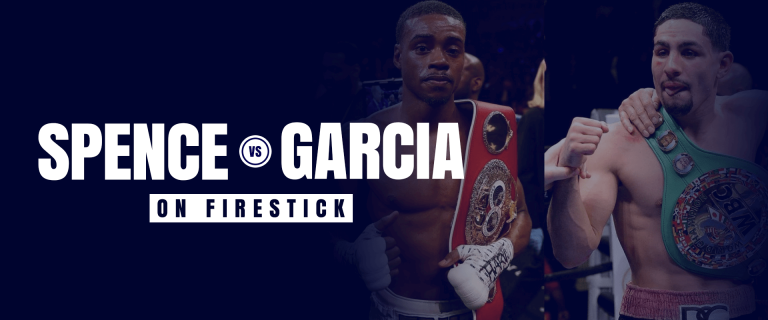 Even though the match had been initially decided to take place at the Microsoft Theatre in Los Angeles on the 21st November, PBC decided to move it further just so that fans could be admitted into the stadium to watch the bout live.
This welterweight bout will be Errol Spence's fourth defense for his titles, however, it will be his debut ever since his car accident; Spence was involved in a car crash in 2019 where has convicted of driving his car in Texas, heavily intoxicated and without a seatbelt. He was arrested for these charges but managed to escape jail time and be released on probation.

In Conversation with the Press
Spence says this is a new life for him, and a brand-new opportunity- he will make sure to do right by it. He says he is doing this for his children, and he's never been more motivated! "It's just a blessing and motivation," claims Spence of the arrival of his son. "It pushes me to work harder, to see his face along with my two other daughters. I just want to fight for their future and have the best life and that I give them. The only way I can do that is to push hard and work hard to give them that life."
He's in incredible shape and is all set to go up against Garcia, he's been following his coach's instructions and is positive that he'll win, "I don't know how that first round's gonna go," Spence admits. "Coach (Derrick James) has a great game plan and I'm gonna follow it."
Moreover, according to the ESPN commentator, Tim Bradley, Danny Garcia is no match for Errol Spence. He says that Garcia is 'tailor-made' for Spence, "Yeah, to me, Garcia is tailormade for him," said Bradley.
However, Danny Garcia is confident that he will outperform Spence, he says that he knows where he lacked in his previous fights and he's going to make sure it does not happen again. "I made them too close. I know what I got to do. On December 5th, you're going to see two champions going at it for the King of the welterweight division. I'm definitely 100% confident that I will be victorious."
Make sure to tune in to watch Errol Spence vs Danny Garcia on Firestick!
Errol Spence vs Danny Garcia Date, Time, and Venue
Date: 5th December 2020
Time: 9 p.m. ET
Venue: AT&T Way, Arlington, Texas, United States
How to Watch Errol Spence vs Danny Garcia on Firestick
This welterweight unification bout will be the first few matches that will be hosting the audience back into the arenas! On 5th December, fans will be able to purchase tickets and view the matching love from the AT&T Stadium in Texas.
You can purchase the tickets online, and pay the Pay Per View price, however for those of you who are not in Texas, or simply want to watch the fight from your homes- you can always opt to stream the match online. Now, you can watch it on Firestick!
Fox is awarded the broadcasting rights for this match, it will be streaming Errol Spence vs Danny Garcia live on Fox PPV and Fox Sports!
You can subscribe to Fox Sports for $4.99 per month or $49 per year, with the option to cancel anytime you want. We believe they are both great options as for such a low price you get access to Fox Sports' entire media library which is full of diverse content as well as the option to receive regular updates. Once you're done with the subscription, pay for the PPV and you're good to go!
Although, it is not as simple as this; for international users, Fox is only available within the USA or certain regions. If you are trying to access it from elsewhere, it will probably display an error message- to bypass such geo-restrictions, you need to be subscribed to an efficient VPN.
An efficient and effective VPN like FastestVPN will not only hide your identity by disguising your IP address as one that matches the website's requirements, but it will also provide you with additional security and privacy to make sure that you are untraceable while online.
Steps to watch Watch Spence vs Garcia on Firestick
Subscribe FastestVPN
Install FastestVPN app for Firestick
Open FastestVPN and get connected to the USA server
Go to Fox Sports
Open the subscription plans
Subscribe to the service
Pay for PPV and watch Errol Spence vs Danny Garcia on firestick
Fight Records
Errol Spence
Real name: Errol Spence Jr.
Nickname(s): The Truth
Weight(s): Welterweight
Height: 5 ft 9 1⁄2 in (177 cm)
Reach: 72 in (183 cm)
Nationality: American
Born: March 3, 1990 (age 30) Long Island, New York, U.S.
Stance: Southpaw
Boxing record
Total fights: 26
Wins: 26
Wins by KO: 21
Losses: 0
Danny Garcia
Real name: Danny Óscar García
Nickname(s): Swift
Weight(s): Light welterweight, Welterweight
Height: 5 ft 8 in (173 cm)
Reach: 68 1⁄2 in (174 cm)
Nationality: American
Born: March 20, 1988 (age 32) Philadelphia, Pennsylvania, U.S.
Stance: Orthodox
Boxing record
Total fights: 38
Wins: 36
Wins by KO: 21
Losses: 2
Conclusion
This is going to be one of the biggest matches of the year, you wouldn't want to miss it!
The audience is excited, and experts have a lot to say, much like ESPN commentator, Tim Bradley, who thinks that Danny Garcia is no match for Errol Spence. He further says that Garcia stands no chance of winning against Spence, that he was selected because he is an easy target.
However, Garcia is determined to prove him wrong! Will he able to fulfill his commitment? Or will Spence prove Bradley, right? Make sure to tune into Errol Spence vs Danny Garcia on Firestick!
Also, subscribe to FastestVPN while you are at it, to avoid any location blocks.

Take Control of Your Privacy Today!
Unblock websites, access streaming platforms, and bypass ISP monitoring.
Get FastestVPN