Watch Dillian Whyte vs. Otto Wallin on Kodi
Watch Dillian Whyte vs. Otto Wallin on Kodi
By Nick Anderson No Comments 4 minutes
Dillian Whyte's showdown with Otto Wallin is set to take place near Halloween. As a boxing fan, you have another reason to be excited. We have all the details you need to watch Dillian Whyte vs. Otto Wallin on Kodi.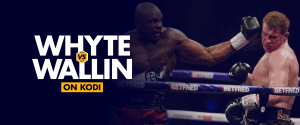 Dillian Whyte vs. Otto Wallin Fight
It was unclear who Dillian Whyte will face off for some time, but Matchroom Boxing's Eddie Hearn revealed that earlier this month. Wallin was last seen in February when he emerged victorious against Dominic Breazeale. The 12-round heavyweight fight is a stop-gap between Whyte's journey to meet Tyson Fury in the ring next year, based on the recent outcome of the Fury vs. Wilder fight.
Wallin proved to be a commendable fighter after shocking spectators during his fight against Tyson Fury in 2019. Fury underestimated his opponent and ended up fighting through with a cut on his face. Although Wallin did not win, he came close, then followed up the fight with two wins later.
When is Dillian Whyte vs. Otto Wallin – Full Details
Dillian will return to his home for this upcoming fight. This month's showdown is set to take place on October 30 at the O2 Arena in London, United Kingdom. Expect to see Whyte's home fans cheering for him loud as he makes his entrance. And speaking of entrances, the walk is expected to start around 10:30 PM UK Time.
There is an entire undercard that will precede the main event. The event is expected to begin at 7 PM local time.
How to Watch Dillian Whyte vs. Otto Wallin on Kodi
Tickets for the event are on sale. But understandably, not everyone can make it to the O2 Arena or even be in the same country to watch it live. As a Matchroom Boxing presentation, the fight will be available to stream via DAZN.
As a streaming platform, DAZN is no stranger to high-profile fights. It is one of the main selling points of DAZN and the fact that it is a cordless option that does not require a cable TV subscription. However, you still need to subscribe to DAZN to access it. But at $9.99, the price is more than justified. You can watch Dillian Whyte vs. Otto Wallin plus previous events on-demand at any time.
The only problem is the availability of the service. DAZN has expanded to several regions but remains unavailable in many parts of the world. The good news? Because it's a digital platform, it's easy to gain access by simply spoofing your IP address.
Kodi is an excellent application that is perfect to stream Dillian Whyte vs. Otto Wallin.
Here's how to set up Kodi:
Download and install Kodi on your device from here. The latest Kodi version 9.0 "Matrix" brings various improvements.
Because Kodi v9.0 is new, not all existing repositories work with it. Download Kodinerds repository from here.
Launch Kodi. Go to Settings > Add-ons > Install from Zip File.
Select the Kodinerds .zip file that you downloaded in Step 2.
Return to the Add-ons screen, select Install from Repository.
Go to Kodinerds Addon Repo > Video add-ons > DAZN.
Install DAZN.
Before you launch DAZN, download the FastestVPN app on your device and connect to USA VPN server. Or you can configure VPN on router, see our tutorials here.
Launch DAZN, sign in with your credentials, and start streaming.
Dillian Whyte vs. Otto Wallin Fight Card (More to be announced)
Dillian Whyte vs. Otto Wallin (main event)
Chantelle Cameron vs. Mary McGee
Alen Babic vs. Lucas Browne
Fight Records
Dillian Whyte
Age: 33
Nationality: British
Weight: Heavyweight
Height: 6 ft 4 in
Reach: 78 in
Stance: Orthodox
Total fights: 30
Wins: 28
Knockout: 19
Losses: 2
Otto Wallin
Age: 30
Nationality: Swedish
Weight: Heavyweight
Height: 6 ft 5 ½ in
Reach: 78 in
Stance: Southpaw
Total fights: 24
Wins: 22
Knockout: 14
Losses: 1
Conclusion
October will end on a high note seeing as the fight takes place literally on the final days of the month.
VPN is the only way you can stream Dillian Whyte vs. Otto Wallin on DAZN. The service is geo-restricted, but connecting to one of the supported countries will make it accessible from any part of the world. Just be sure to have an active DAZN subscription in time for the event.

Take Control of Your Privacy Today!
Unblock websites, access streaming platforms, and bypass ISP monitoring.
Get FastestVPN