Watch Dillian Whyte vs. Otto Wallin on Firestick
Watch Dillian Whyte vs. Otto Wallin on Firestick
By Nick Anderson No Comments 4 minutes
Boxing fans can look forward to ending October on a good note. There is yet another title fight coming their way. Dillan Whyte vs. Otto Wallin is confirmed to take place in the last week of October. The 12-round heavyweight fight will be for Whyte's WBC interim Heavyweight title.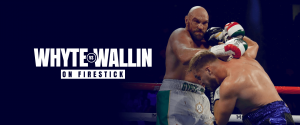 FireStick is one of the best ways to watch the title fight live online. We have all the details you need to watch Dillian Whyte vs. Otto Wallin on FireStick.
Fight Details for Dillian Whyte vs. Otto Wallin
Dillian Whyte "Body Snatcher" is coming off from a win against Alexander Povetkin this year in March. The WBC interim heavyweight title that Whyte regained from Alexandar will be the main highlight of the upcoming fight with Otto Wallin.
Wallin's last fight in the ring was against Dominic Breazeale, where he won by unanimous decision. Both contenders are riding on the success of their recent win and prepared to up the game come October.
Whyte has been prepping hard for the fight as winning it will bring him one step closer to the world title. This can be seen from the recent transformation of Whyte that has fans talking about. Whyte shared a picture on Instagram, giving a peek at his leaner physique ahead of the important fight.
Dillian Whyte vs. Otto Wallin Fight Time and Location
The Matchroom Boxing highlight will take place in the United Kingdom at the O2 Arena on October 30. It will be a Saturday, so you can look forward to an action-packed weekend ahead.
There will be an undercard that precedes the main title fight. The show starts at 5:00 PM local time; the main event will take place later.
Where to Watch Dillian Whyte vs. Otto Wallin Fight
If you are not at the O2 Arena, you can catch the action from your TV screen. As a Matchroom Boxing presentation, the show will be available to stream through DAZN. The platform is always at the forefront of hot new fights. If you have a DAZN subscription, you are all set to watch Dillian Whyte vs. Otto Wallin come October 30.
If you don't, then sign up for the monthly plan, which only costs $19.99. The price gets you to access to DAZN, which means you can watch more than just this one fight. It's an on-demand service that's available when you need it. Get more out of your subscription by visiting previous events.
How to Watch Dillian Whyte vs. Otto Wallin on Firestick
Firestick gives you a ton of streaming options. DAZN is available for Fire TV; simply search and download it from the app store. Just ensure you are in DAZN's supported region. DAZN has limited global availability as a streaming service, which means you cannot access it from anywhere.
Worried? Don't be. FastestVPN has got you covered. Just connect to the VPN to spoof your virtual location. Once your IP address is hidden with a VPN server in the United States (or any other), DAZN will become accessible.
Download FastestVPN on Firestick.
Launch FastestVPN, select a VPN server that's nearest to your location and where DAZN is available. Check DAZN's supported region here.
Download DAZN.
Launch DAZN, then sign in with credentials. The fight should be in the highlights of the day.
Dillian Whyte vs. Otto Wallin Fight Card
Dillian Whyte vs. Otto Wallin (main event)
Chantelle Cameron vs. Mary McGee
Alen Babic vs. Lucas Browne
More fights should be announced soon.
Fight Records
Dillian Whyte
Age: 33
Nationality: British
Weight: Heavyweight
Height: 6 ft 4 in
Reach: 78 in
Stance: Orthodox
Total fights: 30
Wins: 28
Knockout: 19
Losses: 2
Otto Wallin
Age: 30
Nationality: Swedish
Weight: Heavyweight
Height: 6 ft 5 ½ in
Reach: 78 in
Stance: Southpaw
Total fights: 24
Wins: 22
Knockout: 14
Losses: 1
Conclusion
We suggest that you subscribe to DAZN closer to the date of the fight. That way, you'll have plenty of headroom ahead to catch up on upcoming events in November. Teofimo Lopez vs. George Kambosos is tipped to take place in November after the fight moved to Matchroom Boxing at the last minute. It will also be available on DAZN to stream.
And if you need a VPN to unblock the stream, FastestVPN will make the process effortless. For a limited time, you can avail free cloud storage subscription by subscribing to FastestVPN.

Take Control of Your Privacy Today!
Unblock websites, access streaming platforms, and bypass ISP monitoring.
Get FastestVPN