Watch Daniel Jacobs vs Gabriel Rosado on Firestick
Watch Daniel Jacobs vs Gabriel Rosado on Firestick
By Johan Curtis No Comments 5 minutes
After months of trash talking, taking hits at each other, and exclusive interviews, Matchroom Boxing has finally announced the DAZN exclusive bout on November 27- Daniel Jacobs vs Gabriel Rosado!
Jacobs management originally wanted to fix a match with John Ryder, as DAZN planned on this match being the introductory match for their services in the UK. However, Ryder and Jacobs could not go through, and they settled for Rosado.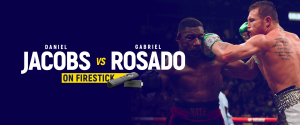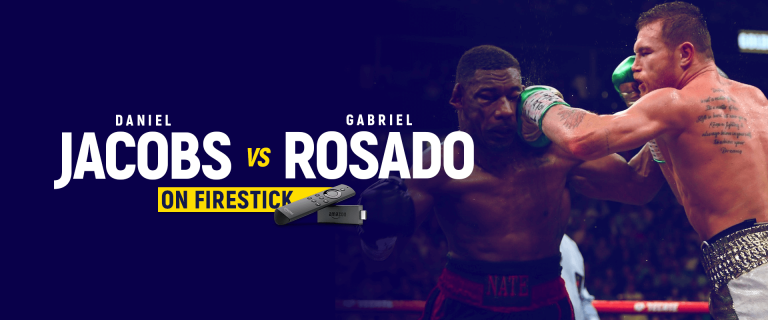 Rosado vs Jacobs is not a very main card worthy match; it will probably not bring in too much traffic to the website as much as Ryder and Jacobs would have. Nevertheless, it will be exciting to get to see the two players battle out their rivalry.
The Details
Jacobs has had enough of Rosado trash talking him and claims that defeating him is more of a personal gain now rather than a professional achievement. "Gabe talked his way into this fight, and now it's time to see if he can back it up," said Jacobs.
"He's got a big mouth, and he's been bringing up my name constantly for over a year – but on November 27, the talking stops, and I can't wait to shut him up. I aim to become a two-weight division world champion in 2021, and that starts with a big win in Florida. After that, I'm ready to step up and fight one of the World champions at 168 pounds."
Rosado, on the other hand, has no regrets. He is prepared for the fight and says that he doesn't hate Jacobs; he believes that this fight will be good for the audience; "It's not that I don't like the guy. He's from Brooklyn, and I'm from Philly. It's a fight that I always thought was great for the fans. It never happened in the past, but we're at a point in our careers where we're not getting any younger. Let's get this thing popping before it's too late," Gabriel said.
There's resentment in the air, and this match is going to be intense! You wouldn't want to miss out on this; you can now watch Daniel Jacobs vs Gabriel Rosado on Firestick; keep reading to find out how.

Daniel Jacobs vs Gabriel Rosado Date, Time, and Venue
Date: November 27, 2020
Time: 9:00 pm E.T
Venue: Seminole Hard Rock Hotel and Casino, Hollywood, Florida, United States of America
How to Watch Daniel Jacobs vs Gabriel Rosado on Firestick
As the match between Daniel Jacobs and Gabriel Rosado is confirmed, the fight will be a super middleweight bout in collaboration with DAZN and will be aired live through their official channel.
Even though the match will be in Florida, it is probably behind closed doors and will not be entertaining an audience.
No people will be allowed into the arena, and fans will have to stream the match live online through DAZN. DAZN is a great sports streaming option, with its diverse content collection and regular updates- we're you won't miss a thing! All you have to do is subscribe to DAZN and begin streaming.
However, there is one slight setback: DAZN is geo-restricted and only available to users in the USA or selected regions; DAZN will soon be launching in the UK. However, it is still inaccessible for most of the people in the world. To access DAZN from anywhere globally, you will need to download and subscribe to a VPN.
An efficient and effective VPN like FastestVPN will provide you with the security and privacy you need while also surpassing any or all geo-restrictions for you! FastestVPN works in such a way that it masks your IP address, making it impossible for anyone to track you down while also providing you with extra security and privacy.
Subscribe to FastestVPN and gain immediate access to DAZN.
Here's how to watch the fight live on Firestick:
Subscribe FastestVPN
Install FastestVPN app for Firestick
Open FastestVPN and get connected to the USA server
Go to DAZN.com
Click on the Subscribe button
Once subscribed to the service, stream Daniel Jacobs vs Gabriel Rosado
Fight Records
Daniel Jacobs
Nickname(s): The Golden Child, Miracle Man
Weight(s): Middleweight, Super middleweight
Height: 5 ft 11 in (180 cm)
Reach: 73 in (185 cm)
Nationality: American
Born: February 3, 1987 (age 33) Brooklyn, New York City, New York, U.S.
Stance: Orthodox
Boxing record
Total fights: 39
Wins: 36
Wins by KO: 30
Losses: 3
Gabriel Rosado
Nickname(s): King
Weight(s): Light middleweight, Middleweight
Height: 5 ft 11 1⁄2 in (182 cm)
Reach: 71 1⁄2 in (182 cm)
Nationality: American
Born: January 13, 1986 (age 34) Philadelphia, Pennsylvania, U.S.
Stance: Orthodox
Boxing record
Total fights: 39
Wins: 25
Wins by KO: 14
Losses: 12
Draws: 1
No contests: 1
Conclusion
Even though critics and experts aren't too excited about this fight, they believe that this match is an easy way out for Daniel Jacobs since Rosado does not have a rather strong boxing portfolio and has several losses in his account.
They believe that Jacobs could easily sweep the octagon clean and emerge victoriously. However, Rosado seems determined to defeat Daniel Jacobs and is confident that he will outperform him- with their long-standing rivalry, this will be an entertaining fight!
Will Daniel Jacobs prove everyone right and defeat Gabriel Rosado? Or will Rosado give the fans the fun match he promised and outperform Jacobs?
Don't forget to tune into DAZN on your Firestick and watch Daniel Jacobs vs Gabriel Rosado! Moreover, make sure that you're subscribed to FastestVPN when doing so to unblock any or all geo-restrictions!

Take Control of Your Privacy Today!
Unblock websites, access streaming platforms, and bypass ISP monitoring.
Get FastestVPN