Watch Daniel Dubois vs Joe Joyce on Firestick
Watch Daniel Dubois vs Joe Joyce on Firestick
By Johan Curtis No Comments 5 minutes
Are you ready for the biggest and most exciting matches in UK boxing history? Fans finally get to witness Daniel Dubois vs Joe Joyce battle it out in the octagon on 28th November in London! This match is in association with BT Sports and will be aired live on their channels.
The fight was originally planned for 11th April but had to be pushed forward due to the coronavirus outbreak, it was then scheduled for July, and then October- all three times it could not be carried forward due to the pandemic and the lockdown.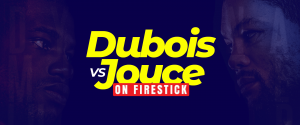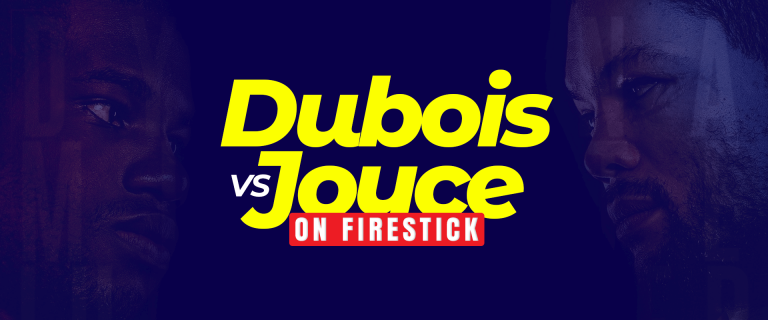 The Details
The promoter, Frank Warren, is extremely excited about the match, he says, "It's a bonus that the added exposure gained from the fight will really help the boxers as they move forward with their careers. Queensberry and BT Sport are looking forward to delivering a huge night of boxing, so let's make sure the eyes of the country, and the world, are on British boxing come November 28th.
I owe a huge debt of gratitude to BT Sport for being willing to make this happen."
Both players, however, aren't phased by the delays- they are prepared for the fight and cannot wait to get into the octagon! When Dubois was asked about how he felt with boxing behind closed doors, he said: "If the situation doesn't improve and it doesn't look likely there'll be crowds there, I'd definitely take it. After this fight if that's the next option then we'll definitely take it."
He claims that he's not too worried about Joyce and is prepared for whatever comes his way. "Whatever he does I've got an answer for it. If he tries to move in and fight me that'll be better for me, that's what I want, but if he tries to box, I can do that too. I'm not worried about what he'll try and do," says Dubois.
Moreover, Joyce is also happy about the gyms reopening and has stated that currently he's only focusing on training and beating Dubois. "Now gyms are open for athletes I can kick on and just keep my focus on the new date, finally settling the score with Dubois and moving on to a world title fight." Claims Joyce.
You can now Watch Daniel Dubois vs Joe Joyce live online on Firestick, scroll down to find out how:

Daniel Dubois vs Joe Joyce Date, Time, and Venue
Date: 28th November 2020
Time: 10:30 pm UK Time
Venue: BT Sports Studio, London, United Kingdom
How to Watch Daniel Dubois vs Joe Joyce on Firestick
We're sure you already know this by now, all matches being held currently are done behind closed doors because of the Covid-19 global pandemic. Ever since the hint of a second wave has begun, restrictions have tightened again.
This means that even though the match will take place BT Sports Studio in London, no audience will be entertained inside the arena. If you wish to watch the match live, you will need to stream it online; now you can stream the match live online on BT Sports!
If you already subscribe to BT Sports, you can watch the match live from their app completely for free. However, to gain access to the match all you must do is subscribe to BT Sports and begin streaming! Frank Warren informed the fans that there will be no PPV for the fight anymore since it is online, he says that the audience is their main focus during this fight which is why they've decided to remove Pay Per View.
You can easily subscribe to BT Sports by visiting their website and clicking on the get monthly plan option, only for £25. However, BT Sports uses geo-restrictions and is only available to those who are residing within the European Union (EU).
To access BT Sports from anywhere in the world you will need to download and subscribe to a VPN. An efficient VPN like FastestVPN will unblock any or all geo-restrictions for you by masking your IP address while also providing you with unlimited security and privacy!
Make sure to subscribe to FastestVPN to stream on Firestick and get immediate access to BT Sports!
Here's a step by step tutorial on how to watch Daniel Dubois vs Joe Joyce on Firestick:
Subscribe FastestVPN
Install FastestVPN app for Firestick
Open FastestVPN and get connected to the UK server
Go to https://www.bt.com/sport
Click on the Subscribe button
Once subscribed to the service, stream Daniel Dubois vs Joe Joyce
Fight Records
Daniel Dubois
Nickname(s): Dynamite, DDD ("Triple D")
Weight(s): Heavyweight
Height: 6 ft 5 in (196 cm)
Reach: 78 in (198 cm)
Nationality: British
Born: 6 September 1997 (age 23) Greenwich, London, England
Stance: Orthodox
Boxing record
Total fights: 15
Wins: 15
Wins by KO: 14
Losses: 0
Joe Joyce
Nickname(s): Juggernaut
Weight(s): Heavyweight
Height: 6 ft 5 1⁄2 in (197 cm)
Reach: 80 1⁄2 in (204 cm)
Nationality: British
Born: 19 September 1985 (age 35) London, England
Stance: Orthodox
Boxing record
Total fights: 11
Wins: 11
Wins by KO: 10
Losses: 0
Conclusion
This match is probably the biggest match in boxing history and is bound to be an exhilarating fight! Both players have witnessed several postponements and have never been more ready to face each other in the octagon!
Will Dubois outperform Joyce and prove that he is the best boxer in the UK? Or will Joyce's training pay off? Make sure to tune into Daniel Dubois vs Joe Joyce on Firestick!
Don't forget to subscribe and download to FastestVPN to get through any location blocks and stay anonymous while surfing the web!

Take Control of Your Privacy Today!
Unblock websites, access streaming platforms, and bypass ISP monitoring.
Get FastestVPN