How to Watch Michael Conlan vs Diego Alberto Ruiz Live Online
How to Watch Michael Conlan vs Diego Alberto Ruiz Live Online
By Johan Curtis No Comments 6 minutes
The 27-year old Michael Conlan was due to fight Vladimir Nikitin in a rivalry rematch, but it didn't go through. The Russian fighter had to withdraw from the fight due to a torn bicep.
Search for his replacement and Conlan's next challenge ended with Diego Alberto Ruiz. The Argentinian fighter is now the face that will compete in a featherweight bout against Conlan in Belfast. The showdown will consist of 10 rounds. The event coincides with Belfast's annual Féile an Phobail festival that is held in the Summers.
Ruiz called it the biggest fight of his career, in a recent interview. But Ruiz is not backing down from the fight. Taking it as a "great opportunity", he is confident that he can beat Conlan come August. For Conlan, the fight in Belfast is a home-coming, so there's more than one reason for him to bring his A-game to the fight.
You don't have to worry about how to watch Michael Conlan vs Diego Alberto Ruiz live online with FastestVPN. Continue with our blog as we explain how you can stream the fight on any device of your choice.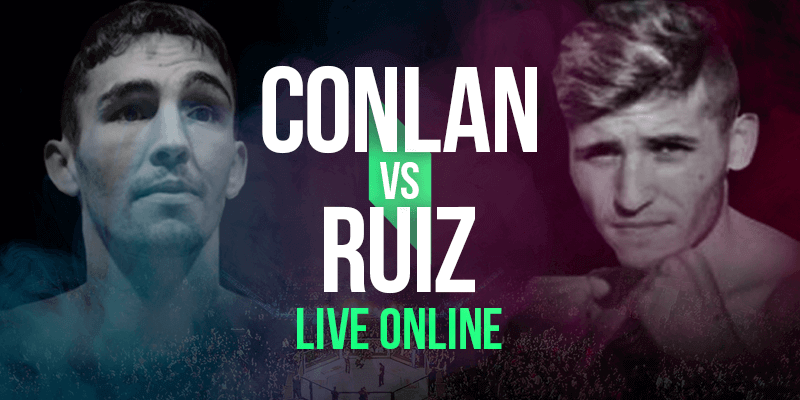 Michael Conlan vs Diego Alberto Ruiz Date, Time and Venue
Date: August 3, 2019
Time: 2 PM Pacific Time / 5 PM Eastern Time
Venue: Falls Park, Belfast, Ireland
Michael Conlan vs Diego Alberto Ruiz Live online from anywhere in the World
The fight is scheduled to go live via ESPN+, in association with Top Rank. Most of the fans, we reckon, are going to be from Europe and Ireland. Similar to ESPN+, you can watch the fight live via BT Sports.
There is currently no information of other broadcasters for more regions. So for now, ESPN+ and BT Sports are your two options for watching Michael Conlan vs Diego Alberto Ruiz. So, if you're living in the United States then go with ESPN+, and if you're in the United Kingdom and Ireland then go with BT Sports.
But regardless of which platform you decide to go with, you can't watch it outside of their respective regions. It's an issue because some fans could either be on the move or not in living in the region at all. It's a problem because both ESPN+ and BT Sports are geo-restricted to the United States and the United Kingdom/Ireland, respectively.
With FastestVPN, that becomes a non-issue as you can change your virtual IP address at will. Simply subscribe to FastestVPN, connect to US or UK server, and start watching via ESPN+ or BT Sports.
Continue reading and we explain how to get online.
Watch Michael Conlan vs Diego Alberto Ruiz on Kodi
Kodi lets you stream movies and TV shows from hundreds of add-ons. Although we would prefer streaming through BT TV app for other devices, it's easier to get ESPN on Kodi.
Have FastestVPN running in your router and connected to UK server. Alternatively, you can download FastestVPN app for your platform
Launch Kodi
Click on the gear-icon on the top-left corner to go into Settings
Now click on Add-ons then follow by selecting Install from Repository
Navigate to Kodi Add-ons Repository > Video Add-ons
In the list of available add-ons, lookup ESPN 3, then click on it
Click on Install on the next page and wait for the 'Add-on Installed' notification
ESPN is now installed. You can visit the add-on from Add-ons section on the home screen.
Watch Michael Conlan vs Diego Alberto Ruiz on FireStick
Whether you want to use BT TV or ESPN, both services are available as apps for FireStick.
Get FastestVPN on FireStick
Launch FastestVPN then connect to US server
Get BT TV app from FireStick's app store
Once installed, launch the app then sign-in with your credentials and start watching
You'll need to subscribe to the service to sign-in.
Watch Michael Conlan vs Diego Alberto Ruiz on Roku
Just like FireStick, you have the option to pick your preferred streaming service to watch Michael Conlan vs Diego Alberto Ruiz live online.
Configure FastestVPN in router and connect to US server
Go back to Firestick's app store and search for BT TV apps
Download and install it
Launch BT TV then log in to start watching the fight
Watch Michael Conlan vs Diego Alberto Ruiz on Android/iOS
Got an Android/iOS device? Read on to know the process of how to watch Michael Conlan vs Diego Alberto Ruiz live online.
Download FastestVPN from PlayStore/App Store
Launch FastestVPN and connect to US server
Download BT TV from PlayStore/App Store
Sign-in to the app, now start watching
Watch Michael Conlan vs Diego Alberto Ruiz on PS4/Xbox One
BT Sports launched its BT TV app for PS4 a short time ago. So you can now enjoy the app on both PS4 and Xbox One.
Enable VPN in router with the guide here
Connect with US server
Connect your console to the router
Download BT TV app on your console
Start watching after you've logged in to your account
Watch Michael Conlan vs Diego Alberto Ruiz on Apple TV
The following process only works on Apple TV 4th generation. On older generations, you stream the fight through an iOS device using AirPlay.
Get VPN working in your router and connect to US server
Use App Store to download and install BT TV on Apple TV
Launch the app once it has installed
Sign-in to your account to start watching
Michael Conlan vs Diego Alberto Ruiz Fight Records
Michael Conlan Stats
Nationality: Irish
Division: Featherweight
Height: 4 ft 6 in (173 cm)
Reach: 69 in (175 cm)
Stance: Orthodox
Total fights: 11
Wins: 11
Wins by Knockout: 5
Losses: 0
Diego Alberto Ruiz Stats
Nationality: Argentinian
Division: Featherweight
Stance: Orthodox
Total fights: 21
Wins: 19
Wins by Knockout: 10
Losses: 2
Conclusion – Michael Conlan Diego Alberto Ruiz Live Online
Michael "Mick" Conlan asked for the toughest match he could get and fate answered it. The Irish-born fighter teased the possibility of a fight against Josh Warrington in the next 12 months. But for now, Diego Ruiz looks to be his immediate challenge – one that needs defeating if Conlan needs a shot at bigger fights.
You can count on FastestVPN to let you stream the fight effortlessly on any device regardless of your location.
Take Control of Your Privacy Today!
Unblock websites, access streaming platforms, and bypass ISP monitoring.
Get FastestVPN