Watch Chantelle Cameron vs. Katie Taylor on Firestick
Watch Chantelle Cameron vs. Katie Taylor on Firestick
By Christine Margret No Comments 4 minutes
Want to watch Chantelle Cameron vs. Katie Taylor on Firestick? If yes, then this guide is the best place to get started. Find out all the necessary details about the upcoming Super Lightweight championship.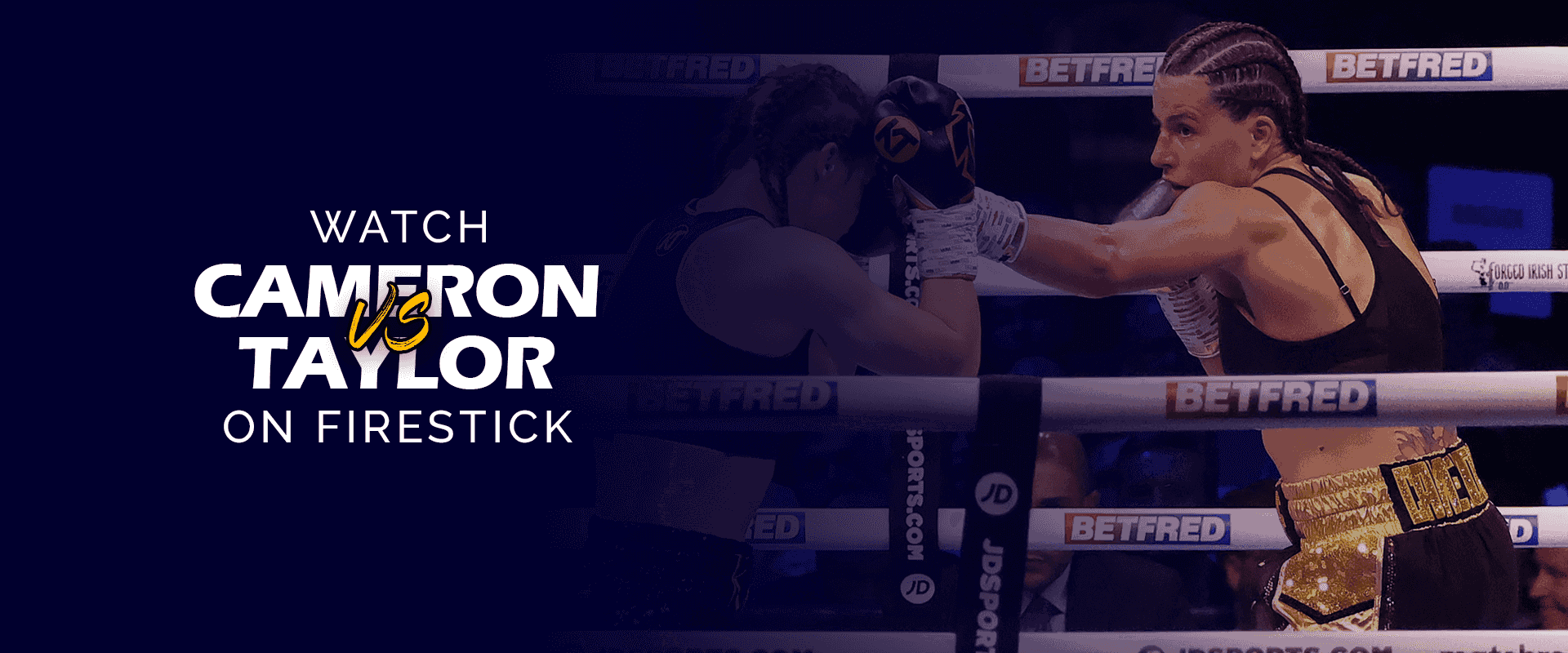 About the Fight
Chantelle Cameron is returning to Ireland for a second match with Katie Taylor. This time, they will fight again for Cameron's junior welterweight titles. The rematch, called Taylor-Cameron II, is set for Nov. 25 in Dublin at the 3Arena, where Cameron won against Taylor in their first fight.
In May, Cameron, 32 years old, won a majority decision with scores of 96-94, 96-94, and 95-95 over Taylor. This victory came as she defended the junior welterweight title she won the previous year by beating Jessica McCaskill. Cameron has held at least one of the junior welterweight belts since 2021, starting with her win against Melissa Hernandez in Las Vegas.
Fight Details
Date:

Saturday, November 25

Time:

7 p.m. local time (2 p.m. ET). 

Venue:

3Arena in Dublin
Fight Card
Chantelle Cameron vs. Katie Taylor 2 for the IBF, WBA, WBC, WBO, and The Ring super lightweight titles

Paddy Donovan vs. Danny Ball; Welterweights

Gary Cully vs. Reece Mould; Lightweights

Skye Nicolson (c) vs. Lucy Wildheart for the interim WBC featherweight title

John Cooney vs. Liam Gaynor; Super Featherweights

Zelfa Barrett vs. TBA; Super Featherweights

Thomas Carty vs. TBA; Heavyweights
How to Watch Chantelle Cameron vs. Katie Taylor on Firestick
To catch the Chantelle Cameron vs. Katie Taylor on Firestick via DAZN, follow these steps:
FastestVPN Subscription

: Ensure an active subscription with

FastestVPN

.

Firestick Setup:

Connect the Firestick to your TV, ensuring proper setup and internet connection.

FastestVPN App Installation: Get the FastestVPN app from the Amazon App Store and install it on Firestick.
Activate FastestVPN:

Open the app, log in, and connect to a

US server

.

Launch DAZN:

Access DAZN on Firestick.

Watch the Fight:

Within DAZN, find "Chantelle Cameron vs. Katie Taylor" in the live/upcoming events section and start streaming.
FastestVPN secures access for the fight on Firestick via DAZN. Ensure a stable internet connection for smooth streaming.
Why do you Need a VPN to Watch Chantelle Cameron vs. Katie Taylor on Firestick?
You need a high-quality VPN, just like FastestVPN, to watch  Chantelle Cameron vs. Katie Taylor on Firestick. If you travel to a country where the streaming channels are blocked, you can easily get your accounts' access back. 
A VPN changes your IP address and provides a new IP address that helps you to unblock your accounts anywhere. 
For example, if you are traveling outside the USA, the DAZN is unavailable. You can connect to a US server of a VPN and easily unblock your DAZN account with the help of a USA IP address. 
A VPN will help you watch Chantelle Cameron vs. Katie Taylor on Firestick without restrictions. Moreover, a VPN encrypts your network information, ultimately keeping your digital identity safe and anonymous. 
Chantelle Cameron record, bio
Nationality: British

Born: May 14, 1991

Height: 5-8

Reach: 69 inches

Total fights: 18

Record: 18-0 with eight wins via knockout
Katie Taylor record, bio
Nationality: Irish

Born: July 2, 1986

Height: 5-5

Reach: 66 inches

Total fights: 23

Record: 22-1 with six wins via knockout
Conclusion
In conclusion, witnеssing thе еpic clash bеtwееn Chantеllе Camеron and Katiе Taylor on Firеstick promisеs an еlеctrifying еxpеriеncе for boxing еnthusiasts. Utilizing FastеstVPN еnsurеs sеcurе accеss to thе anticipatеd match via thе DAZN app, allowing fans to savor thе intеnsе action and stratеgic prowеss of thеsе rеmarkablе fightеrs. With thе convеniеncе of Firеstick and thе addеd sеcurity of FastеstVPN, viеwеrs can immеrsе thеmsеlvеs in this high-stakеs battlе, whеrе Camеron's prеvious victory and Taylor's dеtеrmination for rеdеmption guarantее an еnthralling spеctaclе. Don't miss thе opportunity to strеam this sеnsational rеmatch and witnеss thе thrill of two rеmarkablе champions vying for victory in thе ring. 
Take Control of Your Privacy Today! Unblock websites, access streaming platforms, and bypass ISP monitoring.
Get FastestVPN