Watch Canelo Alvarez vs Callum Smith on Smart TV
Watch Canelo Alvarez vs Callum Smith on Smart TV
By Johan Curtis No Comments 5 minutes
Get ready for the biggest super-middleweight title battle- Matchroom boxing has finally announced a date and venue for the most waited fight. Canelo Alvarez vs Callum Smith is all set to take place on 19th December at The Alamodome!
In a press release, Canelo Alvarez announced his 2020 boxing debut and challenged Callum Smith to a fight for his WBC super-middleweight champion title. According to Callum Smith's trainer, Joe Gallagher, Alvarez chose Smith because he believed that he was an easy target for an easy match.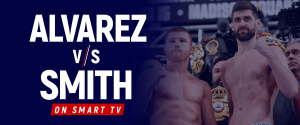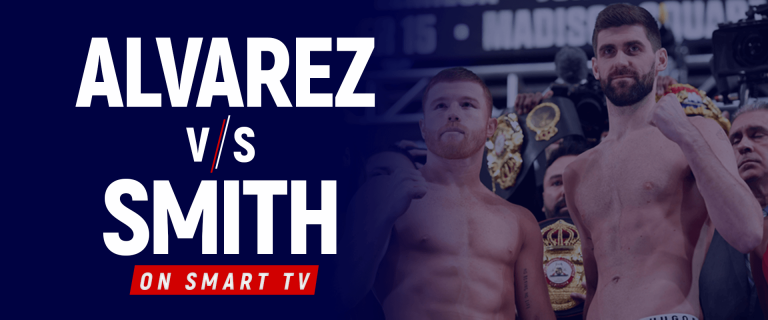 However, Gallagher says that even though the fight was incredibly short noticed, they aren't worried about it. Their preparation is going completely fine, and Smith being the best boxer in the 168-pound division is ready.
He says Callum has a stellar record, and his wins speak for themselves. "Callum Smith has performed, you go through the resume," said Gallagher. "His eighth fight, Patrick Mendy, a very good Patrick Mendy, English title, knocked out in one round. Domestic blockbuster, local derby with Rocky Fielding, one round. Hadillah Mohoumadi, just lost to James DeGale over 12 rounds, knocked out one round. Then [Smith] fought George Groves, seven rounds. Hassan N'Dam, the biggest stage, New York, Madison Square Garden, just beaten Martin Murray, knocked out in three rounds. John Ryder? I'm not saying he wasn't motivated but was he training as hard as he'd train for Canelo? You'd have to ask him that. But did he look at John Ryder as 'Jack Armfield's beaten him, Rocky Fielding's beaten him, Billy Joe's beaten him…' No fear factors. If people are banking on the Callum Smith who fought John Ryder showing up for this, they're making a mistake."

Callum Smith on the Fight
Moreover, Callum Smith is happy to be back into the ring and he's confident that he will outperform Canelo Alvarez.
"I feel good. It's a fight that has been talked about for most of 2020, and it's been on the table and off the table, and then the pandemic came and there were question marks if we were even going to fight at all in 2020," said Callum to DAZN. "It's a fight that I've wanted for a while. I want the biggest fights possible, and the biggest fight possible for me now is Canelo Alvarez. It's been frustrating but I was always planning on fighting towards the end of the year."
This sounds like a match to remember, make sure to tune into Canelo Alvarez vs Callum Smith on your Smart TV. Keep reading for a tutorial below.
Canelo Alvarez vs Callum Smith Date, Time, and Venue
Date: 19th December 2020
Time: 11 pm E.T
Venue: The Alamodome, San Antonio, Texas, USA.
How to Watch Canelo Alvarez vs Callum Smith on Smart TV
According to Matchroom director, Eddi Hearn, fans will be allowed to enter the Alamodome, however, not in full capacity. Limited seats have been reserved keeping in mind the COVID-19 pandemic and the rules of social distancing.
For those of you who are unable to watch the match live from the arena, you can always stream it live online on DAZN! All you have to do is subscribe to DAZN and click on the fight to start streaming!
DAZN costs only $19.99 per month, or a $150 per year. Regardless of which option you choose, it gives you access to its entire media library along with a 30-day free trial.
Unfortunately, DAZN uses geo-restrictions and is only available in the USA or certain regions, it cannot be accessed worldwide. To access it from anywhere in the world, you will need a VPN. A VPN will unblock all geo-restrictions for you.
A VPN like FastestVPN is bound to hide your IP address and grant you immediate access to geo-restricted apps and pages, while also simultaneously providing you with an additional layer of security and privacy.
Here's how you can watch Canelo Alvarez vs Callum Smith on your Smart TV:
Subscribe to FastestVPN
Download FastestVPN app (for Android TV only)
Setup FastestVPN with your Router using US IP address
Connect your Smart TV to Router
Open the browser and search for the DAZN website
Or open an installed app for your Smart TV.
Search and click at live Canelo Alvarez vs Callum Smith and watch the show.
Fight Records
Canelo Alvarez
Real name: Santos Saúl Álvarez Barragán
Nickname(s): Canelo ("Cinnamon")
Weight(s): Welterweight, Light middleweight, Middleweight, Super middleweight, Light heavyweight
Height: 5 ft 9 in (175 cm)
Reach: 70 1⁄2 in (179 cm)
Nationality: Mexican
Born: 18 July 1990 (age 30) Guadalajara, Jalisco, Mexico
Stance: Orthodox
Boxing record
Total fights: 56
Wins: 53
Wins by KO: 36
Losses: 1
Draws: 2
Callum Smith
Nickname(s): Mundo
Weight(s): Super-middleweight
Height: 6 ft 3 in (191 cm)
Reach: 78 in (198 cm)
Nationality: British
Born: 23 April 1990 (age 30) Liverpool, Merseyside, England
Stance: Orthodox
Boxing record
Total fights: 27
Wins: 27
Wins by KO: 19
Losses: 0
Conclusion
This is going to be one great night! You wouldn't want to miss the iconic bout between Canelo and Callum. With experts saying that Callum Smith was the wrong choice for Alvarez, we'll have to wait and find out whether Alverez proves them wrong or Smith remains the undefeated champion!
Make sure to tune into Canelo Alvarez vs Callum Smith on your Smart TV to see how the events unfold and subscribe to FastestVPN to get immediate access to DAZN.

Take Control of Your Privacy Today!
Unblock websites, access streaming platforms, and bypass ISP monitoring.
Get FastestVPN