Watch Canelo Alvarez vs Caleb Plant on Smart TV
Watch Canelo Alvarez vs Caleb Plant on Smart TV
By Nick Anderson No Comments 5 minutes
When Canelo Alvarez beat Billy Joe Saunders and won the WBO super middleweight world title, he was only short of the IBF title to become the undisputed champion. The upcoming fight is a unique opportunity for the Mexican fighter to decorate his career with all four titles. This blog covers all the essential details you want to know on how to watch Canelo Alvarez vs Caleb Plant on Smart TV.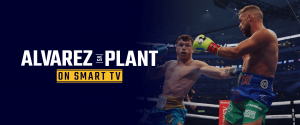 Canelo Alvarez vs. Caleb Plant Date, Time & Venue
Canelo Alvarez vs. Caleb Plant will be one of the highlights for November in boxing. Fans have been eager for more events as things start normalizing and people are being allowed inside arenas to spectate.
Alvarez is a strong opponent who has fared against notable names in boxing. Except for his defeat at the hands of Floyd Mayweather Jr., Alvarez has a stellar career. And he has been on a winning streak since his fight against Gennady Golovkin "GGG" in 2017. Having faced such names in the sport, Alvarez has a certain reputation for taking on the best and ranks among the top names in boxing.
The 29-year old American fighter, on the other hand, doesn't have quite the same experience. Caleb Plant was last seen in the ring, where he defended his IBF title against Caleb Truax. The fight ended with a unanimous decision in favor of Plant, marking his third successful title defense. Like Alvarez, Plant is determined to win this super middleweight title fight.
If Alvarez wins this fight, he will become the undisputed champion with all four belts in his collection.
The fight was being set up for September this year. All seemed fine and almost ready for the main event when negotiations didn't reach a successful conclusion. The two parties later picked up another round of negotiations, and the fight was formalized for November 6.
Canelo Alvarez vs. Caleb Plant will take place at the MGM Grand Garden Arena at 6 PM Pacific Time.
Showtime is the exclusive partner for the mega event. So, if you are in the United States and have access to Showtime through your cable provider, you are all set to enjoy the fight. But not everyone will be so lucky. Many boxing fans live in regions where they cannot watch Canelo Alvarez vs. Caleb Plant live. The solution? Bypass the geo-restriction on Showtime's stream using a VPN.
FastestVPN has various servers in the United States that let you access geo-restricted content like Showtime PPV.
How to Watch Canelo Alvarez vs Caleb Plant on Smart TV
If you are one of those people who will be enjoying the fight from the comfort of your couch, then a Smart TV is perhaps the best way to watch. Modern Smart TVs have robust functionality, allowing you to stream from various apps like Netflix, YouTube, etc.
You'll need to download the Showtime app on your TV. Smart TV is an umbrella term, so the availability of the Showtime app will vary between the operating system it is running. The easiest way to know that is to search for the app on your TV's app store. If you cannot find the Showtime app, then it's likely not available for your TV.
Follow these steps on how to bypass Showtime to watch Canelo Alvarez vs. Caleb Plant.
Set up FastestVPN in the router. Go to our support page here to find tutorials for your router's model. Connect to a USA server.
Connect your Smart TV to the VPN-enabled router.
Download Showtime on your Smart TV.
Log in to Showtime with your credentials.
Signing up for Showtime will require a credit card that's valid for the USA. Use PayPal as an alternate method. You can also try to install Kodi on your Smart TV. Follow our blog here to get Kodi working with Showtime.
Canelo Alvarez vs. Caleb Plant Fight Card
Saul Canelo Alvarez vs. Caleb Plant – WBC, WBA, IBF, WBO Super Middleweight Championship
Elvis Rodriguez vs. Juan Pablo Romero – Super Lightweight
Rey Vargas vs. Leonardo Baez – Super Bantamweight
Anthony Dirrell vs. Marcos Hernandez – Super Middleweight
Fight Records
Canelo Alvarez
Name: Canelo Alvarez
Nickname(s): Cinnamon
Weight(s): Welterweight, Light middleweight, Middleweight, Super middleweight, Light heavyweight
Height: 5 ft 9 in
Reach: 70 1⁄2 in (179 cm)
Nationality: Mexican
Born: 18 July 1990
Age: 30
Stance: Orthodox
Total fights: 59
Wins: 56
Wins by KO: 36
Losses: 1
Draws: 2
Caleb Plant
Name: Caleb Hunter Plant
Nickname(s): Sweethands
Weight(s): Welterweight, Light middleweight, Middleweight, Super middleweight, Light heavyweight
Height: 6 ft 1 in (185 cm)
Reach: 74 in (188 cm)
Nationality: American
Born: July 8, 1992
Age: 29
Stance: Orthodox
Total fights: 22
Wins: 22
Wins by KO: 13
Losses: 0
Conclusion
There is some bad blood brewing between the two after the press conference, which turned violent. Plant and Alvarez roughed each other's collars, and the two were separated, but not before Plant received a blow on his face that left him with a cut. Alvarez claims that Plant hurled an insult towards his mother.
Alvarez pitched this fight as a way to get the IBF title, but it may be personal now. Be sure to catch this exciting fight live on Smart TV using our tutorial.
Take Control of Your Privacy Today!
Unblock websites, access streaming platforms, and bypass ISP monitoring.
Get FastestVPN