Watch Miguel Berchelt vs Oscar Valdez on Firestick
Watch Miguel Berchelt vs Oscar Valdez on Firestick
By Johan Curtis No Comments 6 minutes
Delay after delay, Top Rank announces a new and confirmed date for the WBC super featherweight title against Miguel Berchelt and Oscar Valdez! Miguel will defend his title against opponent, Oscar Valdez, in Las Vegas on the 20th of February. While the bout between the two was originally scheduled for December 12th, 2020, it was pushed forward because Miguel tested positive for the coronavirus in November and had to quarantine to recover. After several efforts, the management is going on with the fight in 2021 and we can finally watch Berchelt vs Valdez on Firestick!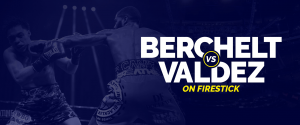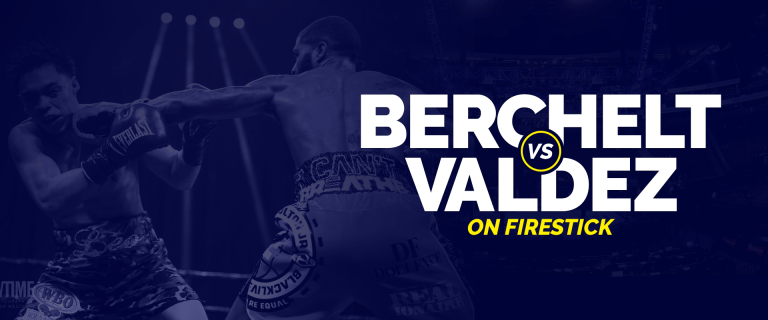 The super featherweight title is up for grabs once again, even though no one seemed to come close to snatching the title from Miguel; he remains the champion since 2017! He won the belt after defeating Francisco Vargas in the 11th round, after which, Miguel fought five more fights with the championship on the line and won all through finish.
Moreover, Miguel says that he is excited for this match and will make sure to prove that he is the best super featherweight player out there. "This fight is the one that I dreamed of since we were both amateur fighters," Berchelt said. "Valdez is a great fighter, and it will be a great fight. I am preparing with everything to win by knockout and leave no doubt that I am the best super featherweight in the world."

An Insight into Miguel's Opponent- Oscar Valdez
Miguel Berchelt's opponent, Oscar Valdez, who has also remained the former WBO Featherweight champion and is determined to knock out Miguel. Even though the two players hold friendly relations and no evident rivalry, Valdez made clear that friendship is out of the picture when it comes to a fight and he will emerge as the next super featherweight champion!
"Berchelt says he is going for the knockout, I'm not going to crack, but the knockout could show up for the other side. It will be a tough fight but not impossible… in my corner is my father and Eddy Reynoso. When two Mexicans get into a ring there is always going to be a show. I am in the position to provide a good fight," Valdez told Javier Cordoso.
Lastly, Top Rank's, Bob Arum, is also positive that this is going to be an exciting match and a fun watch for the fans! "Miguel Berchelt and Oscar Valdez are two proud Mexican warriors who will give boxing fans a memorable fight," said Top Rank chairman Bob Arum at the official fight announcement.
Want to know how you can watch Miguel Berchelt vs Oscar Valdez on your Firestick? Keep reading to find out how!
Miguel Berchelt vs Oscar Valdez Date, Time, and Venue
Date: 20th February 2021
Time: 10 p.m. ET
Venue: MGM Grand, Las Vegas, Nevada, USA
How to Watch Miguel Berchelt vs Oscar Valdez on Firestick
As we all know, times are tough and given the ongoing pandemic, most of the matches taking places are being conducted behind closed doors or with limited capacity to maintain social distancing and follow the SOP guidelines.
Similarly, the fight between both the Mexican warriors, Miguel Berchelt and Oscar Valdez, will be aired live on ESPN+ exclusively. Fans who wish to watch the fight live online can stream the match from ESPN+.
The process is simple, to get immediate access to Miguel Berchelt vs Oscar Valdez, you will need to subscribe to ESPN+ first and then click on the stream. Subscribing to ESPN+ will only take a minute and be beneficial for you in the long-term as well; with ESPN+'s vast media library and excellent sports coverage, you're bound to never miss a thing and always stay updated on everything sports!
You can subscribe to ESPN+ for $5.99 per month or choose their annual Plan at $59.99 per year. Or you can also bundle ESPN+ with Disney+ and Hulu for $12.99 per month.
What's the Catch?
This sounds almost too good to be true, here comes the catch, websites, or applications such as ESPN+ are usually geo-restricted and are only available within limited or selected regions which means that if you are trying to access ESPN+ from outside the USA, there is a high chance that you will not be granted viewership.
To get past such geo-restriction or any sort of location blocks you need to be subscribed and connected to a VPN. An efficient VPN will not only provide you with a temporary IP address and mask your identity, but it will also give you an additional layer of privacy and security with its expert level features.
If you wish to subscribe to a VPN that provides you with everything that is mentioned above, that too, in a very minimal price then FastestVPN is your best option! With its impeccable speed and 100% anonymity guarantee- you are in for a treat!
Download and subscribe to FastestVPN and connect it to your Firestick to enjoy access to ESPN+!
Here's a step-by-step tutorial on how to do so:
Subscribe FastestVPN,
Install FastestVPN app for Firestick,
Open FastestVPN and get connected to the US server,
Go to https://plus.espn.com/
Click on the Subscribe button,
Once subscribed to service, Now watch Berchelt vs Valdez on Firestick.
Fight Records
Miguel Berchelt
Real name: Miguel Ángel Berchelt Cervera
Nickname(s): El Alacrán ("The Scorpion")
Weight(s): Super featherweight
Height: 5 ft 7 in (170 cm)
Reach: 71 1⁄2 in (182 cm)
Nationality: Mexican
Born: 17 November 1991 (age 29) Cancún, Quintana Roo, Mexico
Stance: Orthodox
Boxing record
Total fights: 39
Wins: 37
Wins by KO: 33
Losses: 1
No contests: 1
Oscar Valdez
Real name: Óscar Rafael Valdez Fierro
Weight(s): Featherweight, Super featherweight
Height: 5 ft 7 in (1.70 m)
Reach: 66 in (168 cm)
Nationality: Mexican
Born: 22 December 1990 (age 30) Nogales, Sonora, Mexico
Stance: Orthodox
Boxing record
Total fights: 28
Wins: 28
Wins by KO: 22
Losses: 0
Conclusion
Are you ready for one of the most exhilarating matches of the season? The anticipation is real! With both extremely talented players, with very unique skill sets; this is going to be an interesting fight.
As Oscar Valdez stated that whenever two Mexican warriors collide, it's bound to be a memorable fight, "Whenever there are two Mexicans in the ring, it is a guaranteed war, and it will be an honor for me to bring a great war to my fans."
We cannot wait to see how Miguel Berchelt vs Oscar Valdez turns out, don't miss it. Make sure to tune into fight on Firestick and subscribe to FastestVPN to get immediate access to ESPN+!

Take Control of Your Privacy Today!
Unblock websites, access streaming platforms, and bypass ISP monitoring.
Get FastestVPN