Watch David Benavidez vs Roamer Alexis Angulo on Firestick
Watch David Benavidez vs Roamer Alexis Angulo on Firestick
By Johan Curtis No Comments 5 minutes
Showtime is once again all set to present the fight for the Middleweight World Championship! It is only fair to say that this match is long-awaited, facing a cancellation previously; Showtime has finally set an all-new date.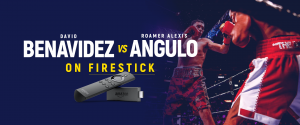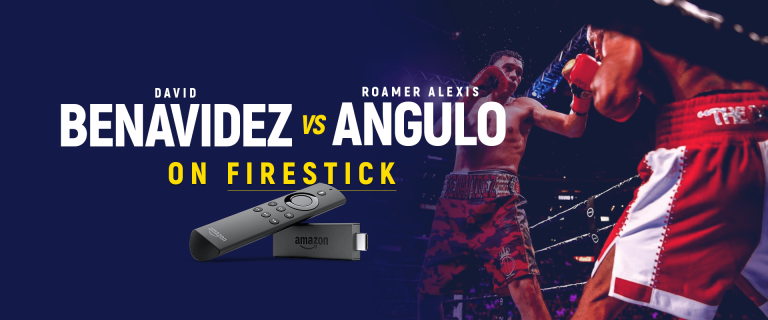 The battle between undefeated WBC Super Middleweight World Champion David "El Bandera Roja" Benavidez and Roamer Alexis Angulo was previously set to take place on 18th April 2020. However, given the circumstances at the time, with the coronavirus outbreak and the entire world going into lockdown- the match was postponed to a date that was yet to be announced.
However, since the virus isn't really going anywhere and we just have to make do with its presence the management has finally set a new date for Benavidez vs Angulo.
Both players have been preparing and are ready to face each other. Angulo, the one-time loss champion has just tasted one victory against Anthony Sims Jr. on 30th Jan.
He further says, "I'm very motivated by this great opportunity to fight for the world title again," Angulo said. "Benavidez is a talented world champion who is clearly one of the best super middleweights in the world. This is going to be a great fight for the fans because of the style I bring to the ring. My Mexican style of fighting will be too much for Benavidez."
On the other, Benavidez, the undefeated middleweight champion is a rather young and one of the fastest rising players. He became the youngest titlist by winning the middleweight champion title in 2017.
"From the start of his career, long before he became champion, people have been asking me about David fighting at home," said Sampson Lewkowicz of Sampson boxing, who promotes Benavidez. "Now is the perfect time and I'm very happy to help bring this show to David."
This match is bound to be one that you wouldn't want to miss out on; both the players have never been more ready! Now you can easily stream David Benavidez vs Roamer Alexis Angulo online on Firestick. Want to know how? Keep reading.
David Benavidez vs Roamer Alexis Angulo Date, Time and Venue
Date: 15th August 2020, Saturday.
Time: 08:00 PM ET
Venue: Mohegan Sun Casino, Uncasville, Connecticut, United States
How to Watch David Benavidez vs Roamer Alexis Angulo on Firestick
Who wouldn't to watch a match as thrilling as this? However, due to the global pandemic, many fans will probably not be able to enter the arena to view the match live. The only option they have left is to stream the match live online from Showtime's official website.
Showtime has announced that they have put together 9 of the most thrilling matches from 1st August and onwards, which will all be broadcasted live from their very own website.
In order to gain access to the match, all you will have to do is subscribe to Showtime, which is honestly a fair deal. Upon subscription, you are granted access to everything that is available on Showtime whether that is sports or entertainment. You can subscribe to Showtime for only $10.99 per month, with the benefit of a free 30-day trial and also the option to cancel your subscription any time you want.
As promising as it sounds, the only drawback with Showtime is that the website or application is exclusively available to residents the in The United States. It is geo-restricted for anyone trying to access from elsewhere.
However, we always have a solution for you, need not to worry! In order to unblock geo-restricted websites or applications, all you have to do is be connected to a VPN. A VPN such as FastestVPN, with FastestVPN's speed (as the name suggests) and its impeccable services, it will immediately mask your identity and grant you access to the match as if you are viewing the fight from within the USA.
Once you have downloaded and subscribed to FastestVPN, all you have to do is open Firestick to watch David Benavidez vs Roamer Alexis Angulo. Here's a step by step tutorial on how to subscribe to FastestVPN and open the fight on Firestick.
How to Subscribe to FastestVPN
Visit Fastestvpn.com
Click on "Buy Now"
Select your pricing plan
Complete the steps given below
Once you're done, you should be subscribed to FastestVPN
How to Watch David Benavidez vs Roamer Alexis Angulo on FireStick
Install FastestVPN app for FireStick
Open FastestVPN and get connected to the USA server
Go to sho.com and click on subscribe
Subscribe to the service and watch David Benavidez vs Roamer Alexis Angulo
Fight Records
David Benavidez
Real name: Anthony David Benavidez
Nickname(s): El Bandera Roja, (Red Flag)
Weight(s): Super middleweight, Light heavyweight
Height: 6 ft 1 1⁄2 in (187 cm)
Reach: 77 in (196 cm)
Nationality: American
Born: December 17, 1996 (age 23)Phoenix, Arizona, U.S.
Stance: Orthodox
Boxing record
Total fights: 22
Wins: 22
Wins by KO: 19
Losses: 0
Roamer Alexis Angulo
Real name: Roamer Alexis Angulo
Weight(s): Super middleweight
Height: 6 ft 1 in (185 cm)
Reach: 75 in (191 cm)
Nationality: Colombian
Born: 25 March 1984 (age 36) Patía, Cauca, Colombia
Stance: Orthodox
Boxing record
Total fights: 27
Wins: 26
Wins by KO: 22
Losses: 1
Conclusion
Will the undefeated champion remain victorious or will we witness a new middleweight champion? Critics have a lot to say, they believe that Benavidez could use his young age to his advantage and surprise Angulo with some new moves.
However, Angulo is not one to be taken lightly his experience and the stellar record speaks for itself.
Make sure to tune into David Benavidez vs Roamer Alexis Angulo on Firestick and don't forget to be connected to FastestVPN!
Take Control of Your Privacy Today!
Unblock websites, access streaming platforms, and bypass ISP monitoring.
Get FastestVPN