How to Watch BBC iPlayer in Australia
How to Watch BBC iPlayer in Australia
By Christine Margret No Comments 5 minutes
If you're living in Australia or anywhere outside the UK, still watching BBC iPlayer is possible by equipping yourself with a VPN. Keep reading to find the easiest ways to unblock BBC iPlayer in Australia.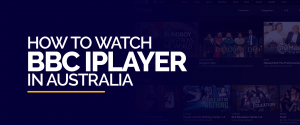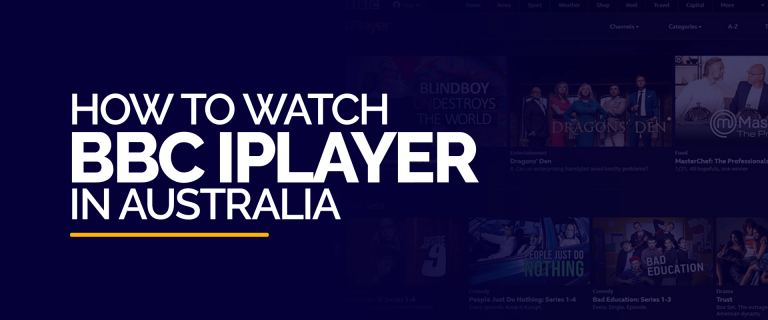 Why Can't I Watch BBC iPlayer In Australia?
BBC iPlayer has all the copyrights to publish its content in the UK only. Therefore, Aussies are restricted and cannot watch BBC iPlayer in Australia or anywhere else.

How to Watch BBC iPlayer In Australia?
To watch BBC iPlayer you have to get connected with a VPN in Australia. FastestVPN is the best choice to access BBC iPlayer. It offers fast, dedicated UK servers that connect and unblocks BBC iPlayer without irritating connection drops and buffering errors. Here's how to connect with FastestVPN to watch BBC iPlayer in Australia:
Why Do I Need a VPN to Unblock BBC iPlayer in Australia?
Like I mentioned earlier, BBC iPlayer is restricted to any other region except the UK. It detects IP address, and blocks user access when finds any location other than the UK.
A VPN encrypts your traffic and assigns you a UK IP address when you select UK server location. In this way, BBC iPlayer detects your location as the UK and hence gets unblocked.
Can I use a Free VPN to Watch BBC iPlayer In Australia?
Not really! Free VPNs share common IP addresses that are easily tracked by the BBC iPlayer. Therefore, your access is denied right there. Only a paid and reliable VPN service like FastestVPN can bypass BBC iPlayer in Australia.
How to Sign up for BBC iPlayer In Australia?
Aussies can easily signup for BBC iPlayer using UK VPN to watch the curated live and on-demand content. Once you're connected to the VPN then you can head to the registration page.
Now, type your DOB and click Next, enter your email ID and generate a strong password which you can remember.
Select UK server location, enter "WC1X 0AA" as your postal code. Select the option yes or no to get email updates. Click when you find "Register".
At last, you'll receive an email from BBC iPlayer to verify your email ID and that's about it.
Can I Stream BBC iPlayer on a Mobile?
Absolutely! BBC iPlayer supports various devices including Android, iOS, Amazon Fire, Mac, Chromecast and many others. You can install the FastestVPN app, change your location to the UK and stream live channels and TV shows on BBC iPlayer.
Is BBC iPlayer Free to Watch?
The signup process for BBC iPlayer is completely free. However, UK citizens have to pay £147 / year for a UK TV license. The good thing is that BBC iPlayer never asks for the proof, which means you can stream it for free in Australia using UK a VPN.
How to Reduce BBC iPlayer buffering with a VPN?
If you're using a VPN to watch BBC iPlayer in Australia then you may experience buffering while streaming. It happens when you're connected to long-distance UK servers. Luckily, FastestVPN offers a range of blazing fast servers that connect quickly for the buffer-free streaming experience.
Is Using a VPN Legal for Streaming?
Absolutely! Using a VPN for streaming content is not illegal. A VPN secures your traffic through strong end-to-end encryption. Moreover, it also enables you to change your virtual location to bypass content censorship. However, if any streaming service just like Netflix or BBC iPlayer detects your VPN IP then your account may get blocked.
Are Browser Extensions good for Bypassing BBC iPlayer?
Browser extensions are not the ideal option to bypass BBC iPlayer. These extensions almost never encrypt traffic and leave your traffic vulnerable. Moreover, when your traffic is open to everyone including your ISP then you can experience issues like bandwidth throttling. Hence, a UK VPN is the best way to access BBC iPlayer in Australia or anywhere.
Most Popular shows on BBC iPlayer?
A lot of binge-watching content is available on BBC iPlayer. If you're accessing it from Australia then below is a quick rundown of the most popular shows to watch on the streaming platform:
| | | |
| --- | --- | --- |
| Love Life | Me, My Brother & Our Balls | Ambulance |
| Top Gear | 25 Siblings & Me | The Repair Shop |
| Us | Mystery Road: Series 2 | Lance |
How to watch BBC iPalyer on Samsung TV in Australia?
BBC iPlayer no longer supports Samsung TV older software. You first have to update your smart TV's software. Now, connect FastestVPN on a router to connect with your Samsung TV and then access BBC iPlayer.
Which Channels Are Available on BBC iPlayer?
BBC iPlayer unboxes a wide selection of live TV channels which are not-to-be-missed for sure. Checkout the most popular channels available on the BBC Iplayer right now:
| | | |
| --- | --- | --- |
| BBC One | BBC Two | BBC Four |
| BBC News | BBC Parliament | BBC Scotland |
| S4C | Radio 1 | BBC Alba |
Conclusion
BBC iPlayer is one of the best video-on-demand and live channels streaming services. The downside is that it is only viewable in the UK. FastestVPN offers super-fast UK servers to which you can connect and anonymously stream BBC iPlayer in Australia or anywhere. Try FastestVPN today available with 15 days money-back guarantee.

Take Control of Your Privacy Today!
Unblock websites, access streaming platforms, and bypass ISP monitoring.
Get FastestVPN