Watch Artur Beterbiev vs Joe Smith Jr on Smart TV
Watch Artur Beterbiev vs Joe Smith Jr on Smart TV
By Christine Margret No Comments 5 minutes
It's not very far away when the two giants Artur Beterbiev vs Joe Smith Jr in the Light Heavyweight division are going to try their muscles against each other. People who want to witness this fight live from the stadium can take a seat in Madison Square Garden, New York on June 18th, 2022. As not everyone will be able to join this event in the stadium, this guide is all about how to watch Artur Beterbiev vs Joe Smith Jr on Smart TV.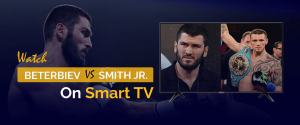 With a weight limit of 175 pounds / 79.4 KG, these two will fight in a 12 rounds match. What adds more suspense is that it is going to be a high stake battle. It will have 3 titles at stake, including WBC, IBF, and WBO Light Heavyweight — WBC and IBF belong to Artur Beterbiev, whereas WBO belongs to Joe Smith Jr.
Looking at the career of Artur Beterbiev, he appeared in the ring 17 times but none of his foes was able to defeat him. The ruthless and undefeatable Beterbiev won all the games by knockout.
Though he is pretty incredible in the ring, he thinks this is going to be a challenging fight. He said Joe Smith Jr. is a worthy contender, and it is an important fight for his way to becoming the undisputed champion.
Although Artur Beterbiev is undefeatable so far, it doesn't mean that Joe Smith Jr is an easy task for him and this is what makes the match more thrilling. Compared to Beterbiev, Joe Smith Jr holds more experience.
The 32 Years old Smith Jr h.as fought 31 fights where he won 31 fights by knockout and only tasted defeat 3 times. Joe Smith Jr. appears in 14 more fights, which gives him an edge over Artur Beterbiev as he is more familiar with the ring environment.
Fight Details- Date, Time, And Channel
Date: Saturday, June 18, 2022
Time: 11 p.m. EST / 8 p.m. PST.
Venue: Hulu Theater – Madison Square Garden, New York, United States
Channel: ESPN+ and Sky Sports Action
Main Fight Card
The two main cards include big names as given below.
Artur Beterbiev vs. Joe Smith Jr, 12 Round match, Light Heavyweight
Robeisy Ramirez vs. Abraham Nova, 10 rounds match, featherweight
How to Watch Artur Beterbiev vs Joe Smith Jr
Of course, not everyone who wants to love to watch boxing will be able to attend the match at the MSG. So, you can enjoy the Artur Beterbiev vs. Joe Smith Jr match on your Smart TV live from your home.
The people in the USA will be able to watch the stream on ESPN+ while for the UK, the Sky Sports Action will stream this match live on 18 June 2022.
But if you want to see the punches live on your Smart TV from the other part of the world, sadly, ESPN+ and Sky Sports Action won't work for you because these services are geo-restricted. This means you cannot enjoy their content outside of a specific territory. That is why a VPN can help you to make these channels available to you regardless of your location.
How to Watch Artur Beterbiev vs. Joe Smith Jr Using VPN?
So if you are from a country where ESPN+ and Sky Sports Actions are not officially available, you can set up a VPN to watch the show.
FastestVPN is a good choice for VPN as it is pretty affordable and offers data centers in 40+ countries. They offer numerous VPN servers in the USA allowing the users to stream ESPN+ outside the USA easily.
Below are the steps to follow:
Visit the FastestVPN website and get a subscription.
Download the VPN app and install it.
Launch the App and connect to the USA server.
Subscribe to ESPN+.
You are all good. Now, wait for the match.
How to Watch Artur Beterbiev vs Joe Smith Jr on Smart TV?
So if you are in the USA or UK, turn on your Smart TV and look for the respective app in your Smart TV app store. Alternatively, you can also watch it on the web. However, from an unsupported region where these services are not available, by having a VPN subscription you can enjoy the match without any hassle.
Below are the steps to watch Artur Beterbiev vs. Joe Smith Jr on Smart TV:
Install the VPN on your Smart TV. FastestVPN has its app for almost every platform, however, in case of inconvenience, you can install it on your router. You can check out our tutorials here.
Connect to a USA VPN server.
Access the ESPN+ website and buy a plan.
That's it. The ESPN+ will be available to you right after you made the successful payment.
How to Get the ESPN+ Subscription?
You can buy ESPN+ either from their app or through the website. As soon as you are on their website/app go for Signup if you haven't the account before.
After creating the account, provide the payment details. Credit cards and Paypal can be used to make the payment. The subscription plan starts at $6.99 per month. However, if you want to keep it for the long term, you can subscribe to a yearly plan. Once you have paid successfully, click on the "Get Started" and start watching.
Conclusion
Every boxing enthusiast around the world is looking forward to enjoying this super-action fight. Mark the date 18th June 2022, and the match will be broadcasted on ESPN+ and Sky Sports Action. Using this guide, you will be able to watch Artur Beterbiev vs Joe Smith Jr on Smart TV even if the match broadcasters are not available in your country.
Take Control of Your Privacy Today!
Unblock websites, access streaming platforms, and bypass ISP monitoring.
Get FastestVPN