Watch Andy Ruiz vs Chris Arreola on Kodi
Watch Andy Ruiz vs Chris Arreola on Kodi
By Nancy William No Comments 6 minutes
Already waiting to watch Andy Ruiz vs Chris Arreola on Kodi? Know that the fight will have the power to convert you into an avid boxing fan. This post is packed with everything you should know about this fight: the day, date, venue and your way around streaming it via Kodi.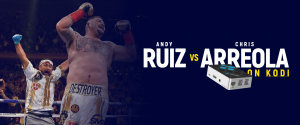 Who are Andy Ruiz and Chris Arreola?
In Andry Ruiz vs Chris Arreola, Ruiz is said to be a favorite of the fans.
Andy Ruiz, the former heavyweight champion, has been out of commission for the last 18 months since his defeat against Anthony Joshua. The 'Destroyer' finally returned to the ring and will be taking on a low-profile veteran Chris Arreola on a PPV card.
Chris Arreola has had a decorated career in boxing that started out as a childhood hobby at the age of 8 with 200 amateur wins till the age of 16. He made a comeback at age 20 and has competed as the world heavyweight champion but has yet to win that title. After his unanimous win over Manuel Quezada in August 2010, he went on to chalk off six more wins through 2012. Arreola was knocked to the canvas by Stiverne with the heavyweight title on the line sending the L.A. native to his fourth career defeat.
Although both the fighters have physical attributes, they have very different frames. Arreola stands at 6-foot-3 with a reach of 76 inches which is almost identical to Ruiz, who comes in at 6-foot-2 with a reach of 74 inches. Ruiz transformed training under Eddie Reynoso and has lost a lot of weight as a subsequent result of the criticism he received while he weighed 283 pounds. Arreola weighs 244 pounds which has remained consistent over the last few fights. If anything, the deciding factor of the fight may come down to the age difference where Ruiz is 31 and Arreola is 39.
Andy Ruiz has an impressive record of 33-2-0, where 22 of his wins have come through knockouts earning him the nickname 'The Destroyer' with a 62.86% knockout rate. The only two defeats he suffered have been at the hands of world champions, namely Anthony Joshua and Joseph Parker.
Arreola has a rather modest record in comparison at 38-6-1with 33 knockouts giving him a knockout rate of 70.21%. Amongst his defeats, four of them have been against world champions in Deontay Wilder, Bermane Stiverne, and Vitali Klitschko.
In addition, Ruiz has an unbeaten streak of 29 fights before losing to Parker, and Arreola has 27 before his first loss to Klitschko. Ruiz boxed for the heavyweight world title twice, and Arreola has boxed thrice; however, Ruiz was successful in his second attempt, but Arreola wasn't able to secure a world title.

Andry Ruiz vs Chris Arreola: Date, Time, Venue and PPV Details
The fight will take place on 1st May 2021 on Fox Sports PBC PPV at 9.pm. E.T. at the Dignity Health Sports Park in Carson, California.
The Undercard
Erislandy Lara v Thomas Lamanna
Omar Figueroa Jr v Abel Ramos
Jesus Alejandro Ramos v Javier Molina
Eduardo Ramirez v Isaac Avelar
Sebastian Fundora v Jorge Cota
How to watch Andy Ruiz vs Chris Arreola on Kodi?
If you're looking for boxing add-ons on Kodi, then the frustration of trying some and finding them faulty is quite the norm.
Firstly it is highly recommended that legal boxing add-ons be only used on Kodi since unofficial add-ons might not be worth the risk.
Fox Sports add-on is on the list of Kodi's official repository, and here's how you can install it:
After launching Kodi, select Add-ons from the main menu.
Click on Download> Video add-ons.
Select the add-on of your choice and open its overview.
Install the add-on.
After installation, return to the Add-ons section to launch it.
Why To Use a VPN while Streaming Via Kodi
Whatever your purpose behind using Kodi is, it is recommended to do so by connecting through a VPN for the following reasons:
Among the most lucrative events on Earth, PPV happens to top the list, which means they have a dedicated team to shut down illegal fight coverage. If you mistakenly stumble upon an add-on which features copyright material, you may get in trouble.
If you want to stream the fight without your ISP slowing down the bandwidth, there is no better way than doing so with a VPN. It allows you to cloak your IP connection where no one can monitor your online activities, including your own ISP.
If you're in a location that does not have the right to broadcast the fight, you can do so with a VPN since it can change your location quite easily to a region with the appropriate rights.
Live Stream Andy Ruiz vs Chris Arreola on Kodi with Fastest VPN
Pair your Kodi live streaming experience with FastestVPN to enjoy unlimited bandwidth, access to global servers and lightning fast speeds. Here is how you can watch the fight with FastestVPN:
Download the FastestVPN app for your preferred device.
Connect to the USA server since Fox Sports is readily available in this region.
Once the button turns yellow, launch Kodi and start streaming the match!
If you haven't already subscribed to FastestVPN, consider doing so because we are giving it away with 2TB of Internxt Cloud Storage: no geo-restrictions, no bandwidth throttling!
Mobdro: The Best Add-on To Watch PPV Events On Kodi
Mobdoro has thousands of channels and is the ultimate choice when searching for PPV events. It has a classy U.I. and the ability to turn off annoying ads. Regular updates are constantly rolled out, making it the perfect add-on to watch Andy Ruiz vs Chris Arreola on Kodi this 1st May.
Conclusion
Even though Ruiz was out for a good amount of time, he is a favorite of the match, but Chris shouldn't be taken lightly as he does have a slight edge when it comes to professional boxing. Whatever the outcome, boxing fans can watch Andy Ruiz vs Chris Arreola on Kodi from the comforts of their couch. But, be ready to be perched on the edge of your seat as this bout is predicted to transcend exciting into downright nail-biting! And when you stream the match online on Kodi, do it securely with FastestVPN.

Take Control of Your Privacy Today!
Unblock websites, access streaming platforms, and bypass ISP monitoring.
Get FastestVPN