Watch Andrew Cancio vs Cesar Alan Live Online
Watch Andrew Cancio vs Cesar Alan Live Online
By Johan Curtis No Comments 7 minutes
Top Rank is all set to promote their newcomer Andrew Cancio's bout against Cesar Alan in a 10-round bout at a decided weight of 133 pounds.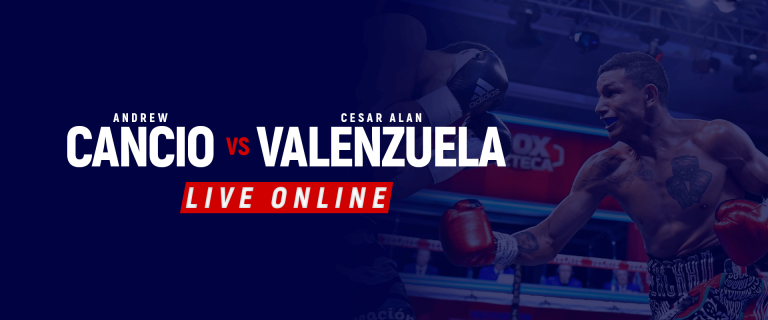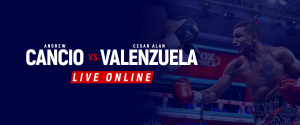 After Cancio's tragic loss to Alvarez he was released by the Golden Boy Promotions and quite recently joined Top Rank in January 2020, he even managed to change trainers from Josiph Janik to Joe Goosen. This will be Cancio's first fight after his infamous loss and he is all set to perform his best, he has reportedly taken two weeks off from his day job simply in order to prepare to this match.
"It's my debut with Top Rank and I'm coming off a defeat with Rene Alvarado, so I don't want to take any chances," Cancio said. "I want to make sure I'm fresh in there. I figured two weeks before the fight I'll take it off and I will have time to relax and just focus on the fight."
While his opponent, Alan; Phoenix national, has recently defeated his losing streak by winning against Christian Gonzales and is determined to build a new winning streak by beating Cancio in the octagon.
Moreover, as the pandemic hasn't really improved too much, the matches currently being held are being done behind closed doors which means no live audience. The viewers can simply stream the match live online from their homes.
If you're wondering where to watch the match and how; keep reading to find out how to watch Andrew Cancio vs Cesar Alan live online.
Watch Andrew Cancio vs Cesar Alan Date, Time and Venue
Date: 16th July, 2020.
Time: 6 p.m.
Venue: MGM Grand Garden Arena, Las Vegas, Nevada.
How to Watch Andrew Cancio vs Cesar Alan Live Online
As we've already established that the match will behind closed doors in an empty arena, it leaves the viewers with only one option; streaming the match. You could either watch it on your television, or choose to stream it online.
This fight card is being aired by ESPN so you have the option to watch it on their television channel or on ESPN+. We'd suggest you stream the match live online, as it would probably cost you less and be way quicker than having to call up your channel service and subscribing to the particular service.
You can easily watch the fight on ESPN+ whether on their website or by downloading their application. It will not only allow you to stream that particular fight, but after subscribing to the service you are granted with immediate access to their entire content library which contains a wide range of sports and updates that you can access anytime.
It has a lot to offer at a very small price; you can subscribe to ESPN+ for $4-.99/month or $49.99/year. They also have an exclusive package where you can subscribe to ESPN+, Hulu and Disney
Plus for only $12.99/month.
However, one slight issue that arises when subscribing to ESPN+ is that the app is geo-restricted, which means that it is only available in certain selected regions such as USA, Mexico etc. People who are not residing in those regions will not be able to access the app or the content on it.
In order to unblock the application or website, you need a VPN. A VPN is known for bypassing geo-restrictions by changing your IP address and altering it to match the particular site or app's requirements while making sure that your identity remains anonymous. However, it is essential that you select an efficient VPN; one such as FastestVPN!
FastestVPN ensures complete security and privacy while you surf the web and guarantees to surpass any geo-restrictions for you, granting you immediate access to your desired site. With our 999% uptime, you're bound to have a seamless and quick acting connection.
Here's a list of quick step by step tutorials on how to connect to FastestVPN and watch the Andrew Cancio vs Cesar Alan live online from different channels:
How to Watch Andrew Cancio vs Cesar Alan on ESPN+
Select your favorite pricing plan and subscribe to FastestVPN
Download FastestVPN app that supports your device or configure VPN in router
Select US server location
Go to ESPN+ and click at watch Cancio vs Alan Live
Now you can watch the show.
How to Watch Andrew Cancio vs Cesar Alan on Smart TV
Subscribe to FastestVPN
Download FastestVPN app (for Android TV only) or setup FastestVPN with your Router using USA IP address
Connect your Smart TV to Router
Open browser and search for your desired website or open an installed app for your Smart TV. Search and click at live Andrew Cancio vs Cesar Alan, and watch the show.
How to Watch Andrew Cancio vs Cesar Alan on Firestick
Subscribe FastestVPN
Install FastestVPN app for Firestick
Open FastestVPN and get connected to the USA server
Go to ESPN.com and search for ESPN+
Open ESPN+
Subscribe to the service and watch Andrew Cancio vs Cesar Alan.
How to Watch Andrew Cancio vs Cesar Alan on Kodi
Find Kodi for your device
Get FastestVPN
Connect FastestVPN with your Router using US IP address
Open Kodi
Click on the small gear icon at the top-left corner to open Settings menu
Click on File Manager then double-click on Add Source
Enter this repository link in the URL field: http://fusion.tvaddons.co
Now, click OK
Go back to the Settings menu and click on Add-ons
Pick Install from Zip File
Select Fusion > Repositories > English > Repository.leopold
Get back to Add-ons and select Install from Repository
Now pick Leopold
Go to Video Add-ons and search for ESPN+
Click on Install
Once done, the add-on will be available in Add-ons at the Home Page.
How to Watch Andrew Cancio vs Cesar Alan on IOS/Android
Get FastestVPN
Download FastestVPN app for Android or IOS
Connect to USA server location
Go to Play Store and search for ESPN+ or visit the ESPN website
Download the app
Open app after installation
Subscribe and stream Cancio vs Alan live.
How to Watch Andrew Cancio vs Cesar Alan on Apple TV
Subscribe to FastestVPN
Configure FastestVPN through Router
Launch Apple TV browser and access ESPN+
Once the fight goes live, access the streaming channel and screen Andrew Cancio vs Cesar Alan on Apple TV.
How to Watch Andrew Cancio vs Cesar Alan on Ps4/Xbox
Subscribe to FastestVPN
Setup FastestVPN with router using US IP address
Now plug in PS4/Xbox with the router
Head to PlayStation Store/Xbox Store, and download ESPN+
Open app and subscribe to ESPN+
Now you can watch the full match live online.
Fight Records
Andrew Cancio
Nickname(s): El Chango
Weight(s): Featherweight, Super featherweight
Height: 5 ft 6 in (168 cm)
Reach: 68 in (173 cm)
Nationality: American
Born: October 21, 1988 (age 31), Blythe, California, U.S.
Stance: Orthodox
Boxing record
Total fights: 28
Wins: 21
Wins by KO: 16
Losses: 5
Draws: 2
Cesar Alan
Weight(s): Lightweight
Stance: Orthodox
Height: 5'10"
Nationality: Phoenix, Arizona, USA
Date of Birth: 1990-03-22
Boxing Record
Total Bouts: 22
Wins: 15
Losses: 6
Draws: 1
Conclusion
The anticipation is unreal this time, for both the viewers and the players themselves; mainly because the match is being done without an audience which is a relatively new experience for everyone.
Cancio already expressed concern by saying, "So I do have mixed feelings about fighting with no crowd, but this time around I got to think about myself and my family. I win this fight, I will be one step closer to where I want to be and it's going to be a lot of exposure on ESPN. I'm doing my part in the gym. I'm here getting myself my ready so we can rock 'n roll for July 16."
Our players are ready for the fight despite the complications, we hope you are too! It's going to be one exciting match, don't forget to watch Andrew Cancio vs Cesar Alan live online and subscribe to FastestVPN in order to surpass that geo-restriction!
Take Control of Your Privacy Today!
Unblock websites, access streaming platforms, and bypass ISP monitoring.
Get FastestVPN