How to Watch Demetrius Andrade vs Maciej Sulecki on FireStick
How to Watch Demetrius Andrade vs Maciej Sulecki on FireStick
By Johan Curtis No Comments 4 minutes
It was confirmed in May that WBO Middleweight Champion Demetrius Andrade's return to the ring will be against 30-year old Maciej Sulecki. Andrade announced on Twitter that he challenged Gennady Golovkin for a fight but the 37-year old Kazakhastani turned it down, perhaps out of lack of interest.
It was also probable that Sulecki drops out of the fight due to his injury that occurred during his last bout in March. But Sulecki announced that we would heal in time for the match – further stating that he wouldn't want to miss this chance against Andrade.
The fight for the Middleweight title will happen in the last week of June. You can watch Demetrius Andrade vs Maciej Sulecki on FireStick as well as the entire fight card on FireStick with this guide.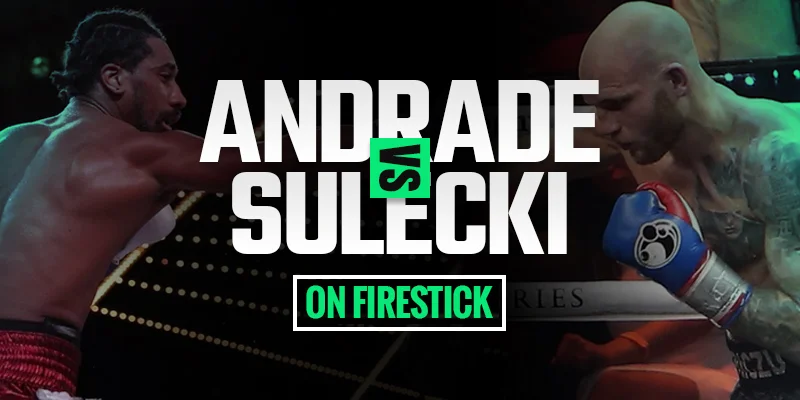 Demetrius Andrade vs Maciej Sulecki Schedule – When is it?
The fight is due to be held on June 29 at the Dunkin Donuts Center, Providence in Rhode Island. The fight card is expected to begin at 5 PM Pacific Time. Tickets for Demetrius Andrade vs. Maciej Sulecki are available for purchase. You should hurry before they run out of seats.
How to Watch the Andrade vs Sulecki Fight on FireStick?
FireStick is an amazing companion for living room entertainment. The device weighs about a few grams and sports a size just slightly bigger than an average-sized USB thumb drive, yet it delivers the level of entertainment that exceeds its little size.
It's quite convenient as well. Just plug it in the HDMI port of your display and get going. It makes for a good choice for streaming Demetrius Andrade vs. Maciej Sulecki on FireStick through DAZN.
DAZN is a streaming platform that launched back in 2016. Since then, it has delivered many noteworthy fights as part of its exclusive offering. It has went on to recruit many notable fighters like Gennady Golovkin, Anthony Joshua, Dominic Breazeale, Deontay Wilders, and more. DAZN expects to have another great year of exclusive fights, including the upcoming Demetrius Andrade vs Maciej Sulecki.
Although DAZN is a great choice if you're a boxing fanatic, it's only available in some regions. It's geo-restricted otherwise if you plan to access it from outside those regions. For that reason, we need to use a VPN. FastestVPN features high-speed servers in the US that make you anonymous on the internet.
So, here's what you need to follow to get the live stream working on FireStick:
Visit FastestVPN's website and download its app for FireStick
Now let it install then launch it
Connect to US server from the app
Once connection has been established, go to the app store to download DAZN app
Download and install DAZN on FireStick
Launch DAZN
Subscribe to the service or log-in if you are already a subscriber
Now all that is left is to view the live events and jump to the Demetrius Andrade vs Maciej Sulecki livestream.
Andrade vs Sulecki Stats
Demetrius Andrade's Fight Record
Nationality: American
Division: Light middleweight
Height: 6 ft 1 in (185 cm)
Reach: 73 ½ in (187 cm)
Stance: Southpaw
Total fights: 27
Wins: 27
Wins by Knockout: 17
Losses: 0
Maciej Sulecki's Fight Record
Nationality: Polish
Division: Middleweight
Height: 6 ft 1 in (185 cm)
Reach: 68 in (173 cm)
Stance: Orthodox
Total fights: 29
Wins: 28
Wins by Knockout: 11
Losses: 1
Final Words – Demetrius Andrade vs Maciej Sulecki on FireStick
We're only a few weeks away from the event, so best to get everything in order to prevent running into issues at the eleventh hour.
Although Andrade's challenge was refused, both he and Golovkin are on the DAZN platform, so a future match is probable. From the looks of it, Andrade has to get more wins under his career to catch the attention of Golovkin. Regardless of what the future may hold, here's an exciting fight heading your way. Catch Andrade vs Maciej Sulecki on FireStick from your home, the power of FastestVPN allows you to stream working from any country.
Take Control of Your Privacy Today!
Unblock websites, access streaming platforms, and bypass ISP monitoring.
Get FastestVPN