Watch Canelo Alvarez vs Avni Yildirim on Firestick
Watch Canelo Alvarez vs Avni Yildirim on Firestick
By Johan Curtis No Comments 5 minutes
WBC brings to you yet another thrilling match! Canelo Alvarez is all set to defend his WBC super-middleweight championship against the mandatory competitor Avni Yildirim in Florida. After much consideration, the authorities have finally managed to lock down a date and venue for the unification bout.
However, the audience did not take the news of Canelo Alvarez vs Avni Yildirim very well; they are upset about the fact that Yildirim hasn't fought in two years and even lost his last fight against Anthony Dirrell. The decision, obviously, is not in Canelo's hands, and a mandatory opponent was chosen by the WBC- Alvarez must fight Yildirim if he wishes to become the undefeated WBC super-middleweight champion.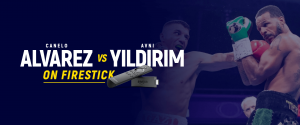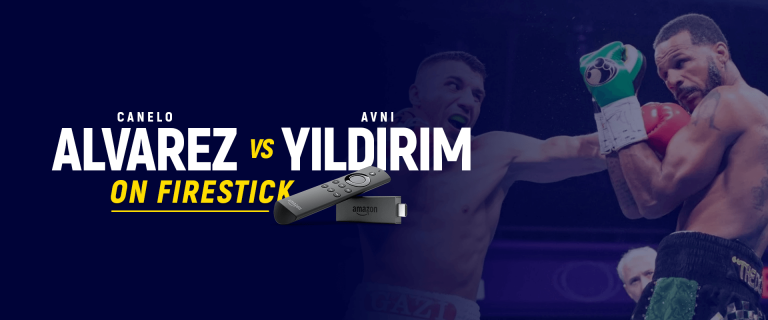 Furthermore, the rumor going around is that if Canelo were to remain the champion, he would have a direct shot at fighting with Joe Saunders, and the odds are in Alvarez's favor! Especially, with Matchroom's Eddie Hearn promoting by his side; Eddie will be promoting the next two fights between Canelo and Avni, and the Canelo vs Saunders clash.
Canelo Alvarez, however, did not let the backlash get to his head; he is happy about the fight and is excited to give it his all to become the undisputed champion. "Avni Yildirim is a good boxer and I know we will put on an exciting fight," Canelo said in a statement. "I'm very glad that we are able to bring this event to Miami, a short distance from where my hero, Muhammad Ali, trained. February 27 will be a great night for the sport."

What Eddie Hearn Has to Say About Canelo vs Avni
Eddie Hearn also stated that he was excited for the match and to head to Miami, he believes both players are skilled in their own ways and this is going to be one exciting fight.
"It is an absolute honor to promote the pound-for-pound number one and I'm so excited to head to Miami and the home of the Dolphins at the Hard Rock Stadium," Hearn said. "Even in a pandemic, Canelo is looking to be more active than ever and, in his plan, to be undisputed he must overcome his mandatory challengers to keep his belt. Yildirim is the first of those challenges who will be attempting to dethrone the king on February 27. We look forward to a huge night of boxing on DAZN and the start of a huge year for Canelo." Hearn stated.
Canelo Alvarez vs Avni Yildirim Date, Time, and Venue
Date: 27th February 2021
Time: 9 p.m. ET
Venue: Hard Rock Stadium in Miami, Florida, USA.
How to Watch Canelo Alvarez vs Avni Yildirim on Firestick
Florida is one of the states in the USA which has begun allowing fans inside the arenas while the Hard Rock Stadium has a rather large seating capacity, due to the ongoing Covid-19 pandemic, stadiums are not hosting events at full capacity and only a limited number of spectators are allowed inside with accordance to the guidelines of social distancing.
So, how many people will be allowed inside is yet to be discovered, however, you can also enjoy the match live from your homes since it will be streamed live online on DAZN!
This makes things increasingly easier; you don't even have to leave your room- all you need to do is subscribe and download DAZN, click on the live event and begin streaming.
Just open the DAZN website and click on subscribe to select a subscription package. Buying DAZN is very easy, and comparatively inexpensive compared to the amount of content they provide you with. In the United States, a monthly subscription costs $19.99, and an annual subscription costs $99.99.
Although, the problem with such streaming platforms or applications is that they use geo-restrictions which makes their content and apps only available within certain selected regions. For example, DAZN will probably display an error message to you if you try to access it from outside the USA and Canada.
The only way to get past such pesky geo-restriction is with a VPN. A VPN which is a Virtual Private Network, will provide you with a temporary IP address and hide your original identity making you anonymous online by keeping your data and activity 100% safe. Subscribing to an efficient VPN is the key, a VPN like FastestVPN is probably the best option out there- with its unmatchable speed and security and privacy services, it is bound to keep you protected and grant you access to all websites or applications online!
Here's a step-by-step guide to watch Alvarez vs Yildirim on Firestick:
Subscribe to FastestVPN,
Install FastestVPN app for Firestick,
Open FastestVPN and get connected to the US server,
Go to the DAZN Website
Click on the Sign-up option,
Once subscribed to service, Now watch Alvarez vs Yildirim on Firestick.
Fight Records
Canelo Alvarez
Real name: Santos Saúl Álvarez Barragán
Nickname(s): Canelo ("Cinnamon")
Weight(s): Welterweight, Light middleweight, Middleweight, Super middleweight, Light heavyweight
Height: 5 ft 9 in (175 cm)
Reach: 70 1⁄2 in (179 cm)
Nationality: Mexican
Born: 18 July 1990 (age 30) Guadalajara, Jalisco, Mexico
Stance: Orthodox
Boxing record
Total fights: 57
Wins: 54
Wins by KO: 36
Losses: 1
Draws: 2
Avni Yildirim
Nickname(s): The Turkish Wolf, Mr. Robot
Weight(s): Super-middleweight, Light heavyweight
Height: 5 ft 11 1⁄2 in (182 cm)
Reach: 70 in (178 cm)
Nationality: Turkish
Born: 5 August 1991 (age 29) Sivas, Turkey
Stance: Orthodox
Boxing record
Total fights: 23
Wins: 21
Wins by KO: 12
Losses: 2
Conclusion
This match may not be the most liked fight of the season, it is still bound to be an exciting watch! Canelo is determined to become the undisputed WBC super-middleweight champion and he has the entire year of fights planned out for himself.
Similarly, Avni has made it evident that he's not here to lose- no matter what the fans may think, he is ready to prove them wrong and emerge as the victorious super-middleweight champion!
So, make sure to tune into Canelo Alvarez vs Avni Yildirim on your Firesticks through FastestVPN to get immediate access to DAZN!

Take Control of Your Privacy Today!
Unblock websites, access streaming platforms, and bypass ISP monitoring.
Get FastestVPN