FastestVPN Valentine Day Gift 2021
FastestVPN Valentine Day Gift 2021
By Johan Curtis 1 Comment 4 minutes
It's that time of the year again. The time when people around the world go the extra mile to show their special ones how much they care. Valentine's Day is almost here and we can already feel love in the air.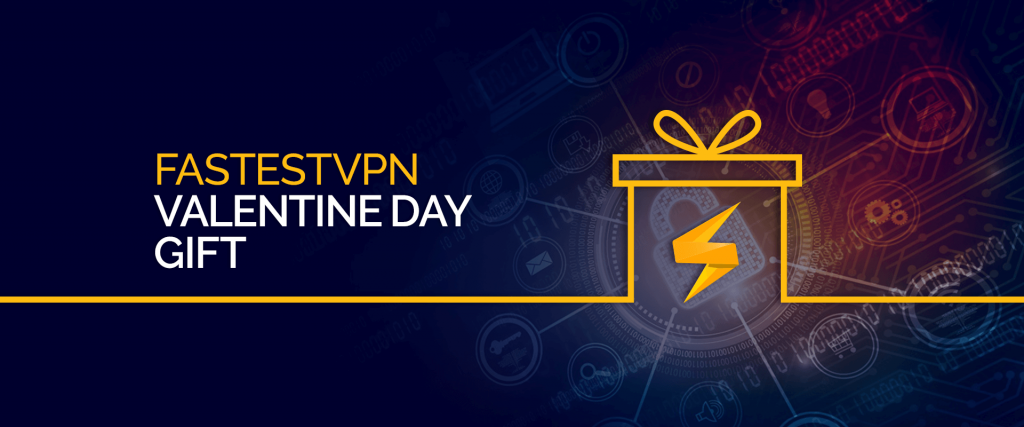 But a cautionary tale has to follow, especially when it concerns your privacy and data online. Occasions such as Valentine's Day is a hunting ground for hackers. These hackers want to steal your data by either by hacking into your accounts or setting up traps which lure you into giving up sensitive information.
But there's no reason why you can't protect you and your loved one from such situations.
Get Amazing VPN Deal on Valentine Day
We know how much our customers love us because we provide the best value. Valentine's Day is a special occasion and we are here to bring something you can gift your loved one.
We will gift a 14-day account for free to the first 50 customers who ask us for a Valentine's Day gift. But that's not all, they will a straight 14% discount if they decide to subscribe to a package after the 14-day period.
Get a taste of the fastest VPN for free as the best Valentine's Day gift!
Why Choose FastestVPN as a Valentine's Day Gift
FastestVPN brings the cutting-edge in VPN technology in one powerful package.
Security and Privacy
We talked about how events such as Valentine's Day draws out hackers who aim to do nothing but harm. Whenever we make transactions over the internet like buying a Valentine's Day Gift, hackers can sniff our data packets in an unsecure environment.
To prevent that, we use a VPN. FastestVPN uses high-level AES 256-bit encryption which is near-impossible to crack simply because it would require astronomical levels of computing power to run through every possible combination.
By encrypting our internet traffic, we are effectively preventing such hacks. This is particularly helpful, and most definitely recommended, when using public Wi-Fi hotspots.
If your loved one likes to travel a lot, a VPN would be a thoughtful gift. Because internet is a must-have, we often find ourselves relying on public Wi-Fi during travel.
Public Wi-Fi lack security and anyone in the same network could peek on your internet activity, potentially learning about sensitive information like your bank account details while you're making a transaction online.
If that isn't enough, how about the idea that your government is most likely monitoring online actively through your Internet Service Provider (ISP)?
The moment you land on a copyrighted content on the internet, it triggers a metaphorical alarm. You may end up with a notice from the DMCA, or worse, face jail-time. By connecting to a VPN server, you're granted a private IP address. This IP address allows you to spoof your geo-location and become anonymous on the internet.
It not only prevents government and ISP from spying on you, it also enables access to geo-restricted content. Get access to shows on popular digital streaming services like Netflix that you otherwise couldn't or shop online for Valentine's Day gift for that special someone.
Global Coverage
There are currently more than 150 high-speed servers around the world. Global coverage includes major countries like United States, United Kingdom, Canada, Germany, Australia, France, and more.
Connecting to either of them is as easy as clicking a button. Oh, and did we mention the servers are P2P-optimized? Our users get the best speeds while torrenting and sharing files using P2P protocol.
Smooth Browsing Experience
Not only that, FastestVPN features Malware Protection and Ad-Blocker. The two combine to give you a browsing experience free from those annoying pop-ups and ads. NAT Firewall blocks unsolicited traffic from entering your device.
Refund Policy
With FastestVPN, you don't have to worry about losing your money. Our 7-day money-back guarantee gives you the peace of mind. Don't like it? We'll refund your money without a hassle.
Take Control of Your Privacy Today!
Unblock websites, access streaming platforms, and bypass ISP monitoring.
Get FastestVPN