VPNs Now Increase in Countries that Regulate Online Gambling
VPNs Now Increase in Countries that Regulate Online Gambling
By Nancy William No Comments 4 minutes
Online gambling has been on the rise in recent years, and as a result, more and more countries and US states are beginning to regulate the industry. This is good news for online gamblers and fans of real money USA casinos, as it helps to ensure a safe and fair gaming environment. However, it also raises questions about the future need for Virtual Private Networks in online gambling.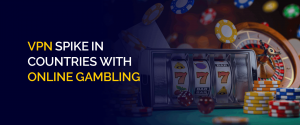 VPNs for Online Gambling in the USA and Europe
Below, we've highlighted the US and European regions as locations where online gambling has spiked. It also shows you just how the rise in online gambling has raised the use of VPNs, starting with:
United States
In the US, there were a few states where online gambling was allowed and fully regulated. At the end of 2018, there were nine states where sports betting was fully regulated, and in 2023, the situation is the other way around. This left only a few states where it isn't legalized.
All changed after the US Supreme Court declared a law in 1992 that outlawed sports betting unconstitutional.
Soon after that, New Jersey was the first country to legalize sports betting, and other states followed.
The main argument for the legalization of iGaming, in general, is that it reduces the space and need for illegal operators, often linked with non-transparency and other illegal activities. iGaming functioning in the gray sector can't be expected to contribute much with the taxes either, unlike the regulated one, which contributed $8.85 billion in state and local tax revenues in 2016. This employed 1.7 million people in 40 states.
VPNs are commonly used in those states where some form of iGaming isn't available, masking their IP address to appear like they're connecting from states where it is available and thus bypassing restrictions.
The use of VPNs is not always just a matter of some sort of iGaming not being available; sometimes, it's more a matter of preference. It's, so players from the US play on some European sites and vice versa, even though they have pretty much all games and sports covered in their country/state.
Europe
In Europe, a similar order of events happened. In the past, European countries had either no regulations or just state monopolies that had permission to offer online gambling.
Today the vast majority of countries have adopted multi-license regimes, which allow both private and publicly owned companies to acquire a license and get the possibility to offer online gambling in a country.
Similarly, as in the US, for the countries that kept government monopolies (Norway and Finland, for example), VPNs are a convenient workaround. These monopolies also often lead to noncompetitive markets, which become less attractive to players, who then ego to try playing on some foreign sites.
The thing to also consider is the different approaches of different online gambling operators to VPN usage. Some are happy to have an opportunity to get and serve more players, while others are cracking down on the use of VPNs to comply with local regulations and will ban players for this.
Most of the time, those with restrictive policies toward VPN use have that stated in their terms and conditions. The way in which they determine if a player is using VPN, is that they record the IP addresses of VPNs and ban those IPs upfront.
However, this is mostly the case with free VPNs. When, or if, you happen to use a free VPN, its IP addresses usually go by detected and eventually blacklisted. It is why only the best and premium VPN is recommended for online gambling, one that can actually keep you safe.
Conclusion
In conclusion, a VPN still offers highly demanded services to online gamblers but has its pros and cons. When players use VPNs to access online casinos that are not licensed in their country or state, they are essentially breaking the law and putting themselves at risk by losing some of the protection and security they get when playing on locally regulated betting operators.
On the other hand, even if all countries and states fully legalize online betting, it's probable that VPN usage will prevail to some extent for a couple of practical reasons.
It's hardly possible for all operators to issue a license and operate in all countries. Also, it's not that probable for operators with local permissions to have all the bonuses, games, and other competitive offers as some of their foreign competitors do.
So the competition in wagers, bonuses, and gameplay will stay, thus attracting players from other countries.
Take Control of Your Privacy Today!
Unblock websites, access streaming platforms, and bypass ISP monitoring.
Get FastestVPN