7 VPN Risks and Ways to Avoid Them in 2022
7 VPN Risks and Ways to Avoid Them in 2022
By Nancy William No Comments 5 minutes
A VPN is professional software that facilitates users' entrance to website pages blocked in their regions and offers them a protected IP address to guarantee online anonymity.
The only visible danger of using a VPN is that your internet provider can still see your online activity. Still, some jobs require in-depth research, so numerous people need good VPNs and accept some of their risks. Luckily, there are ways to avoid these risks with low effort.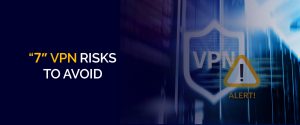 7 Risks that Make or Break a VPN
VPNs are there best security tools today, but they come with some risks. Just for an idea, here are 7 VPN risks and we've highlighted ways on how you can avoid them:
1.  Third Parties & Data Leaks
The first thing you should give heed to is their privacy page. Does the VPN website collaborate with third parties and shares your information? If the VPN does it, you might want to find another one.
This is because if you research for work or are just curious about things, you don't want others to know, especially big companies. Free VPNs might be dangerous since they may actually share your online data with unknown sources.
A data leak is when you want to hide your traffic and IP address with a VPN, but the algorithm still shares them through the program's tunnel. IP, DNS, or WebRTC leaks are some of the most common, and the VPN is useless at this point. This exposure can happen due to a lack of well-done configurations or a browser-related issue.
2.  PPTP Protocols
The PPTP protocol is the most convenient for the provider, but for you, it's not safe and does not grant privacy. PPTP is easily decrypted, so hackers will target it more often. Some providers will walk the extra mile and offer L2TP/IPSec protocol. At first glance, this seems like a great offer, but it was proven that this protocol was deliberately weakened.
3.  Lack of Anonymous Payment
Perhaps you want to be fully secure while using a VPN service. If that's the case, you have to look for one that accepts anonymous payments. If you buy something with a credit card or PayPal account, almost anyone with some hacking knowledge can trace it back to you.
Crypto businesses like casinos and real estate companies could help fix the problem
The solution is to use crypto if you are into altcoins. For example, accessing an new online casino and making a PayPal payment can be particularly dangerous. As a player, you'll benefit from a low level of protection if something happens to your data/funds. Research which platforms accept such currencies and increase your anonymity.
4.  Malware infections
A malware infection is a high level of hacking that will ruin your devices. Pay attention when installing a VPN, so you don't have any chance of malware entering your computer.
They would spy on your activity and spam you with ads that have viruses. Moreover, these malware infections get your personal and financial details and have the power to corrupt your data. In 2022 this happened less than 6-7 years ago because the internet and these services are constantly improving.
5.  IP Address as Exit Node
Your IP Address can become an exit node if the provider runs the network through your bandwidth and IP Address. You can find the information about this on the Privacy Policy page. If you don't read it, you won't know that other VPN users will use your IP address with using the program.
6.  Lack of Security Features
Encryption is the most crucial thing for everything you do on the internet. It creates a communication channel that forbids third parties from collecting data. Encryption also puts a limit on what people can read from the transmitted data and ensures that the channel is only between you and the VPN.
You can check every website's encryption by looking at its link; if you see an HTTPS link, the platform is safe.
7.  Free VPNs Present Higher Risks
Nothing is complementary on the internet, and the so-called free services have flaws. Free VPNs use third parties because they have to pay for their servers. They need to find another way to pay if you are not generating revenue for that service. The most common way they can afford this is by selling their clients' data.
However, you don't need to worry about free trials and demo versions for paid VPNs. These are fine because they allow you to test the product, and most of the time, the people who try it will also buy it. FastestVPN is one of the best affordable VPNs. Plus, it comes with a risk-free 15-day money-back guarantee.
How to avoid risks with VPNs
Choose a safe payment method with low chances of getting tracked for purchases through a VPN.
Find a VPN with IKEv2, OpenVPN, and WireGuard.
Pick a service with DNS protection and HTTPS encryption.
Always read the Privacy Terms & Conditions and the other informational pages before purchasing any services.
Avoid free services. You can use the Demo versions if the VPN offers a free-week trial.
Research experts' opinions and news about the company and the product
To conclude – Paying for privacy
Privacy is not cheap; it costs time, knowledge, and money. VPNs are a great way to find a better perspective on distinct topics; things are good if you are not worried about privacy matters and data leaks. However, pick a top service provider with differential payment plans if you care about things that might harm you and your devices.
Remember to research the provider and see if it has been part of a data leak scandal since the time of its launch. Did the business change during the years, and does the product often updates? It will take you some time to dig, but it will save your financial and private data and the health of your devices.
Take Control of Your Privacy Today!
Unblock websites, access streaming platforms, and bypass ISP monitoring.
Get FastestVPN