VPN for Online Banking
By Christine Margret No Comments 4 minutes
The advancements in technology have left us slothful. We count on smartphones for everything we do. Whether it's about shopping, ordering food, or paying utility bills, they all can be done through mobile banking.
No one wants to visit their bank branch when they can do it all without leaving the comfort of home. It's indeed a remarkable convenience that allows you to handle routine tasks while staying on the couch all day long.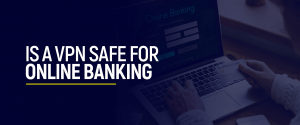 But, accessing banking information online has its potential risks. This blog will help you learn the fallout one might experience while accessing a bank account and making transactions online. At the end of this blog, you will know why a VPN is almost always recommended for online banking.

Why Is Online Banking Security Crucial?
Banks have been the most targeted industry. Initially, robbers physically targeted banks to steal money, and now, cybercriminals try to hack bank servers to capture sensitive information.
Maintaining cybersecurity is pivotal for banks to protect their customers' assets. For that reason, all the reputed banks update software regularly and use the highest encryption standards.
Banks keep their cybersecurity hardened; therefore, hackers try to exploit other means for financial theft.
When a user accesses his bank account using an unsecured public network, any hacker can steal your information. Some hackers use malicious hotspots to connect and redirect you to a fake page that resembles your bank's page, designed to steal your credentials.
With that information, cybercriminals can issue credit cards using your name and will leave you in debt. Besides that, hackers can make a false transaction or steal your account money.
The best way to combat such online banking threats is a VPN. It helps stop cybercriminals from gaining your banking and financial information. But, the question that comes out is that how does a VPN provide more security to your online banking experience? And that's what you will learn below.
Key Reasons Why a VPN is Safe for Online Banking
It is deemed an important tool for defense against data snooping. One major reason that defines a VPN safe for online banking is the collection of security features and excellent encryption support.
Prevents domain spoofing.
Prevents a third-party from intercepting data.
Allows you to make secure transactions on unsecure networks.
How Does a VPN Work for Internet Banking?
When you connect a VPN, it encrypts traffic and transmits it securely. First, VPN will create a tunnel for secure communication.  And when your data arrives in the VPN server, the server masks your IP address and location, making every online activity private from ISP and other third-parties.
How to use a VPN for Online Banking Security?
Using a VPN for online banking is easier than you have thought about it. Follow the simple steps that are outline below and safely access your online bank account:
Install a VPN app on your device.
Open VPN app.
Enter credentials.
Select a server location and tap on connect.
Wait till it connects.
Access your online bank securely from anywhere.
VPN Considerations for Internet Banking
Before connecting a VPN, consider the following points to keep your internet banking possibly secure.
Free VPNs are not trusted and don't offer the best encryption. They share user data with third-parties to promote targeted ads for revenue.
Select your Home Country Server Location
Switching server location will create a problem for your bank to identify you. Always select your home country server location so that your bank can easily process the request without any confusion.
Stick to Trusted Websites Only
When you connect a VPN for online banking, make sure not to browse unknown or unauthentic websites. These sources may contain malware and might disrupt your device and data security.
Use Updated Antivirus Software
Using an updated antivirus software with a VPN is recommended. It keeps your overall cybersecurity in place.
Best VPN for Online Banking
FastestVPN will work for all your devices. With its broad server range, you can securely access your bank account regardless of location. The strong 256-bit encryption keeps your data from prying eyes. FastestVPN ensures complete online privacy and follows a no-logs policy, meaning we never store your browsing information.
Conclusion
A VPN is one of the best solutions to prevent identity theft and financial theft. Therefore, keep your online banking secure and encrypted with FastestVPN. We offer a 15-day money-back guarantee, so try the risk-free VPN now.

Take Control of Your Privacy Today!
Unblock websites, access streaming platforms, and bypass ISP monitoring.
Get FastestVPN