FastestVPN for Kindle Fire- A Complete Guide on VPN Setup
FastestVPN for Kindle Fire- A Complete Guide on VPN Setup
By Christine Margret No Comments 5 minutes
In this blog, FastestVPN will guide you on how to get more from your Kindle Fire device.
For quite a long while, Amazon's Kindle Fire line has been hit hard by the critics. Initially, a lot of reviewers thought that it is nothing more than a portable e-book reader.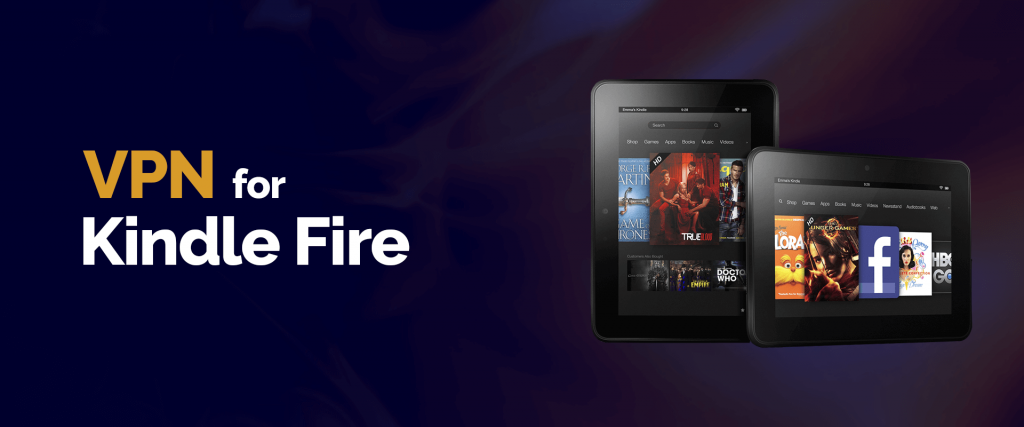 But, now, Kindle fire is one of Amazon's best selling digital media tablets. The reason behind why everyone is loving the Kindle Fire tablet is its affordability and versatility.
Kindle Fire tablet can do a lot more compared to an ordinary digital book reader. It has many features that not everyone may know about.
Using a VPN with the Kindle Fire tablet will let you access all those features. It's not wrong to say that a VPN will make your Kindle device a little more special. Here's why you need a VPN for your Kindle Fire tablet.
Why you need a VPN for Amazon Fire Tablet?
You must be wondering why to use a VPN with Kindle Fire when it already has everything you need. Fair enough! But when it comes to functionalities, Kindle Fire tablet has a few limitations.
For example, if you're living in a location where Netflix is geo-blocked, then you cannot watch Netflix content on your Kindle Fire tablet.
Using a VPN makes you able to make the most out of your Kindle Fire tablet. Let's explore in detail why you should use a VPN with your Amazon Kindle Fire tablet.
Kindle is a super cool device, but it will not do any good without installing entertainment apps. To download apps on your Kindle device you need Google Play, right?
That's where the worst part begins. Kindle is bound to the Amazon store and Amazon doesn't allow Kindle to accept apps from Google Play.
It means that you cannot use anything on your Kindle tablet except what Amazon has in store. Amazon doesn't have the YouTube and Chrome app in its store.
The best thing is you can sideload such apps in your Kindle Fire tablet, there's a guide for this later in this blog.
You need a VPN to access geo-blocked content including e-books and movies to uplift your digital experience. A VPN is also considered as the most secure tool for private torrenting.
VPN secures your connection and prevents you from session hijacking, and spam ads while keeping you completely anonymous on the web.
The Kindle Fire tablet line is fully VPN compatible (Luckily), it means that you can expand your Kindle performance using a VPN.
How to install FastestVPN using OpenVPN Software on Kindle Fire
You can use FastestVPN on your Kindle Fire tablet using OpenVPN software by following a few steps below:
Swipe down the "Notification bar"
Click on the option "More"
Enable ''Allow installation of application from unknown sources"
Install "ES File Explorer" from Amazon app store
Install "OpenVPN installer" on your desktop
Use a "USB cable" to connect Kindle with the computer
Drag and drop "OpenVPN installer" to your Kindle device's downloads folder
Navigate the "Kindle downloads folder " via "ES Explorer" and tap on .apkfile to start installing it
Sign up for "FastestVPN" service
Setup FastestVPN config files on your Kindle device
How to Sideload FastestVPN app on Kindle Fire
Amazon users cannot access Google Play. To Sideload FastestVPN app on your Kindle Fire tablet follow these quick steps:
Go to setting menu, then go to the applications menu
Enable "Apps from unknown sources"
Open the apps for Android applications and install ES File Explorer
Process with ES File Explorer, and tap the new button at the center
Create a new folder "Sideloaded apps" to sideload all of your .APK files
Download APK file for any downloader app
Use the downloader app to place all the APK files you want to install like FastestVPN app in your sideloaded apps folder
Use ES File Explorer to open the APK files and install them.
Is there any short way to connect Kindle Fire to a VPN?
Yes. There's a short way to easily connect your Kindle Fire tablet with a VPN. FastestVPN is the best VPN for your Amazon Kindle Fire tablet. You just have to setup FastestVPN on the router and then connect your Kindle Fire tablet with the router. It will easily enable you to use FastestVPN on your Kindle Fire tablet without going the extra-mile.
What Will My Kindle Fire be like with FastestVPN?
When you use FastestVPN with the Kindle Fire tablet, it automatically expands the scope of your device's performance. With VPN connected on your Kindle Fire tab, you can take the opportunity to delve into unlimited yet anonymous torrenting.
That's not the only good thing which you can expect from FastestVPN. The global network of 350+ servers will let you access geo-blocked content from around the world on your Kindle multimedia tab.
Without a VPN, your Kindle Fire device is not going to do this much. It is only compatible with the Amazon Store, meaning you can only access things that Amazon has in store for you.
Clearly – no Netflix, no YouTube, no Chrome app at all.
Why choose FastestVPN for Kindle Fire tablet
FastestVPN offers a 24/7 chat support service and a 15-day money-back guarantee. In case, if you ever find trouble in connecting with FastestVPN, our team is available via livechat and email.
Once you setup FastestVPN on the router, you can then protect every device with our industry-leading encryption.
In Conclusion
Kindle Fire tablet is the ultimate multimedia device that offers a sensible value for money, only when you know how to get the max out of it. Don't skip the big streaming options and use FastestVPN with Kindle Fire to kick start your hunt for the entertainment.
Take Control of Your Privacy Today!
Unblock websites, access streaming platforms, and bypass ISP monitoring.
Get FastestVPN