What is VPN Concentrator
By Nancy William No Comments 6 minutes
What is a VPN concentrator? Have you ever wondered how it works? Here's the thing, with the ever-increasing rise in remote work amidst the Pandemic, has managed to spike the tide of cyber threats. In an office, the issues around cyber threats can be curbed or monitored, but things are a little different while working at home.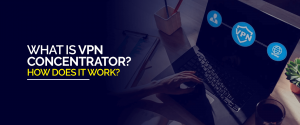 Security risks are at an all-time high ever since remote work took a bigger swing. Most businesses are looking for adequate security measures to lower online risks. With this said, a VPN is one of the more reliable ways to secure you online at home. But what about a VPN concentrator? Is it different? How does it work for remote workers?
What is a VPN concentrator?
When you use a VPN at home, you will be able to monitor the number of connections over it, depending on how many device connections the provider allows. In the same way, a VPN concentrator works in the way to create multiple encrypted VPN tunnels simultaneously.
With a VPN concentrator, all the VPN nodes created over it will be established through a secure and encrypted connection. This works best for remote workers all connected together over particular servers.
It works a lot like a router but this device surpasses the performance of even that. It's more of an advanced tool that can adhere to multiple or a large number of users by creating a safe VPN tunnel for each of them simultaneously. Another perk? With a VPN concentrator, an entire work force can stay connected from home or anywhere in the world through the VPN concentrators' home network.
A VPN concentrator, as mentioned above, is much similar to a VPN, but works to support much bigger VPN connections. For instance, it works the same by encrypting all the data that passes through the VPN to and from the VPN, device, and to the internet.  It's a hardware device with a software that lies close to the Firewall, which connects a large number of VPN connections.
You will find that home workers or private sectors rarely use a device like this. In fact, you will mostly see it in larger enterprises that also supports remote workers, connecting them all under one sphere. However, with the current state of affairs in today's world, and with the rise of remote workers in the past 2 years, VPN concentrators have become far more elevated.
What does a VPN concentrator do? How does it work?
If you are still not that familiar with a VPN concentrator, here's a little on what it can do, and how it works overall:
Just like a VPN can create one secure tunnel, a VPN concentrator can create multiple secure and encrypted tunnels over one network.
Not everyone can connect to the VPN. There's a specific generated authentication procedure required to allow access to particular users.
It can regulate and optimize the flow of Data Packet traffic across the numerous established VPN tunnels.
With a VPN concentrator, it will be able to assign users with the desired IP addresses.
It's used for both encrypting and decrypting data.
Manages in and outbound network traffic from both all endpoints.
What are the more popular and reliable VPN concentrators available?
There are many VPN providers available today, but let's not confuse that with a VPN concentrator. With that said, there are quite a number of popularly used VPN concentrators. However, they all vary in price and the ability to support a workable number of connections. They are:
Cisco Meraki
Cisco, at the moment, is one of the best VPN concentrator manufacturers till today. They are the best for extremely large companies, are easy to deploy and simple to use.
Aruba
Second on the list we have Aruba. It comes with a lot of security features and smoothly connects your company network creating connections among many other users who are working remotely.
ShoreTel
With ShoreTel concentrator, it should permit you to install a remote IP network that will secure almost any device IP, including that of phones.
If, however, you're a team of 10 or less, and don't find using a VPN concentrator the best fit for your small business, you could settle for a top-grade VPN. I recommend using FastestVPN since it allows multi-device connections on up to 15-devices. You could add a couple more connection to it via a router support.
VPN vs. VPN concentrator – Why using a VPN concentrator is better to regulate online security among all employees
As mentioned above, using a VPN is far more different as compared to using a VPN concentrator. You will find that the security level at the office is far more manageable and safer than in a home environment.
With a VPN concentrator, large companies or enterprises will be able to regulate the same and equal level of online security and privacy protection among all employees. This is regardless of where they are, as long as they're connected through the same network. It is something a VPN alone can't handle.
However, even though there are many perks to using a VPN concentrator, there are a few things you need to look into before utilizing it. Here's what:
It's only wise to use a VPN concentrator if you run a big organization with many employees rather than a small business. Both the cost of the device and its maintenance is a little steep. For instance, if you're running a business with just 20 employees, it is best you use a VPN by setting it up with a router. I recommend using FastestVPN, plus it offers a number of set up tutorials for routers.
However, using a VPN router is also only for smaller number of users, so the configuration process isn't something simple, nor will be able to add multiple connections over it, like a VPN concentrator can manage.
To conclude
Using a VPN is great for online protection and can be stretched on to remote employees working from home. However, it's not the same effect when your company is expanding to larger numbers. The best bet to secure all your devices and create encrypted VPN connections through various tunnels, is by using a VPN concentrator. It's a little pricier compared to a VPN, but that is why it's usually recommended only for large enterprises rather than small corporations.

Take Control of Your Privacy Today!
Unblock websites, access streaming platforms, and bypass ISP monitoring.
Get FastestVPN