How to Run a Virus Scan on Chrome
How to Run a Virus Scan on Chrome
By Nick Anderson No Comments 4 minutes
If your Google Chrome web browser is running slow or showing weird signs lately, it may be infected with malware. Read on to see how to run a Chrome virus scan to eliminate these anomalies.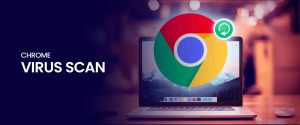 Google Chrome is the leading web browser right now with more than 2 billion installs. It is also the most popular web browser in the world. With such a reputation comes the inevitable and unwanted attention of malicious actors.
Signs of Google Chrome Malware
Google Chrome is a web browser that allows you to surf the internet. Where browsers were once limited in capability, modern web browsers even allow you to play games without requiring any additional software. Chrome extensions are a key component that enhances the browser's capabilities. 
You can find extensions for a number of things; checking Grammar, SEO analysis, blocking ads, download manager, web proxy, and so much more. There are services running that have found popularity and revenue solely as Chrome extensions. 
Chrome also allows you to install add-ons from outside of the Chrome extensions store. These extensions have not been reviewed by Google and have not passed the standard security test, which makes them very dangerous. 
Malicious actors can distribute malware through Chrome extensions that you unknowingly allow access to. There are some signs of Chrome malware that you can check for: 
Slow web browsing performance.

Videos take a long to load or show hiccups during playback.

Unwanted pop-ups appear randomly. 

The default search engine changed to something else. 

Loading a web page redirects to other domains. 
How to Run Chrome Virus Scan
Google Chrome has a built-in option that allows you to scan for malicious software and purge it from the browser. Follow these steps: 
On the

Google Chrome

browser, click on the

three-dot menu

on the top-right corner. 

Go to

Settings

. 

On your left, click on

Advanced

. Select

Reset and clean up

, then click on

Clean up computer

. 

Click on

Find

to start the scan. 

Remove the unwanted software from Chrome. 
How to Reset Google Chrome
If the Chrome virus scan fails to address the issues, you can reset Chrome. 
Click on the

three-dot menu

on the top-right corner in Chrome. 

Go to

Settings

. 

Under

Advanced

, click on

Reset and clean up

. 

Click on

Restore settings to their original defaults

, then click on

Reset settings

to confirm changes. 
The final approach is to do a complete reinstall of Chrome. Be careful though, as reinstalling the browser will remove all extensions, browser history, saved logins, and bookmarks. Before proceeding, backup any important information. The easiest way is to sign-in to your Google account and use the sync option to backup everything on your browser on the cloud. 
This will save your information such as installed Chrome extensions, bookmarks, saved logins, and browser history to the Google account. They will reappear when you log in after a fresh reinstall or reset.  
Best Chrome Extension
Privacy while browsing the web is important. FastestVPN tops the list of the best Chrome extensions when it comes to private browsing. 
The Chrome extension works separately from the desktop app. Hence, you can control the proxy experience from within the browser. It is lightweight and does the job of hiding your IP address and geo-location on the internet. You can unblock Netflix and many other streaming services by connecting to the proxy server. However, for the best privacy and security, we recommend using the desktop app. 
Conclusion
Chrome's extension store is filled with very useful extensions that enhance your productivity on the web. An example is the Google Docs extension that allows you to work on your documents and spreadsheets without internet connectivity.
Explore the extension store to find more of such useful tools. Be vary of download extensions from any other source as they may be harmful.

Take Control of Your Privacy Today!
Unblock websites, access streaming platforms, and bypass ISP monitoring.
Get FastestVPN