Using VPN for Gambling in New Zealand
Using VPN for Gambling in New Zealand
By Christine Margret No Comments 4 minutes
In New Zealand Gambling is an illegal activity unless the website is authorized under the Gambling Act 2003. Remote Interactive gambling and advertising overseas gambling are strictly prohibited under this act.  The act specifies the maximum winning amount and turnover for gambling. This act covers who can and who cannot participate in gambling. This act is complex and restricts gambling to a point where it cannot be considered profitable to many gamblers who reside in New Zealand.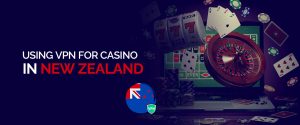 These gamblers who are not satisfied with the amount of casino websites where New Zealanders can play, the state of New Zealand tries to break the law without people finding out about it. Here comes the role of VPN. A Virtual Private Network connects websites to a secure portal to hide a user's activities on the internet. A VPN can also be used to alter locations. This implies a resident of New Zealand can stimulate a non-New Zealand IP to get away from the restrictions imposed by the government and judiciary body of New Zealand.
Advantages
A VPN ensures privacy by creating a safe and encrypted connection. The encrypted data is routed through servers which makes it beyond possible to track the source or destination of a user. A Virtual Private Network can be considered as a protective layer of security. It connects remote websites to a secure portal. This makes it hide all your internet activities. This means when a punter gambles illegally, that is gamble to an extent that is not allowed or prohibited by the state law of New Zealand, VPN would hide this activity, therefore preventing the punter from getting exposed. A good VPN ensures a hundred percent privacy to all information regarding your activity on the internet.  
There are several VPNs that you can buy with bitcoins or any other cryptocurrencies. Some of them are Pure VPN, Nord VPN, Cyber Ghost, Express VPN, and several others. Using a VPN, you can gamble with cryptocurrencies like bitcoins in online crypto casinos. Many casinos that might be restricted in New Zealand accept bitcoin payments, where a user can gamble with Bitcoins using a VPN to alter his location and stimulate a non-New Zealand IP address.
Fast Deposits and Withdrawals

: 
A VPN ensures safe and secure deposits and withdrawals. VPN helps you make fast and smooth transactions where your account details are sure and not leaked to anybody.
Disadvantages
Possibility of Blocking Accounts

: 
Online betting websites and casinos are required to block an account if they find out illegal betting or gambling activities. Online casinos and betting websites do not allow individuals of a state to register if they belong to a state where gambling is illegal. You can use VPN to trick the website to mask your original location or simulate a fake IP address to a region where gambling is not illegal. But if they catch you, you will end up getting blocked from their websites. They will block your account and you will lose the fortune you made.  
Not Getting Your Money Back

: 
If you get blocked from an online gambling or betting website, they will cease your account. This implies you will never be able to get your money back. You may not have made a fortune out of these websites, but your own earned money will also get drained in these websites. Faking an IP address is a terrible lie which if found out you will have to pay for it. For this reason, most online casinos do not allow gambling using VPN.
Gambling on offshore Brands Only

: 
Using a VPN will help you gamble on offshore websites and bet on offshore games. You will be limited to those non-New Zealand gambling and betting websites only. You will not be able to gamble on New Zealand websites if you alter your location to a different IP address. This would not be profitable either.
Conclusion
Using a VPN to participate in illegal gambling can be considered a crime and has harsh consequences. You should avoid that. It is found out that residents of New Zealand have used about 381 million dollars in gambling on offshore betting and gambling sites.
This made the government of New Zealand announce that they want to review the Gambling Act 2003, to update in terms of technological updates, and to make it profitable for the industry. Also, new laws may lead to the lifting up of some restrictions to lower problem gambling inside the country. There are advantages and disadvantages to using VPN for gambling, it would be wise to analyze them and the risks involved before entering the field.

Take Control of Your Privacy Today!
Unblock websites, access streaming platforms, and bypass ISP monitoring.
Get FastestVPN