Why is it Important to Use VPN for Online Gambling in Australia
Why is it Important to Use VPN for Online Gambling in Australia
By Nancy William No Comments 6 minutes
If you like gaming online, then you might want to consider using a VPN. In fact, using a VPN whenever you browse the internet is a great practice in general if you value your privacy and internet freedom. In this guide, we're going to look at some of the key benefits of why a VPN for online gambling in Australia is crucial. Before we start listing the various perks of a VPN for gambling, let's define what a VPN is.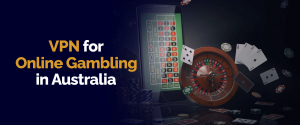 What is a VPN?
To put it in layman's terms, a VPN (Virtual Private Network) is software that creates a secure connection between your device and the web. By using a VPN, your IP address is masked and all communications between your device and the web take place within an encrypted tunnel that no one else can invade. With that said, online casino gamblers in Australia can take active precautionary measures while using a VPN. Let's talk about how in the points below.
What benefits does a VPN for online gambling in Australia bring?
There are a couple of reasons why using a VPN for online gambling in Australia is beneficial for online gamblers:
1. Play Safely even on Public Networks
Anyone that understands the basics of online security would advise you against playing real money casino games using a public Wi-Fi network. Public networks may not be encrypted, among other issues.
Since it is not encrypted, anyone with some basic networking skills (Wi-Fi sniffing and snooping) is able to see any data that is transmitted between your device and the router. When you play at an online casino, you may be relaying sensitive information such as credit card info, passwords, banking details, personal details, etc.
Needless to say, this information can be used for unscrupulous purposes if it falls in the wrong hands. This is why you are advised to never enter passwords or visit banking sites when on a public Wi-Fi network.
However, if you're connected to a good VPN service, the VPN will provide the encryption and you can still maintain full privacy and anonymity, even while playing on a public network. You may not have known this until now, but it's perfectly acceptable to choose and use your VPN when gambling online. By using a VPN to find the latest Australian no deposit bonus codes, you could find amazing bonuses that boost your profits without any risk of loss.
Some premium VPN service providers offer plans where you get the benefits of the VPN on multiple devices, including PC and mobile. So, you can even play at your favorite mobile online casinos safely using Public Wi-Fi networks.
2. You Can Access Online Casinos that Would Otherwise be Prohibited
Depending on your jurisdiction, the legislation around online gambling can vary. There are many offshore online casinos that are prohibited from offering their services to players based in Australia. This is why using a VPN for online gambling in Australia is one of the bigger requirements.
As adults that are capable of making their own decisions, some Aussie players don't like the idea of being told what they can and cannot do, and rightfully so. After all, it is your money and you should be able to game with it if you wish to.
Unfortunately, some of the top online casinos in the world will not accept players based in Australia since Australian laws dictate it. By detecting your IP address, the casino site will know where you are located and may or may not allow you to sign up based on your location and the casino operator's policy. By using a VPN, even if the site is restricted in Australia, you will be able to reroute your IP address from another country and successfully access the site and use its services.
Word of caution: Before using a VPN for online gambling in Australia at any casino which is sometimes prohibited, make sure to check if the casino has any policy regarding VPN use. Some casinos may ban players that use a VPN and could even seize any funds/winnings residing in such accounts.
3. Circumvent Bandwidth Throttling
Bandwidth throttling is a common practice that internet service providers use without really telling their customers about it. Basically, the service provider is able to restrict bandwidth in order to facilitate network congestion during certain peak traffic times of the day.
You may not notice your slower internet speeds when you're just surfing the web, but it is certainly noticeable when gaming. In fact, the slower network speeds can completely throw off your online casino gaming experience.
If you're trying live casino gaming or AR/VR casino gaming, then you can forget about it if you're being subjected to bandwidth throttling. ISPs specifically target gamers and impose bandwidth restrictions on them since gamers generally tend to use up more bandwidth than someone just accessing text content or even YouTube videos, for instance.
When you use a VPN service, your ISP is not able to determine whether you're gaming or not and so they will most likely not impose bandwidth throttling on your IP address, allowing you to enjoy seamless gaming for hours on end. In fact, this is one way to increase bandwidth.
4. To try the Latest Casino Games not yet Released in Australia
Online casino game developers may release some of their latest pokies only for certain markets and players in other countries will have to wait much longer to try these games out. By using a VPN service that has servers around the world, you can simply choose which country you want to be rerouted through (choose the country where the game is already available), and then you can access and play the game, if not for real money, at least in demo mode.
To conclude
Using a VPN for online gambling in Australia offers much more benefits, especially since there are many risks involved, like data or money loss. Think of it as one step forward in maintaining online privacy and security. With it, you can circumvent bandwidth throttling, get access to certain casino games not available in Australia, and more.
Take Control of Your Privacy Today!
Unblock websites, access streaming platforms, and bypass ISP monitoring.
Get FastestVPN