Why You Should Update Your iPhone to iOS 14.5
Why You Should Update Your iPhone to iOS 14.5
By Nick Anderson No Comments 5 minutes
Apple has always maintained a firm stance on user privacy. From on-device machine learning to introducing features that help protect the user's privacy, Apple has stood out from the rest in that respect. The latest efforts in the iOS 14.5 update have added another feature that will enhance your privacy while using an iOS device.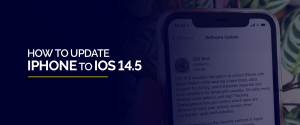 The App Tracking Transparency gives you insight into what apps are tracking you across the web. Digital advertisers use tools to track a user's behavior across various websites. It's invasive to the privacy of users who have no idea that they are being tracked. Thus, the new iOS 14.5 aims to provide that information to users and whether they'd like to continue being tracked.
In this blog, we'll share some of the reasons why and how to update the iPhone to iOS 14.5 and explore how cross-site tracking works.
How Advertisers Track You
The web today is more personalized. Experiences are tailored to the user's likes and dislike to keep information on the screen relevant and maximize engagement. We had talked about cookies before and how they opened up the possibility for such personalized experiences.
Web cookies are small pieces of data stored in the web browser that websites use to identify you. It also helps to keep the experience consistent. For example, e-stores use cookies to retain items in your shopping cart that would have otherwise been lost upon exit. These are called first-party cookies and are usually harmless. Advertisers use cookies called third-party cookies to track you across the web.
A tracking pixel is another way. Unlike cookies that can be cleared out, a tracking pixel works outside of your notice and loads when the webpage loads.
How Tracking Works on Mobile Phones
It is difficult to track users on mobile because much of the interactions happen between apps and not entirely in the web browser. To facilitate advertisers, Apple created Identifier for Advertisers (IDFA). It attaches a unique identifier to the user's iOS device and allows advertisers like Facebook to track user behavior across apps. It is different than a cookie because it does not rely on a web browser but is inherent to the device itself. It's like locating a phone based on its serial number.
Google has its own version for Android developers called Android Advertising ID.
What is App Tracking Transparency
App Tracking Transparency is Apple's way of giving users 'transparency' over which apps track. The feature prompts the user to grant an app permission to track. It may be counterintuitive given that Apple provides the tools to advertisers to track users, but this move enables users to opt-out. It is a privacy-friendly move as recent years have seen multiple privacy scandals. User privacy is getting the due attention it deserves, and the big tech firms like Facebook and Google are under scrutiny in that regard.
Apple has mandated that developers use the new function to ask for the user's permission to track when developing an app. Facebook is one such app that tracks user behavior outside of its own app for advertising purposes. You can now choose to opt-out of that tracking, which is something Facebook had feared would be in the majority when it published an open letter in a newspaper last year.
Facebook has built its platform on advertising. It accounts for more than 97% of the social media platform's revenue. So, naturally, the reaction has been strong. Following the release of iOS 14.5, Facebook and Instagram began pushing notifications to users, telling them how advertising keeps the platforms "free of charge".
How to Update Your iPhone to iOS 14.5
Apple released iOS 14.5 to the general public on April 26. Like always, it was released to all supported devices simultaneously. The iOS version is supported by all iPhone generations dating back to iPhone 6S and iPod Touch (7th generation).
Here's how to update iPhone:
Go to Settings > General > Software Update.
Wait for the iPhone to find the latest iOS version, continue by tapping Download and Instal. Once it has downloaded, the update will be ready for install, and it will notify you to restart.
The update does not bring many new additions to iOS. A new option has been added in Settings > Privacy called Tracking. You can turn the switch off to disable tracking, thus giving you the control to grant permission individually.
Conclusion
The growing privacy concerns have had a positive impact on pushing services and platforms to take user privacy more seriously. Newer versions of popular web browsers like Mozilla Firefox include a Do Not Track option that signals your permission to advertising networks. It's not effective given that advertisers can still choose to ignore it. But, at the very least, the fact that these options exist shows that efforts are being made to protect privacy.
The new iOS update does not eliminate tracking but gives the user control over its privacy. Most of the things in the digital realm like surveillance and activity logging operate without our consent. Hence, why a VPN matters in protecting privacy. It gives you secure access to the internet that the prying eyes surveil.

Take Control of Your Privacy Today!
Unblock websites, access streaming platforms, and bypass ISP monitoring.
Get FastestVPN